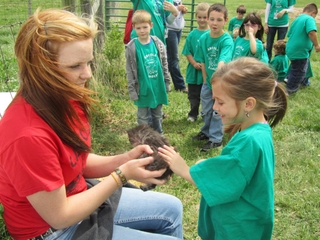 Field Trips on the Farm

May 1-May 31

Salomon Farm Park, 817 W. Dupont Rd.
Farm tours are available at Salomon farm in 1-2 hour increments. Typically a farm tour will feature lots of hands on time with our animal friends and also highlight composting, gardening and farm life back in the old days. A wagon ride is available upon request for farm tours of 1½ hours or more. All ages welcome! Field trip scheduling is subject to availability and reservations must be made at least two weeks in advance. Please contact Salomon Farm Park at 427-6008 or This email address is being protected from spambots. You need JavaScript enabled to view it. 427 – 6790 or email This email address is being protected from spambots. You need JavaScript enabled to view it. for questions and scheduling. Field trip cost is $3/participant/hour. Teachers, care givers and adult chaperones are free. A minimum fee of $30/hour applies to all groups. We can accommodate up to 30 students per tour and 1:10 chaperone: student ratio is recommended.

Additional Information on Field Trips

Salomon Farm Park Field & Tour Description
Reference for Teachers-Getting the Most out of Your Farm Trip


2ForU Study Trips
Thank you for your interest in the 2ForU program! 2ForU is an easy way for teachers to schedule two great sites for one day! Fill out one easy form to request your Study Trips. Your selected venues will work together to finalize the details and then contact you to confirm.

Click here

to see the 2ForU program offerings for all the participating venues.
Ready to sign up and/or learn more?

2FORU Registration



| | |
| --- | --- |
| Salomon Farm Field Trip Offerings: | |
| Visit Length | 1-2 Hours |
| Max # of Students | 30 |
| Grades | K-8 |
| Prices represent a discount for 2ForU | No |
| Standard's Aligned Programming | Yes |
| Cost / Student | $3/hour |
| Cost / Adults | Free |
| Cost / Teachers | Free |
| Lunch Spot | Yes |
| Transportation? | No |