The Fort Wayne Parks & Recreation Department will be applying for a Gold Medal from the National Recreation & Park Association (NRPA) again very soon. As we go about this process we want to keep you informed. Thanks for the tremendous support you have demonstrated for the department over the years!
Pictures representing Downtown Redevelopment in the past year: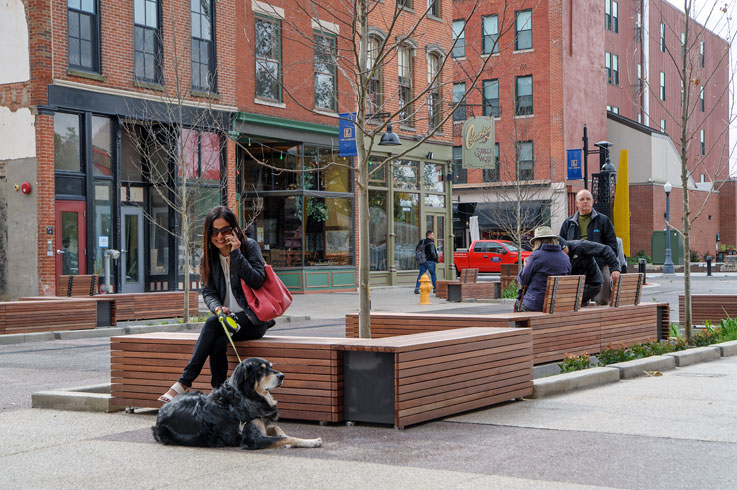 Downtown living has increased significantly, thanks to redevelopment for apartments, restaurants and entertainment.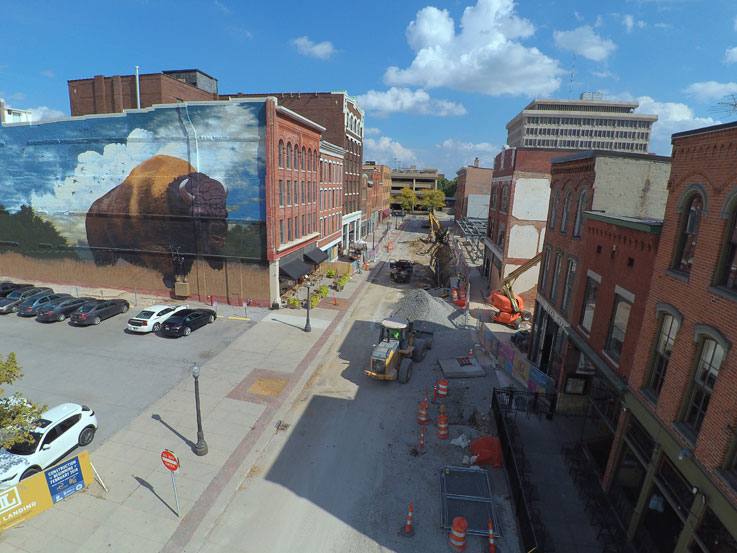 One of the oldest sections of downtown, the Landing, was under construction through 2018-2019. Note the new commissioned mural by the Fort Wayne Public Art Project: http:visitfortwayne.com/art/publicart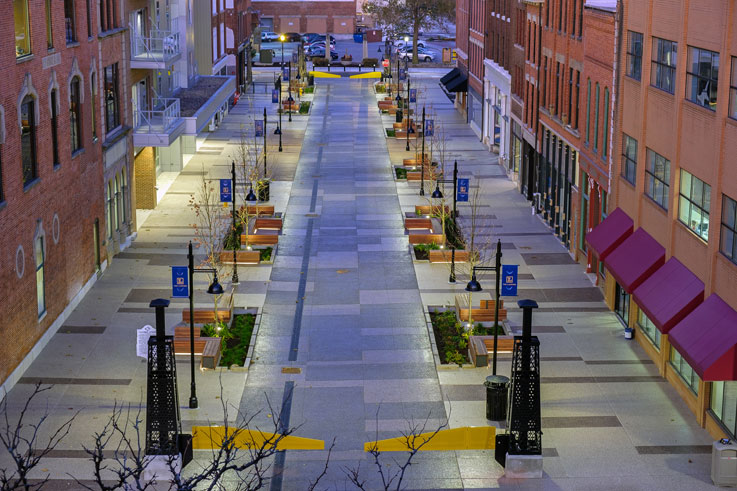 This picture is of the Landing before completed and the official grand opening in October of 2019. For more information, please visit: http:visitfortwayne.com/thelanding


Master Plan

Are you curious about the Fort Wayne Parks & Recreation Department's Master Plan? If so, you may want to review the plan.
Master Plan (2018-2022)
Master Plan Summary (2018-2022)
Comprehensive Plan Summary


Program Brochures

Quarterly we produce the Fun Times publication. The Fun Times is our most comprehensive marketing piece covering virtually everything we offer in this community.

Check out the current Fun Times Brochure
Drone Technology

The Fort Wayne Parks & Recreation Department has 2 certified Drone pilots on staff. The use of Drone technology allows for videos and pictures of parks from different perspectives. A few photos are showcased below: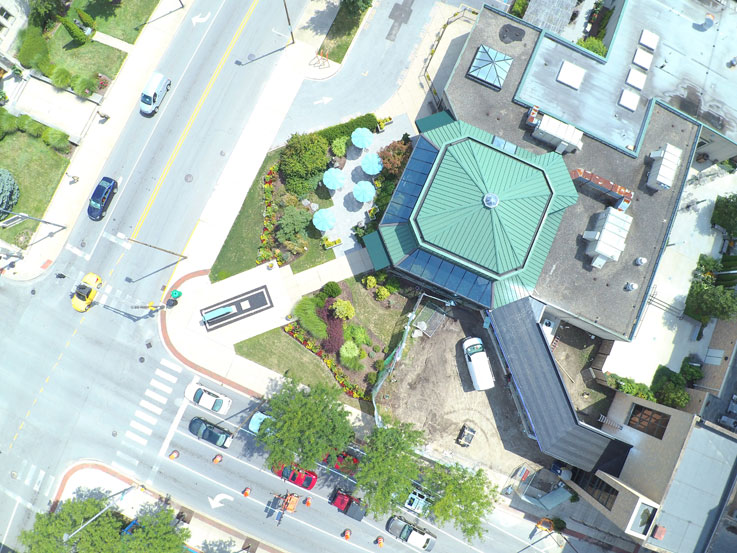 Conservatory Connector
The drone operator was able to take video and still pictures as construction progressed at the Botanical Conservatory's walkway connecting it to a stairtower (gray roof).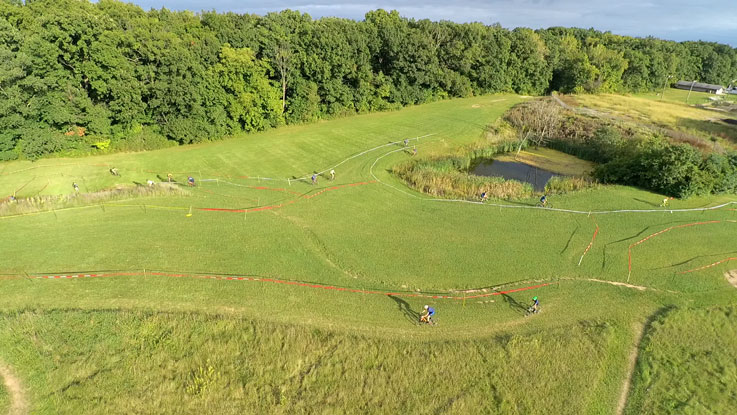 Cyclocross Tournament
Big events are spread over large areas of park land, making it impossible to see what is happening on the ground. Our drone allows us to see events like this mountain bike tournament.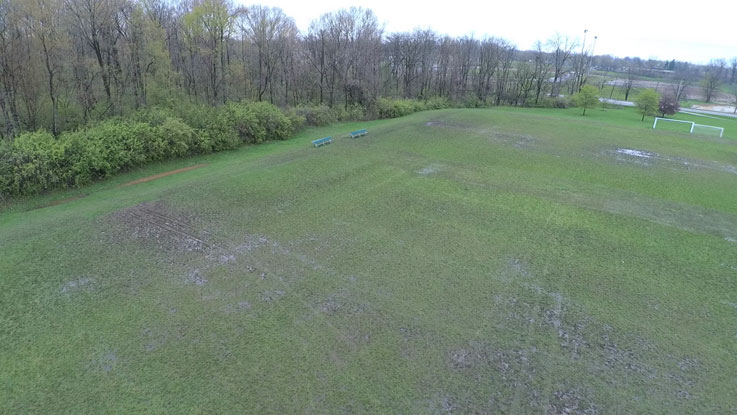 Damage to field
During a very rainy season the drone pictures provided an overview of severe damage that was done to a playing field.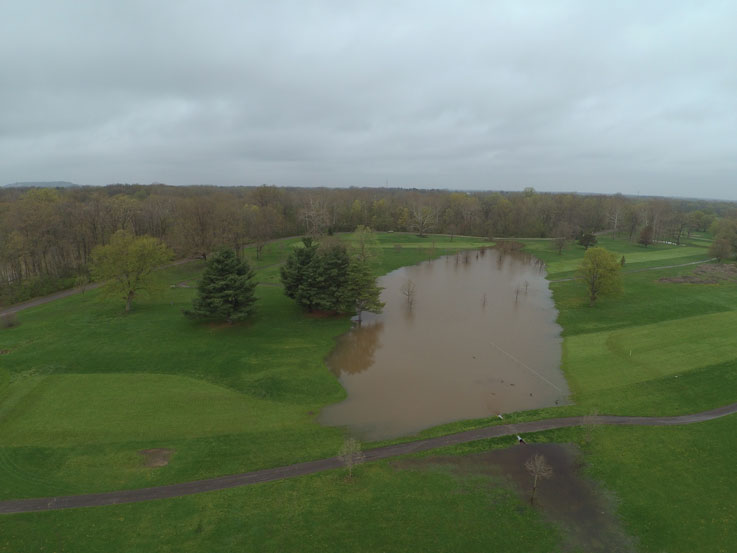 Flooding of St. Marys River
Fort Wayne's rivers are known to flood frequently, and the drone allows us to see how extensively our parks are flooded. In this case, the St. Marys River flooded a large swath of Foster Park Golf Course.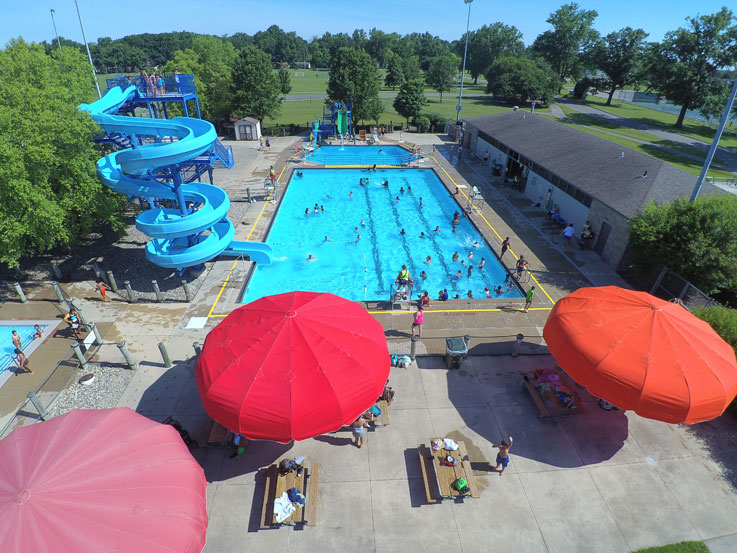 McMillen Aquatics Center
Drone photos like this (of an aquatic center) provides wonderful views of facilities that may be unknown to potential users. They can see these photos online, and our marketing staff can use them to promote our programs.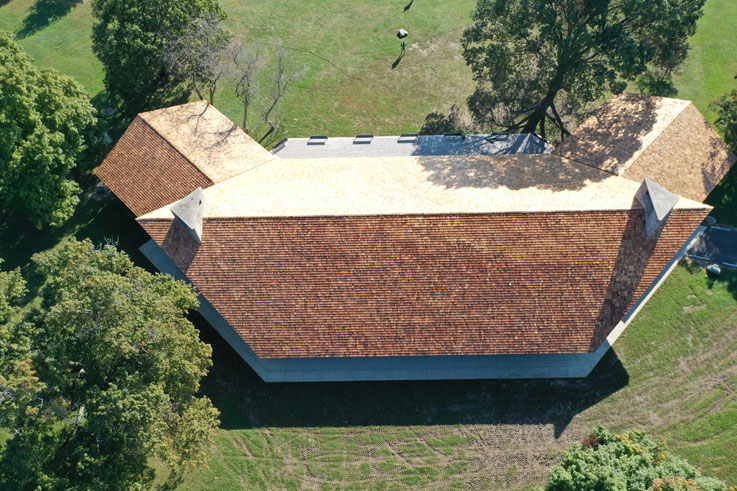 New Roof-large pavilion
Photos and video of the new roof on a large pavilion provided a safer and faster way for our staff to observe this extensive project.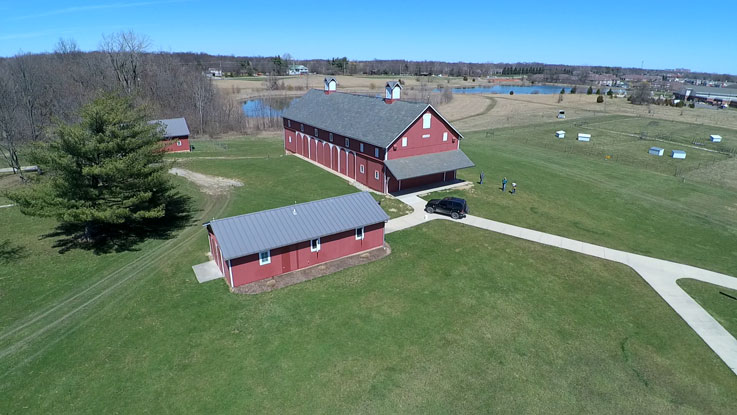 Salomon Historic Farm