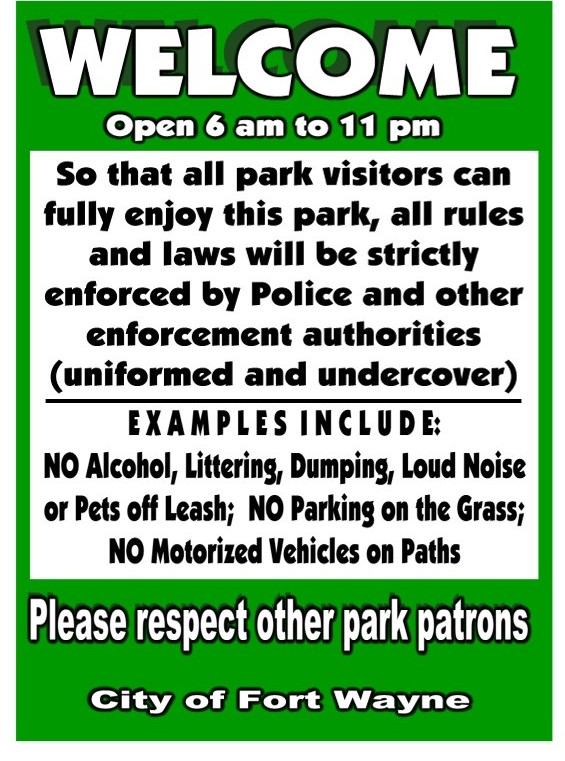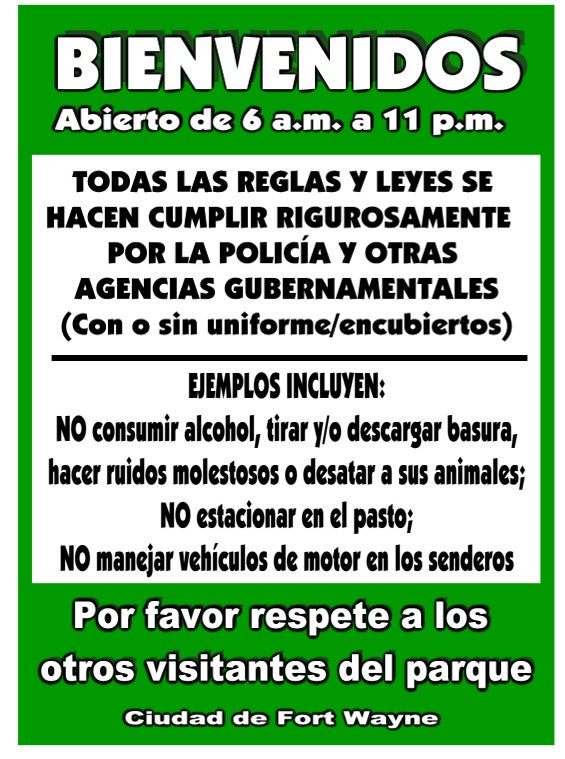 Park Ordinance Section Numbers

ARTICLE I. GENERAL PROVISIONS


Fort Wayne City Code and its ordinances are electronically housed in the Library system of the American Legal Publishing Corporation. This system requires an initial link into the system before individual codes and ordinances may be viewed. Once your computer has linked into the system, your computer should retain the access cookies and you will be able to link directly to individual code pages.

To see the complete ordinance reference, click here.

Sec. 97.01

Establishment.

Sec. 97.02

The Board of Park Commissioners.

Sec. 97.03

Governing law.


ARTICLE II. PARK RULES AND REGULATIONS

Sec. 97.15

Hours open to public.

Sec. 97.16

Removal of benches or picnic tables.

Sec. 97.17

Littering.

Sec. 97.18

Damaging or defacing park property.

Sec. 97.19

Fastening objects to trees.

Sec. 97.20

Signs in parks.

Sec. 97.21

Possession, sale or consumption of alcoholic beverages.

Sec. 97.22

Vendor permits.

Sec. 97.23

Gambling.

Sec. 97.24

[Reserved for Future Reference]

Sec. 97.25

Reserving park facilities.

Sec. 97.26

Disturbing or intruding upon persons.

Sec. 97.27

Disorderly conduct.

Sec. 97.28

Fires.

Sec. 97.29

Owners responsible for personal property.

ARTICLE III. RESTRICTED RECREATIONAL ACTIVITIES

Sec. 97.40

Swimming.

Sec. 97.41

Lakes and Ponds.

Sec. 97.42

Outdoor Ice Skating.

Sec. 97.43

Playgrounds and play apparatus.

Sec. 97.44

Ball playing or games.

Sec. 97.45

Tennis courts.

Sec. 97.46

Golf.

Sec. 97.47

Skateboarding prohibited in certain areas.

Sec. 97.48

Model airplanes and boats.

ARTICLE IV. ANIMALS AND FOWL

Sec. 97.60

Dogs are allowed only on leash.

Sec. 97.61

Fishing.

Sec. 97.62

Hunting, fireworks, and firearms prohibited.

Sec. 97.63

Aviation.

ARTICLE V. OPERATION OF VEHICLES

Sec. 97.75

Type of vehicles allowed.

Sec. 97.76

Riding or driving regulations.

Sec. 97.77

Snowmobiles.

Sec. 97.78

Operation of non-registered motor vehicles.