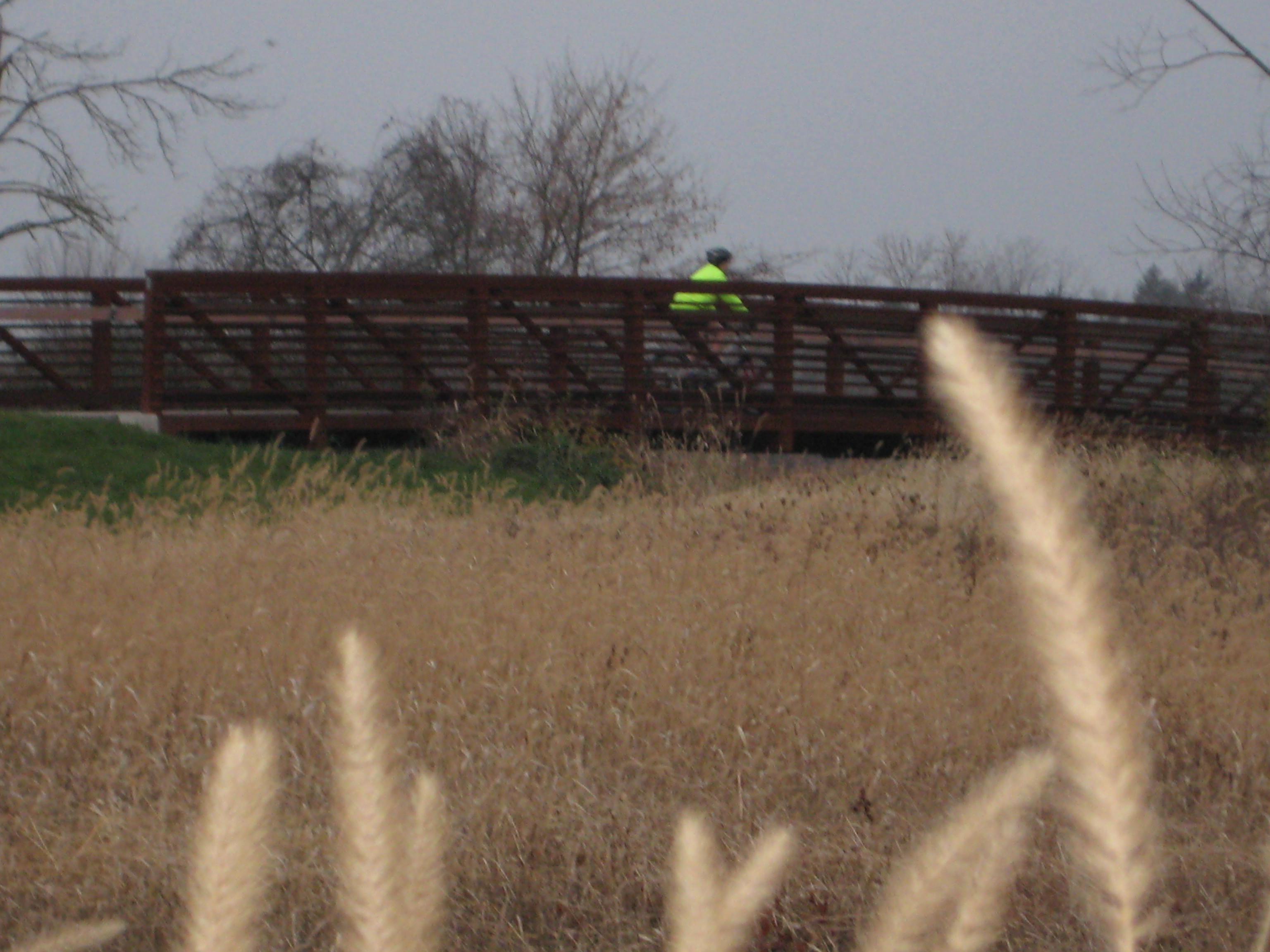 Facility Reservation Contract

All groups or organizations desiring to use the Rivergreenway for a special event or activity must obtain a Special Events permit from the Fort Wayne Parks and Recreation Department. Please call (260) 427-6000 to request such a permit.

Where can the trails take you?
If you're planning to visit Fort Wayne, why not leave the car behind? Our trail system can lead you to these points of interest: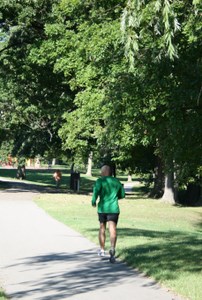 Personal Safety Tips
Don't wear headphones or ear buds so that you can hear other trail users approaching;
Walk or run with a buddy or a dog;
When you see other trail users, make eye contact and verbally greet them;
Have a cell phone with you;
Make sure someone knows where you will be and when you will be returning;
Be aware of your surroundings and of other people around you.

Download this list of Trail Safety Tips too!
A city ordinance forbids the use of alcoholic beverages and illegal drugs on the Rivergreenway/Park property.
All motorized equipment is prohibited except maintenance and emergency vehicles and motorized wheelchairs.
Use caution and obey traffic signals.
Be cautious on pathway curves and underpasses.
Please do not mark on the path for running or walking events. Contact the Greenways Program Manager at 427-6228 for free use of signage for your event.
Bicycles must yield to pedestrians.
Watch for obstacles on the trail. Natural obstacles such as tree branches, rocks, wildlife and washouts may occasionally exist.
Pets must be kept on a leash. Animal waste must be removed from the trail.
Do not litter.
Please keep to the right so faster moving people and bicycles can pass on your left.
No horses on asphalt/concrete trails.
Heavy rains, particularly in the spring, may flood portions of the Rivergreenway, making these sections temporarily unusable.
Report unsafe trail conditions to 260.427.6228.
Always carry a cell phone for emergency use.
Respect private property that adjoins the trail.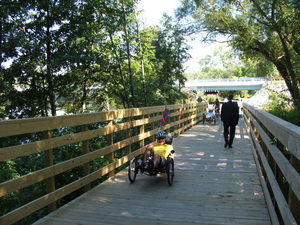 Tips for Bicyclists

Check out the following link for additional tips: Rules of the Road
Remember that these routes are designed for recreational bicycling not racing.
Lock unattended bicycles.
Where the trail shares the road, please follow vehicular traffic laws.
Ride on the right side of the road or path.
Wear bright, easily visible clothing.
Wear a helmet.
Use a bell or other sounding device when overtaking slower bicycles or pedestrians.
Use lights and reflectors between dusk and dawn (please note, the Rivergreenway is open from 6 am-11pm daily).
Use hand signals when turning.
Yield to traffic at intersections and when entering traffic.
Make sure your bicycle is in good working condition


Bike Racks

As our trails continue to extend throughout our community and while additional bicycle infrastructure is planned, the demand for bike parking has also increased. This Bike Rack guide provides businesses and organizations with an introduction to bike racks and the preferred styles, as well as considerations for installation.

Rivergreenway Public Access Points to the River:

St. Joseph River- 2 points: Upstream of the dam in Shoaff Park and downstream of the dam in Johnny Appleseed Park.

St. Mary's River- 1 point: Guldlin Park east of Sherman St. bridge and north of Michaels St. (DNR public access).

Maumee River- 2 points: North River Road Trailhead & Boat Ramp (across N. River Road from Kreager Park and just east of N. Anthony Blvd along Niagara Drive).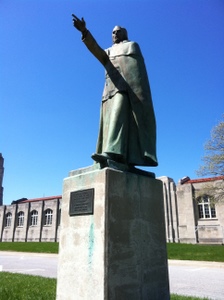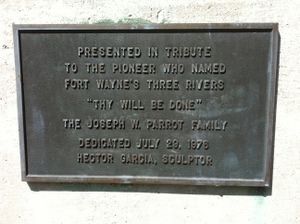 Fort Wayne Trivia

Jesuit missionaries from Quebec were probably the first Europeans to view
the three rivers. This bronze statue on the grounds of the Three Rivers Water Filtration plant commemorates the unknown explorer who gave the rivers their names. Commissioned by the Joseph Parrot family, the statue was designed by Fort Wayne artist Hector Garcia and was completed in 1976. The 7-foot figure points to the spot where the St. Mary's and the St. Joseph become the Maumee. (Information from Images of America, Fort Wayne, Indiana, Ralph Violette, Copyright 2000).


Rivergreenway Slide Show

You can now view a slide show of the Rivergreenway! Click on the Rivergreenway link to start your tour!
Graffiti on the Rivergreenway
The Anti-Graffiti Network has been serving Fort Wayne and Allen County since 1993. If you encounter graffiti on the trail, please call their hotline at (260)449-4747. They have found that the quicker the graffiti is removed the better as it lessens the chance of it happening again.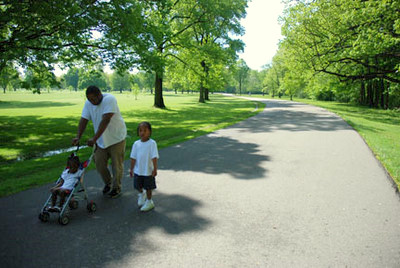 Testimonials
"When I was considering relocating and purchasing a home, recent trips to Fort Wayne showed how beautifully the city had blossomed under its renaissance. Two crucial features that helped me decide to move to Fort Wayne were its extensive trail systems and its dedication to preserving as many natural areas as possible. As the owner of a rambunctious Labrador Retriever, the miles of Greenways and trails were a major plus and helped me to pull up stakes in Ohio and call Fort Wayne home!" - Hope W.
"Potential employees coming from metropolitan cities do not want to move to an area without an established trail system. Employees coming from rural areas are excited to be moving into an area with a paved trail system. The Fort Wayne Trails help us compete against major markets for top quality talent. It is certainly a gem for our community." - Lynette J, local realtor
My husband and I have really been enjoying the trails this year, and feel they are a fantastic amenity for our city and a real benefit for our community. Keep up the great work! - Peggy C
Few of us have walked all of the 100 miles of Trails in Fort Wayne. But this writer has walked the latest mile at least 100 times. Each time I'm walking I am reminded what a treasure the trails are. Quiet in the midst of the noisy city; calm amidst urban chaos; green beyond measure in world of macadam; wildness comes to the trails to meet walkers now and then--rabbits, deer, frogs in nearby water, tiny creatures, inchworms, and countless birds large and small; others--walkers with or without their pets, runners, cyclists, youngsters, teens, families. As the poet wrote, "The world is so full of a number of things, I'm sure we should all be happy as kings." (Robert Louis Stepheson) - Bob
"I have lived all over the country, from Florida to Washington, California to North Carolina, and lots of places in between, and nowhere have I lived is there a community that takes more pride in its city parks and trails system than Ft Wayne.
I recently relocated here from southern California where I enjoyed hiking in the mountains and desert on my free time, much of it County, State, or National Parks. Hiking helps me burn some energy, shed a few pounds, and gets me outside for some solitude for a few hours.
My personal goal was hiking the 2,650 miles of Pacific Crest Trail in small sections. When I moved to Ft Wayne I decided to complete the mileage of the PCT 'virtually.' I have tracked every step and mile along the way, but now I'm using the Ft Wayne Trails system instead of the actual trail. I'm carrying my same backpack with the same equipment and weight I'd be carrying on the actual PCT. I've logged 1,135 miles towards my goal, over 800 miles of that right here on local trails!
One of the first things I learned upon relocating was how awesome the trails are here! The people I've met while backpacking are friendly, happy, and always smiling and they offer suggestions of points of interest along the trails. The Ft Wayne Trails might be the community's best selling point after family affordability!
Thanks to Ft Wayne Trails for continuing to improve these trails and connecting all the NE Indiana communities...I'm thoroughly enjoying it one step at a time!" Buck R.
"My husband and I each lost 50 pounds (100 total ?!), with most of those calories burned along the trails, walking our dogs and jogging." Debby R.
"The presence of trails throughout the community is a great asset to the Fort Wayne community. For myself, the extensive trail network was one of the deciding factors that led my wife and I to choose Fort Wayne as the place we wanted to raise our family and not my hometown of Evansville. Keep up the great work!" Nathan D.
"One of the most important considerations for us when considering a property was connectivity to the trails. It makes us feel like part of our community!" Julianne & Gregg
"This is the third year my husband and I have participated in the Tuesday night bike rides. My first year was a challenge because of health issues and I didn't think I was able to complete the ride. Amy and the other leaders encouraged me to to continue and someone stayed behind with me. Their kindness and support made me determined to finish and continue the weekly rides. We have met many new friends on the rides and have established a group we go out with to eat after the rides. Bicycle riding is an excellent way to exercise at any age, we are in our late 60's and live a active lifestyle. Our grandchildren join us while visiting during the summer and we make it a family affair. We are writing this in support of the trails and to share our experience. In closing we salute Amy and the staff for a wonderful job." Louis & Anita E.

"I am originally from Ft. Wayne, and have been an avid bicyclist for most of my life. I've lived primarily in San Diego CA since 1983, with the exception of spending a couple of years in Carmel IN.

The reason I'm writing you is that I was just on YouTube looking at videos about Ft. Wayne bicycling, and discovered just how impressive your trail system has become. I also saw a couple of interviews with you, which quickly made me realize how instrumental you must have been in making this system a reality. So I just wanted to send you a quick note to tell you how impressed I am with what you've done. And as a former resident (my family has a very long history in Ft. Wayne) and bike nut, how grateful I am too.

So I just wanted to take a couple of minutes to send you some feedback from 2000 miles away. I feel that what you're doing is more than just a tremendous benefit to the residents of Ft. Wayne. You are also setting an example for cities all across America, demonstrating why greenways and trail networks are such a huge benefit to any metropolitan area. I am confident that as other cities see the economic benefits and the quality of life that greenways bring, that eventually they will become the norm instead of the exception. It will take time, but I do think it will happen. And the example that you've set in Ft. Wayne will be a big reason why.
So thank you, Dawn! I hope you will keep pushing forward. And know that your work is appreciated well beyond Allen County!"
Chris C.


* My husband Nathan and I recently moved to Fort Wayne in 2011, and we have been so thrilled to live here! We see evidence everywhere of a city that is progressive and interested in positive change and improvement, which is very different from many other cities that are on the decline right now. And we see so many people who are invested in building up Fort Wayne and helping to make it better, not just waiting for "other people" to do it. We are proud of Fort Wayne, and we've had a great time getting involved in local events and making new friends here!

We are outdoor enthusiasts, and in particular, we love to ride our bicycles. Since moving here, we have seemed to encounter one exciting thing about this city after another, not the least of which are the fantastic trail networks! April R.


*As the broker/co-owner of a local real estate company, Reecer Properties, I can tell you that the trails have become a big differentiator for many clients in choosing their next home. Here is a case in point: a couple with 3 children was transferred to Chicago from Fort Wayne when the trails were being planned and constructed. They missed Fort Wayne and wanted to come back. They had not yet sold their home in Chicago so they decided to move into a temporary home in Aboite quickly and live there until they sold their home in Chicago. This new home was in a neighborhood on the Aboite Trails. This is a two-career couple so the fact that their children could get to after-school practices on their own was huge for these working parents. Now when they go to buy their permanent home, the first requirement they gave us is that it MUST be right on the Fort Wayne/Aboite trails system. They will not look at any homes that are not on the trails. And their children love the independence and fun of getting themselves to and from practice with teammates. L. Reecer

* I visit many cities and usually look for trails to ride or walk. Many have small sections of trails but I have not found a better trail system than what we have in our own backyard.
* I travel to bike shops all over the region and take rides with the staff at each. Your trails are way better than most larger cities. Fort Wayne is ahead of the game. Jeff B.
* I usually ride the county roads and sometimes head out by way of one of the Fort Wayne Trails. When the winter winds blow in, I will gather with friend and ride along the rivers of the Greenway. It's a nice change a scenery, offers protection from the wind and not too far from a downtown coffee shop when we get cold.

* During the winter 2012, my wife and I decided that we needed to pursue a more active lifestyle. We decided to take advantage of the River Greenway because of its convenience to where we live. So, in April 2012, we purchased bicycles from our downtown cycling outfitter.

Within a couple of months, we found ourselves riding 6 days a week and loving it! The combination of scenic routes, good trail surfaces, and limited traffic made for terrific cycling. We particularly liked the extensiveness of the greenway, so that we were able to ride different routes each day of the week. By the end of our first season, we clocked over 1500 miles, the majority of it on the River Greenway, achieving our fitness and lifestyle goals. Tim A.
*What can I say about the Fort Wayne Trail system? Its a fanastic system. I started using it years ago when it first opened and would ride from River Road trailhead to downtown. It's a gem of a system. I am going to Daytona Beach and the Orlando area in February, places that I thought would have great trails and they have some, but nothing like the 68 miles of paved trails we have here. We've used the trails in Indy with friends, but they are almost too populated...very crowded and a bit dangerous to be bicycling mid-day.

When I retired from Lincoln Life, my wife and I talked of relocating. We quickly realized that virtually no other place offered us bicycle paths like Fort Wayne! I'm not exaggerating when I say that the Greenway and access to the Fort Wayne rivers for our kayaking is why we decided to retire in Fort Wayne and not anywhere else. Steve

* The bike trails (particularly the River Greenway) are absolutely the best thing about Fort Wayne! Really brilliant! Hoping you'll connect them with bike paths that go to places I'd like to visit/shop, like grocery stores, libraries, cafes and entertainment venues, etc. Mary H.

*One of the reasons I recently chose to live and work in Fort Wayne was because of the incredible amount of cycling trails. I have really enjoyed exploring the area on my bike so far and am looking forward to seeing all 70 miles of trails. Tricia W.
*We continue to enjoy the Towpath Trail virtually every day, generally without much regard for the weather. I know that my wife has walked well over two thousand miles on that trail since it's been open from Engle Road to Taylor Street. She was recovering from a terrible broken leg and reconstructive surgery when the trail was completed. We still walk an average of 20 miles/week ten months of the year – we spend January and February in Florida. The Towpath was a major enhancement to the quality of life in our neighborhood. We're looking forward to seeing the links to Aboite completed, as we do a fair amount of biking too. Thanks so much for the work you do. Tom N.

*I would just like to say that I appreciate all of the work on the River Greenway trails. About a year and a half ago I joined Weight Watchers via the classes they held at IPFW. I took advantage of the discount the IPFW Employees / spouses got. I also started taking advantage of the river greenway paths for walks. I would walk from IPFW to downtown / foster park. Part of the way through my weight loss process I also started going back to the gym (summit city fitness) and between IPFW weight watchers, summit city fitness and the river greenway I have lost 130 lbs. John C.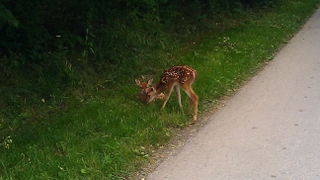 * I wanted to write and thank you for all the work you must do keeping our greenways going. I have been enjoying cycling on the Rivergreenway for some time now and I just love it. It is such a great asset to our community and I believe it will provide as yet unknown benefits to the greater Fort Wayne area. It is always a pleasure to see people out jogging, cycling or just strolling along the river enjoying nature or someone else's company. Thank you again for your efforts and keep up the good work! David H.

* Thank you so much for sponsoring the Night Ride on Tuesday. My husband and I are new to riding and we loved every minute of it. We rode that trail last Saturday for the first time and it was a different experience on Tuesday. Riding the trails at night alone was never going to happen for us, so you made the experience accessible for us. It is nice to experience the positive side of City Govt.
We look forward to next year and joining others on rides we may not feel comfortable doing alone. Sue L.

*Just a note to thank all concerned for the wonderful Rivergreenway trails in general and the new Towpath trail in particular. We have been enjoying this trail almost daily since it was first opened – and yes, this note should have been sent long ago. We know the work of the city government is hugely important on many more pressing issues, but we would find it hard to think of anything more important to us than the trails. We are grateful for what's done and look forward to completing the connection to Aboite Trails. Thank you. Best Regards, Tom N.

*One of the reasons I recently chose to live and work in Fort Wayne was because of the incredible amount of cycling trails. I have really enjoyed exploring the area on my bike so far and am looking forward to seeing all 70 miles of trails. Tricia W.