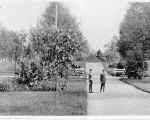 The Honorable Mayor Henry C. Berghoff appointed the first Board of Park Commissioners in 1905. The following members were confirmed by city council on June 6: Oscar W. Tresselt, David N. Foster, Joseph M Singmaster, and Ferdinard Meier.
Ferdinand Meier was elected president and the board entered upon the discharge of its duties, taking over from the Board of Public Works.
Click on the time period of interest for history highlights.
1800-1899
1900-1920
1921-1950
1951-1970
1971-1979
1980-1985
1986-1990
1991-1997
1998-2000
2001-2003
2004-Current


Fort Wayne Historical Video

Check out the video

If you have been curious about what Fort Wayne looked like in 1938, you will enjoy this video. Thanks to Lincoln Financial Group for sharing this video with us! At the 7:16 mark you will see a few of our parks.