Adult Programming at McMillen Park Community Center is $1 admission to the Center unless otherwise noted. Photo ID required.


Public Hours of McMillen Park Community Center
Check out the McMillen Park Community Center link for hours of operation.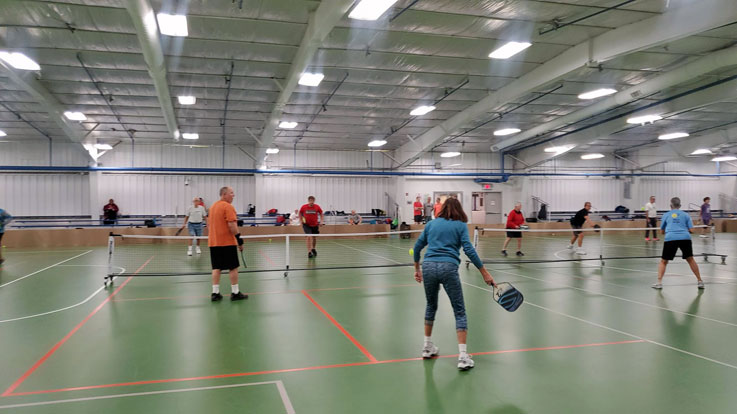 Adult Open Gym
M-F, 9:00 a.m.-2:00 p.m.
M & W, 6:00-8:00 p.m.
Sat, 10:00 a.m.-2:00 p.m.
Sun, 12:00-5:00 p.m.
The gym is available daily for pick-up sports activity.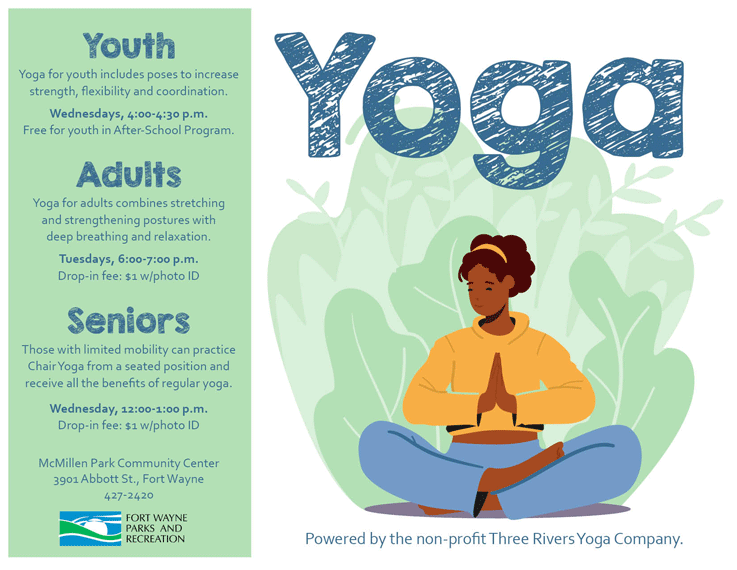 Yoga for Adults
Tuesdays, 6:00-7:00 p.m.
Saturdays, 10:00-11:00 a.m.
Yoga combines stretching and strengthening postures with deep breathing and relaxation. Free with $1 admission and photo ID.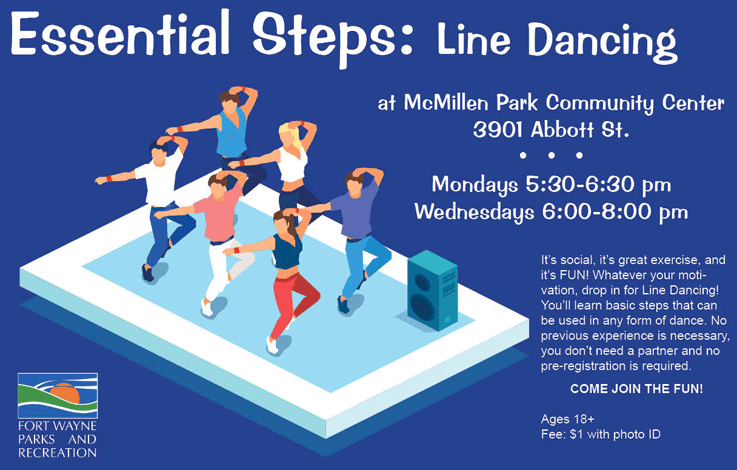 Essential Steps
Mondays, 5:30-6:30 p.m.
Wednesdays, 6:00-8:00 p.m.
Join the line dancing fun with choreographed, sequenced steps that help improve memory, coordination and balance while providing cardio exercise! Drop-in fee: $1 and Photo ID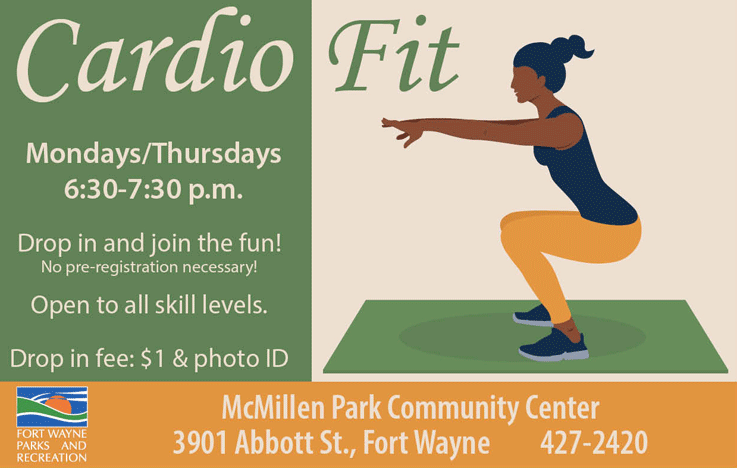 Cardio Fit
Monday & Thursday, 6:30-7:30 p.m.
Cardio Fit provides fun, aerobic fitness for all skill levels! Drop-in fee: $1 and Photo ID



Pickleball
Monday-Friday, 9:00 a.m.-2:00 p.m.
Come play the fastest growing sport in America! Indoor pickleball courts are available for drop-in play weekday mornings. Free with $1 admission and photo ID.


Weight Room
Monday-Friday, 9:00 a.m.-2:00 p.m.
Add our weight room to your daily fitness routine. Free with $1 admission. Photo ID required.

Walking Track
Monday-Friday, 12:00-2:00 p.m.
Don't let the cold weather cut into your daily step goal. Our indoor walking track is available every weekday, free with $1 admission and photo ID .

Seated Yoga
Wednesday, 12:00-1:00 p.m.
Designed for seniors or those with limited mobility, yoga poses are practiced from a seated position. Free with $1 admission and photo ID.


Men's Adult Basketball League
Thursdays, 6:00, 7:00, 8:00 p.m.
The Men's Basketball league runs for 8 weeks and ends with a single elimination tournament. Stop at the information desk by May 25 or call 427-2420 to register your team.




SepakTakraw/Kick Volleyball
Check out the YouTube link to check into this unique sport!
Summer Programming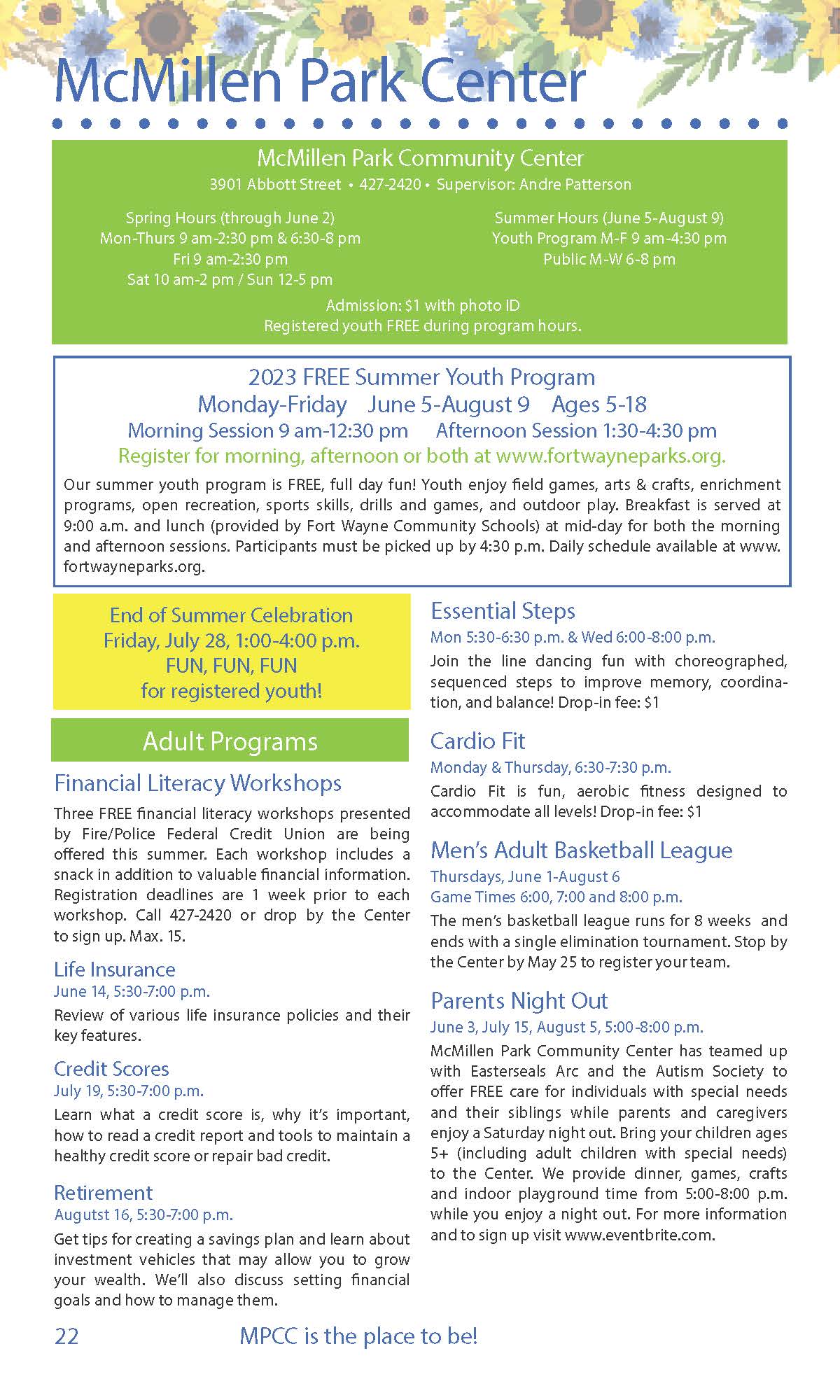 Financial Literacy Workshop
Three FREE financial literacy workshop presented by the Fire/Police Federal Credit Union are being offered this summer. Each workshop includes a snack in addition to valuable financial information. Registration deadlines are 1 week prior to each workshop. Call 427-2420 or drop by the center to sign up. Max 15.
Life Insurance
June 14, 5:30-7:00 p.m.
Review of various life insurance policies and their key features.
Credit Scores
July 19, 5:30-7:00 p.m.
Learn what a credit score is, why it is important, how to read a credit report and tools to maintain a healthy credit score or repair a bad credit.
Retirement
August 16, 5:30-7:00 p.m.
Get tips for creating a savings plan and learn about investment vehicles that may allow you to grow your wealth. We'll also discuss setting financial goals and how to manage them.


Fall Programs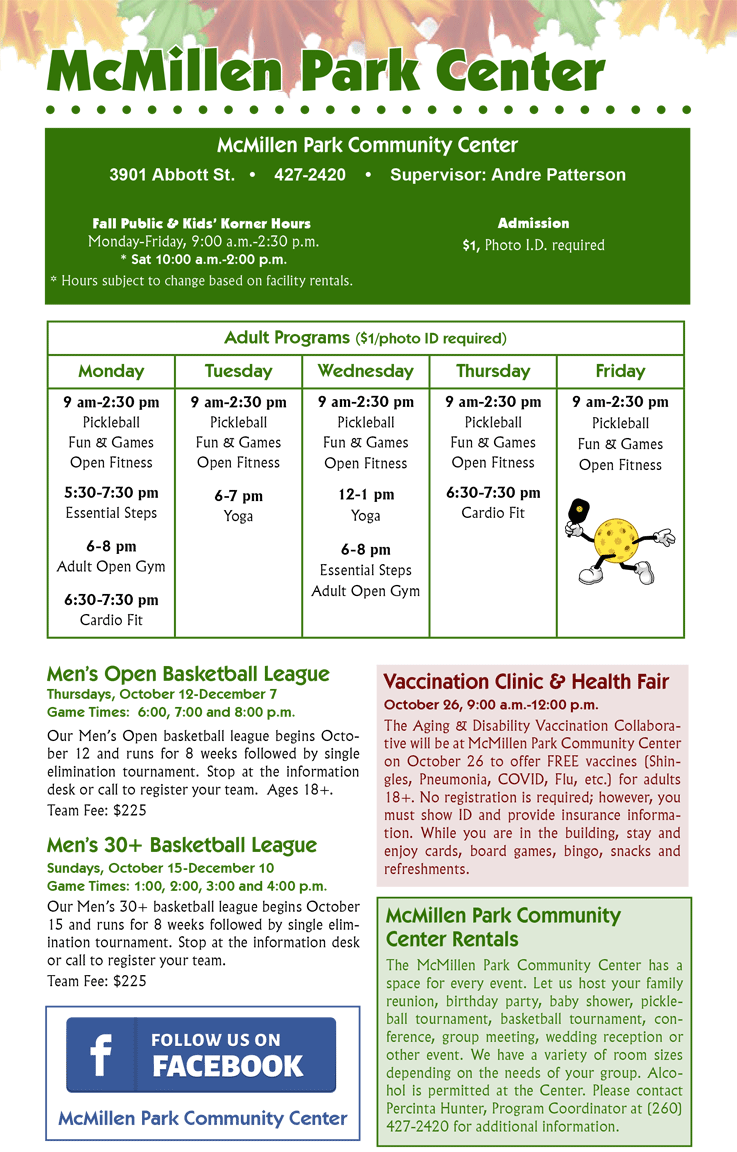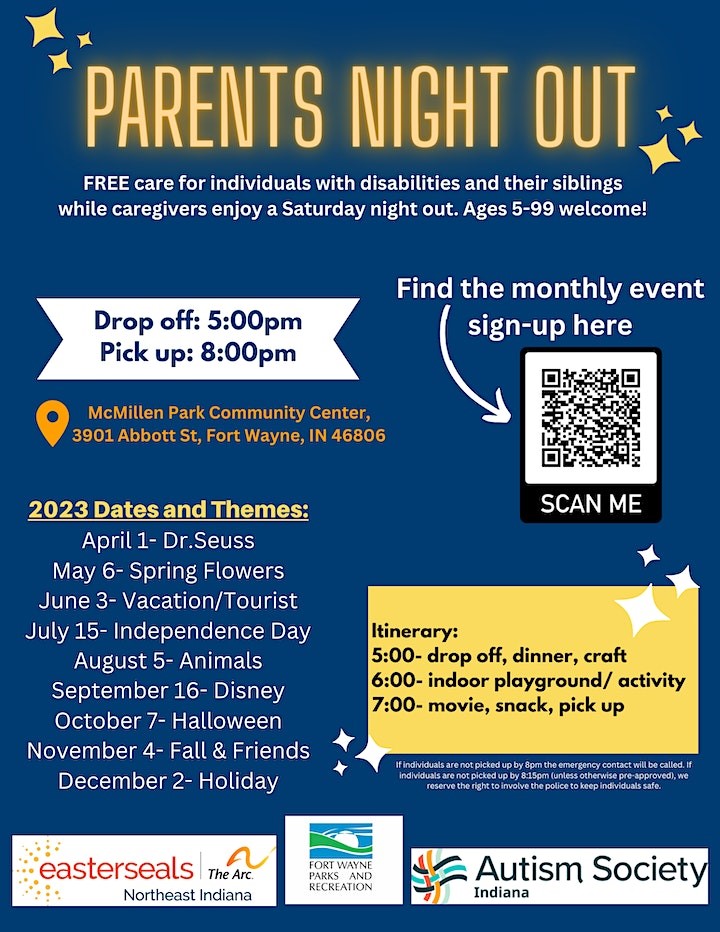 Parents Night Out
June 3, July 15, August 5, 5:00- 8:00 p.m.
McMillen Park Community Center has teamed up with Easterseals Arc and the Autism Society to offer FREE care for individuals with special needs and their siblings while parents and caregivers enjoy a Saturday night out. Bring your children ages 5+ (including adult children with special needs) to the Center. We provide dinner, games, crafts and indoor playground time from 5:00-8:00 p.m. while you enjoy a night out.
McMillen Park Community Center Rentals
The McMillen Park Community Center has a space for every event. Let us host your family reunion, birthday party, baby shower, pickleball tournament, basketball tournament, conference, group meeting, wedding reception or other event. We have a variety of room sizes depending on the needs of your group. Alcohol is permitted at the Center. Please contact Percinta Hunter, Program Coordinator at (260) 427-2420 for additional information.