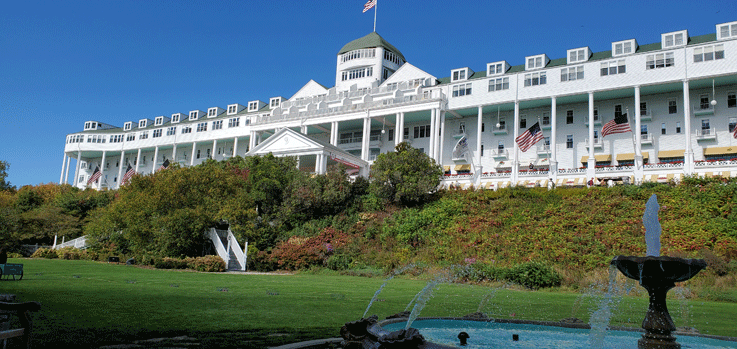 A Special Note

The Fort Wayne Parks and Recreation Department is looking for a Travel Coordinator to plan a variety of trips throughout the year. If interested please contact Chuck Reddinger, Deputy Director at 260-427-6009 or This email address is being protected from spambots. You need JavaScript enabled to view it..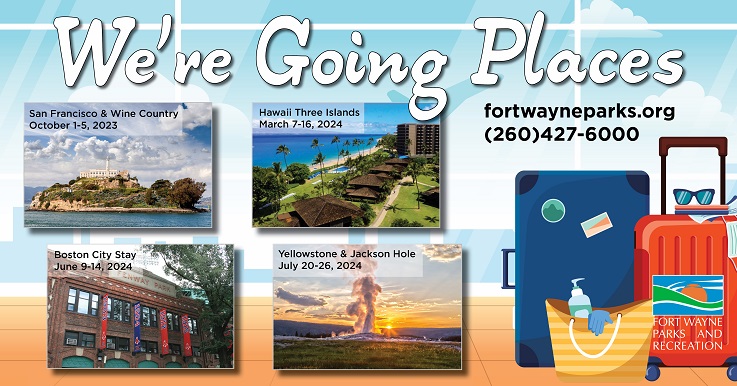 Extended Travel Trips
We are offering Extended Travel Trips in 2023 and 2024. If you have any questions, please e-mail This email address is being protected from spambots. You need JavaScript enabled to view it.
Check out the FAQ's about Mayflower Trips and the 2022 North America Holidays Booking Conditions and book your trip TODAY!
New England & Cape Cod Autumn Foliage
September 30 – October 7, 2023
Enjoy the tranquil backroads of Vermont, the monumental mansions of Rhode Island, gingerbread cottages of Martha's Vineyard and the history of Boston while taking in the best autumn colors New England has to offer. Over 350 years of history await you on a sightseeing tour of Boston's historic Freedom Trail, from the Public Garden to the Old North Church. Enjoy free time for lunch at Faneuil Hall before heading to the historic town of Plymouth, site of the "Rock," and where our forefathers first landed on American soil. Later, make your way onto Cape Cod. As the sun sets this evening, prepare for a delicious lobster bake - a New England tradition. Ferry to the resort island of Martha's Vineyard, a playground for many rich and famous. The island's coast has astounding cliffs at Gay's Head with spectacular shoreline views. Visit the village of Edgartown with its quaint gingerbread cottages and narrow streets. Set out along the scenic back roads of Vermont, which take you through such beautiful mountain villages as Newfane and Grafton. Weston is home to the Vermont Country Store, "Purveyors of the Practical and Hard-To-Find," and Woodstock has been called the "prettiest small town in America." While Vermont's maple syrup season takes place in the spring, maple syrup products are readily available. Also enjoy a stop at Quechee Gorge State Park. This impressive river chasm is often referred to as Vermont's "Little Grand Canyon" and offers spectacular views. Set sail for a journey across Lake Winnipesaukee on what has been called the "most beautiful cruise in New England." Sail from the home port of Weirs Beach aboard the Mount Washington to Wolfeboro, known as the oldest resort town in New Hampshire. Continue to Kennebunkport, one of Maine's coastal jewels and the summer home to many of America's rich and famous. Adorned with stately homes, Kennebunkport seems to wait breathlessly for its captains to return from sea.
8 days, 13 meals, $3,949/person
(incldues airfare from FWA when booked by 5/31/2023 or when special airfare promotion ends (whichever comes first).)
Single Supplement add $1,049
Travel Protection Plan $250/person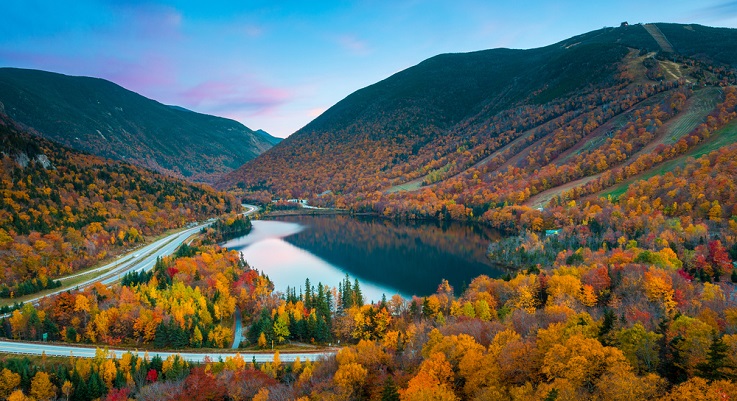 October 1 – 5, 2023
Experience the Napa Valley Wine Train excursion with an included gourmet lunch and local wine. Enjoy a visit and wine tasting at Francis Ford Coppola Winery featuring the Movie Gallery of the filmmaker's memorabilia. Embark on a local guide-led narrated tour of San Francisco where you will see so many of the landmarks that made the city known throughout the world. See Union Square, Twin Peaks, Golden Gate Park as well as Chinatown and the world's most crooked street. In the afternoon embark on a narrated San Francisco Bay cruise, taking in the city's waterfront, Fort Mason, the Presidio, Alcatraz and the Golden Gate Bridge. Maybe even ride on one of the city's famed cable cars. Travel to beautiful Napa Valley to climb aboard the meticulously restored vintage rail cars of the Napa Valley Wine Train. While on board, your waiter will bring a freshly prepared gourmet lunch while the views of the vineyards and wineries pass by. Sample some of the region's finest wines while touring the Movie Gallery, which displays a vast collection of the filmmaker's memorabilia, including the 1948 Tucker car from the movie of the same name, Don Corleone's desk from The Godfather as well as Mr. Coppola's five Oscars. Next, stop in the historic Sonoma Town Plaza with its restaurants and shops. A stroll around the town square will take you past former Mexican barracks, 19th-century hotels, the San Francisco Solano Mission and the site of the Bear Flag Revolt.
5 days, 7 meals, $2,974/person
(includes airfare from FWA)
Single Supplement add $859
Travel Protection Plan $250/person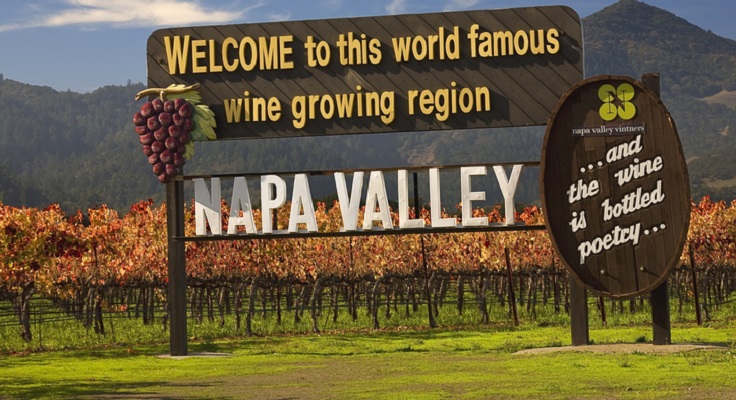 For more information or to receive a trip brochure by mail, please contact us at 427-6000 or e-mail This email address is being protected from spambots. You need JavaScript enabled to view it..
March 7-16, 2024
Hawaii Three Islands Reservation Form
Experience America's Pacific paradise, Hawaii. Visit three islands of Kauai, Oahu and Maui, where you can walk the idyllic beaches, venture into the lush tropical forests and be amazed by the stunning waterfalls and exquisite beauty all on one trip. Fresh flower lei greeting upon arrival. We will stay 3 nights in ocean view rooms on the island of Oahu, home to Waikiki Beach. Have fun in Honolulu city tour including Punchbowl National Cemetery, Iolani Palace and the King Kamehameha statue. A festive evening at the Magic of Polynesia Dinner Show. Free day to explore Honolulu at your leisure. Also, 2 nights in ocean view rooms on the "Garden Isle" of Kauai. Going to Waimea Canyon, considered the "Grand Canyon of the Pacific." Enjoying 3 nights in ocean view rooms on the "ValleyIsland" of Maui. Next, visit the lush Iao Valley where the famed "Battle of Kepaniwai" occurred. A relaxing scenic cruise on the Wailua River and a visit to Fern Grotto, a lava rock grotto covered with tropical ferns. A traditional Hawaiian luau complete with culturally authentic food, music and dancing
10 days, 12 meals, $5,449 /person
(includes airfare from FWA)
Single supplement add $2,089
Add $400 for inter-island airfare
Optional Travel Protection $299/person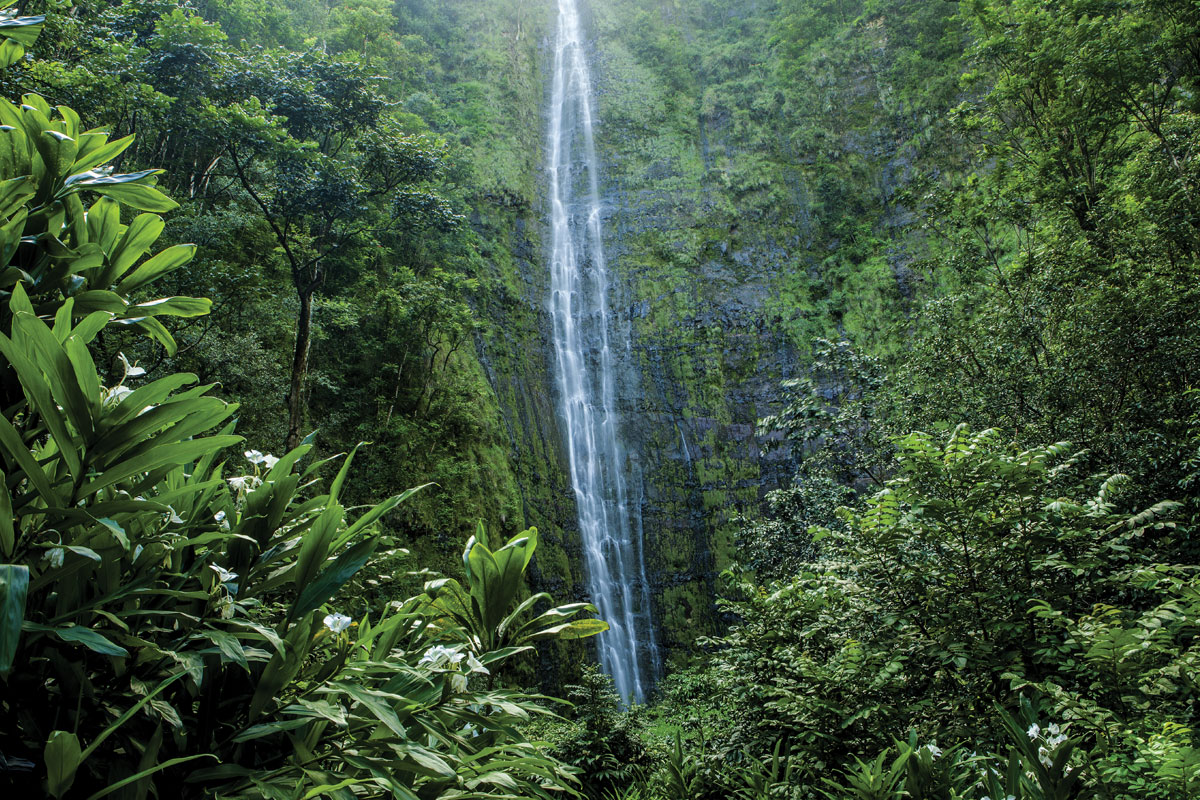 For more information or to receive a trip brochure by mail, please contact us at 427-6000 or e-mail This email address is being protected from spambots. You need JavaScript enabled to view it..
June 9- 14, 2024
FREE AIRFARE IF BOOKED BY 9/30/2023 ($800 FREE AIRFARE IF BOOKED BY 9/30/2023 ($800value).
Airfare will added to price on 10/1/2023.
Learn the nation's history in Boston, Lexington and Concord. See Plymouth Rock, Plimoth Plantation and enjoy an exciting whale watching cruise.Tour historic Fenway Park, learn about JFK's connection to the city and visit Salem. In the trip we will stay 5 nights in Boston, rich in colonial history. Tour of Boston Freedom Trail with an expert guide. We will have lunch at Cheers Beacon Hill, the inspiration for the hit TV show. Next,a guided tour of historic Lexington and Concord including Minuteman National Park and the Old North Bridge. Visit 17th-century Plimoth Patuxet Museums. Also, visit to famed Plymouth Rock and Mayflower II replica. Enjoying whale watching cruise to the Stellwagen Bankfeeding grounds. You will have free afternoon in "Beantown."Guided tour of historic Fenway Park, home of the Boston Red Sox. Visit to John F Kennedy Presidential Library and Museum and a tour of the The House of the Seven Gables. Next, visit to the Salem Witch Museum to learn about the Witch Trials of 1692.
6 days, 9 meals, $2,999/person
(includes airfare from FWA)
Single supplement add $1,099
Optional Travel Protection $250/person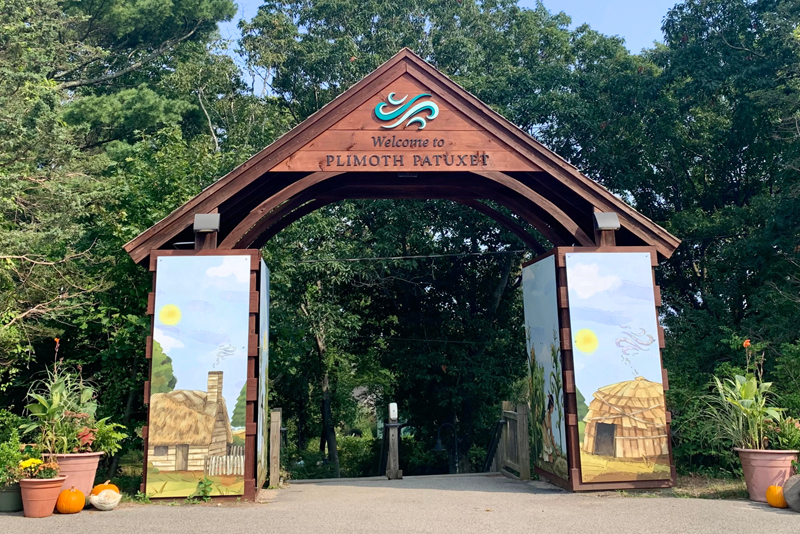 For more information or to receive a trip brochure by mail, please contact us at 427-6000 or e-mail This email address is being protected from spambots. You need JavaScript enabled to view it..
July 20-26, 2024
Yellowstone and Jackson Hole Reservation Form
FREE AIRFARE IF BOOKED BY 9/30/2023 ($850 FREE AIRFARE IF BOOKED BY 9/30/2023 ($850value)
Airfare will added to price on 10/1/2023.
The beauty of Yellowstone National Park comes to life with the natural wonder Old Faithful, Tower Junction and Mammoth Hot Springs. Tour scenic Grand Teton National Park, take a scenic float trip on the Snake River and discover treasures of the Old West in historic Jackson Hole.Travel through scenic Idaho, the Gem State. Enjoy 2 nights in Yellowstone National Park and a full day narrated tour of Yellowstone National Park to see the Grand Canyon of Yellowstone, Inspiration Point, Tower Junction, Mammoth Hot Springs and the famed geyser, Old Faithful. Next, a Snake River float trip through Grand Teton National Park. We will stay 2 nights in Jackson Hole. Enjoy delicious dinner and lively entertainment at the Bar J Chuckwagon Supper and Western Show. Next, Jackson Rodeo (Memorial Day - Labor Day) or the Jackson Hole Playhouse. Tour of Salt Lake City including Temple Square.
7 days, 10 meals, $3,199/person
(includes airfare from FWA)
Single supplement add $1,329
Optional Travelers Protection $250/person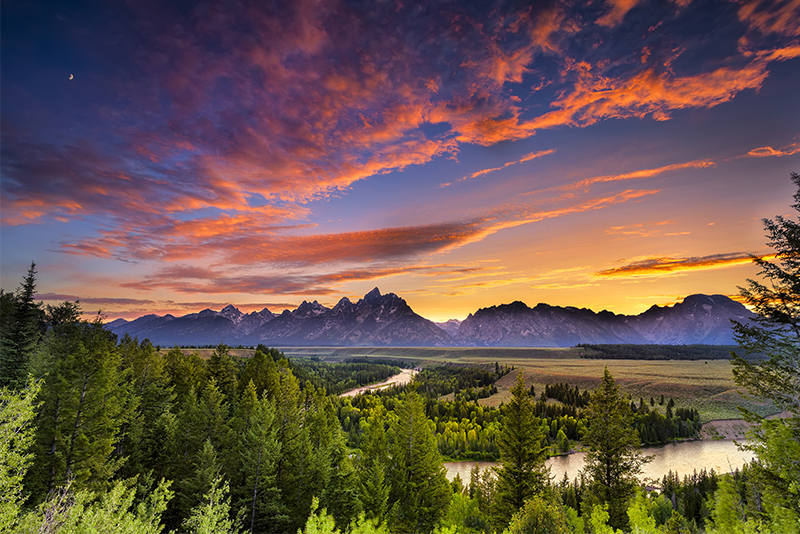 For more information or to receive a trip brochure by mail, please contact us at 427-6000 or e-mail This email address is being protected from spambots. You need JavaScript enabled to view it..
Check out the Treasures of Tuscany brochure.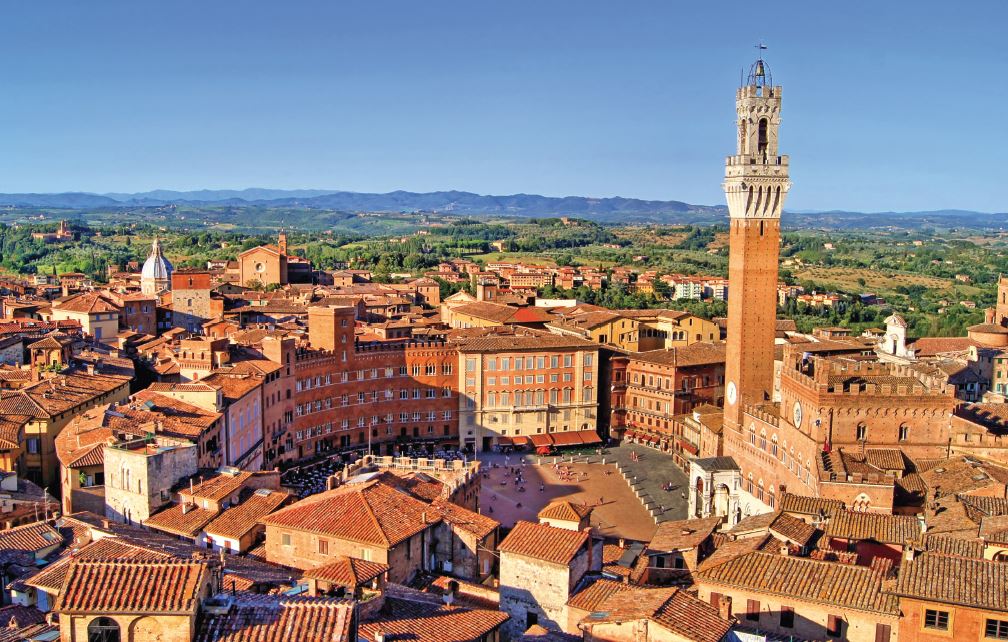 Christmas Markets Cruise on the Romantic Rhine
December 6-14, 2024
Christmas Markets Cruise Reservation Form
Enjoy a seven-night cruise on an Emerald Cruises Star-Ship. Travel to Amsterdam, Cologne, Koblenz, Ludwigshafen, Heidelberg plus Kehl and Strasbourg. An Activity Manager will host daily onboard wellness activities, games, classes and evening entertainment on the cruise. All meals are included with a variety of international cuisine.Some highlights include complimentary WiFi onboard. Complimentary bikes onboard for use ashore Mayflower Cruises & Tour. This is a Seven-night cruise! First-class service by an English-speaking crew and Cruise Director onboard. The shore excursions with English-speaking local guides. This also includes personal listening device for excursions. All meals included with a variety of international cuisine.
$399 airfare if booked by 4/30/2023 (included in current listed price)
The overall price will go up after 4/30/2023 to account for the increased airfare.
Watch a video of the Christmas Markets on the Rhine River Cruise!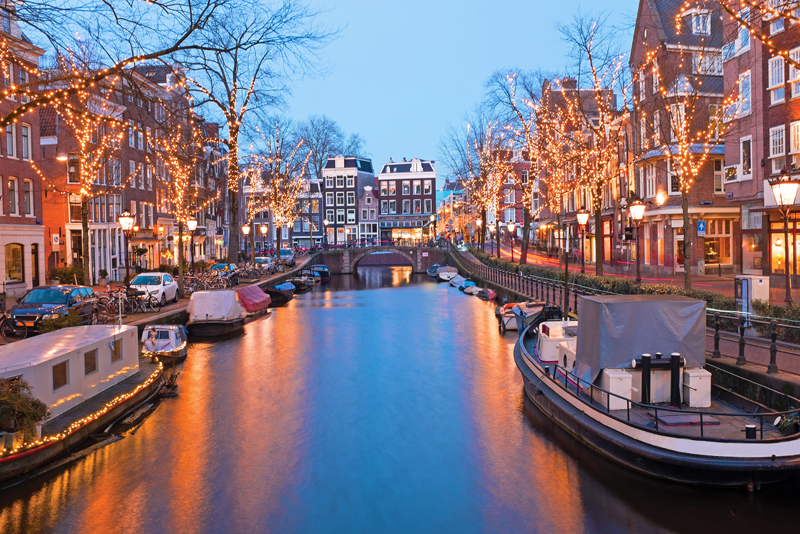 For more information or to receive a trip brochure by mail, please contact us at 427-6000 or e-mail This email address is being protected from spambots. You need JavaScript enabled to view it..
Gallery of Photos from the 2021 Mackinac Island Trip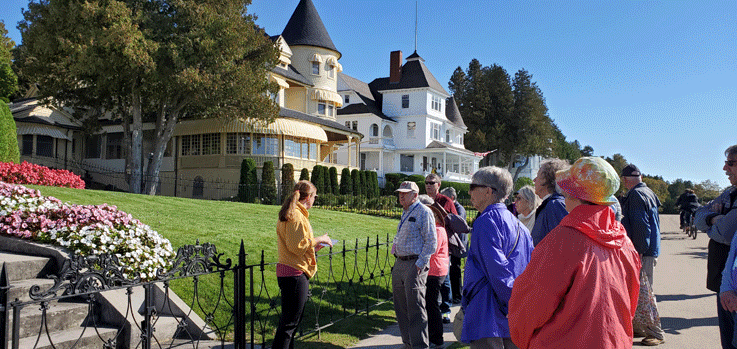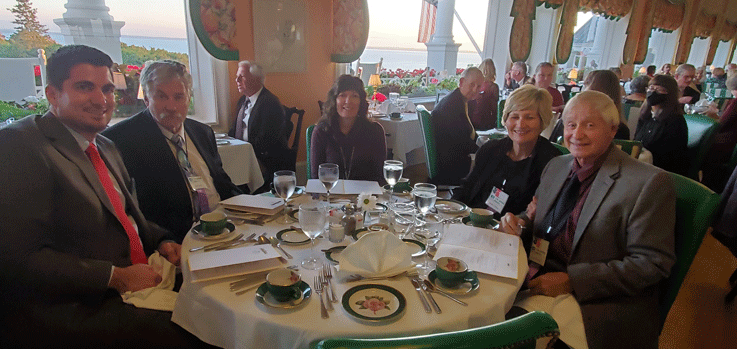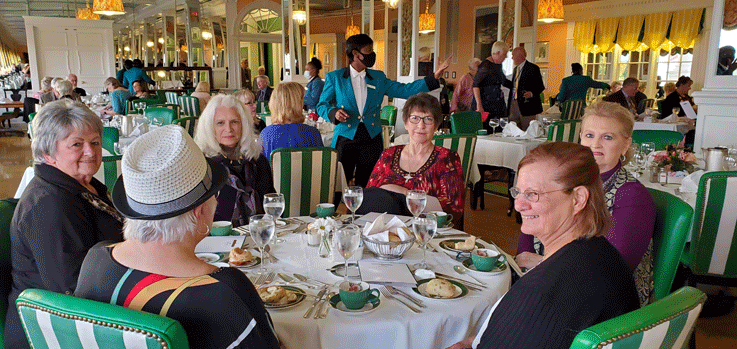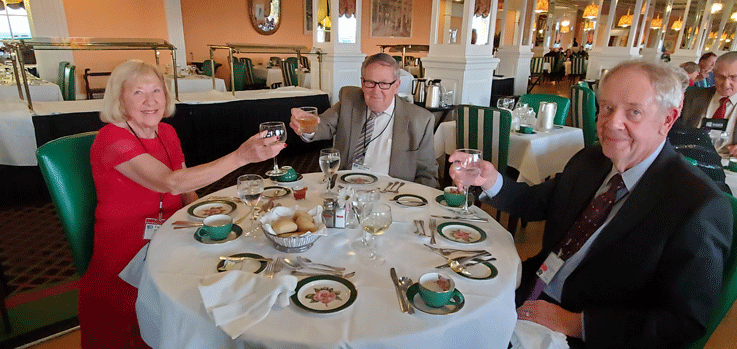 Future Extended Trips and Tours
Our plan is to offer a full compliment of Day Trips and Extended Trips in 2023. See below for highlights from past years!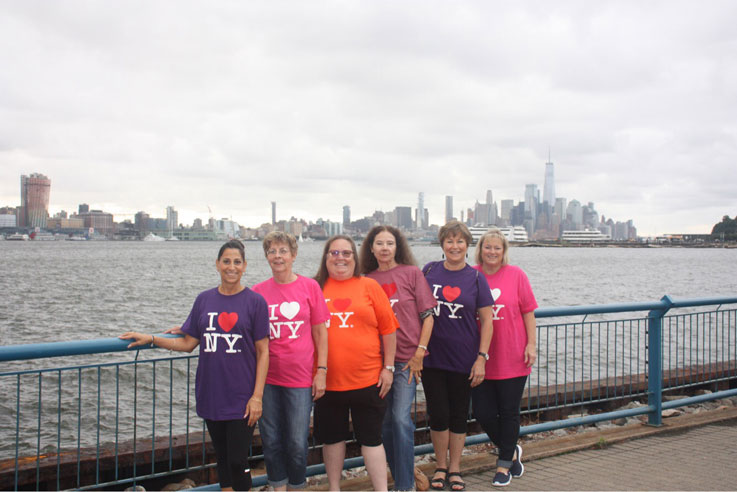 Some travelers enjoying their "Girls Trip" to New York City! Pictured, from left to right are Laurene Benelli, Carrie Edwards, Tina Wells, Thelma Retz, Terrie Mays and Laurie Muzzillo.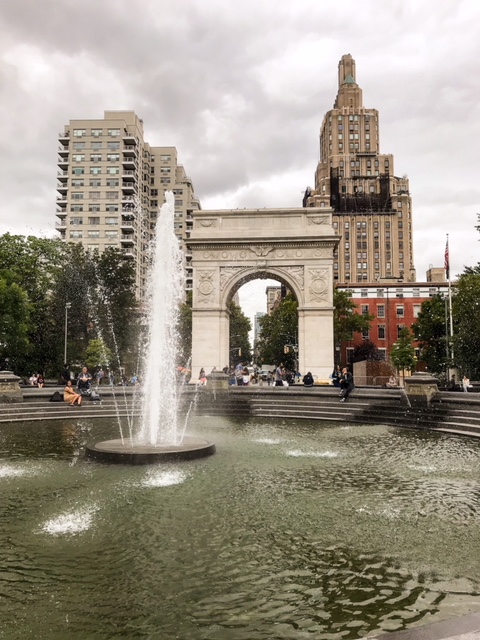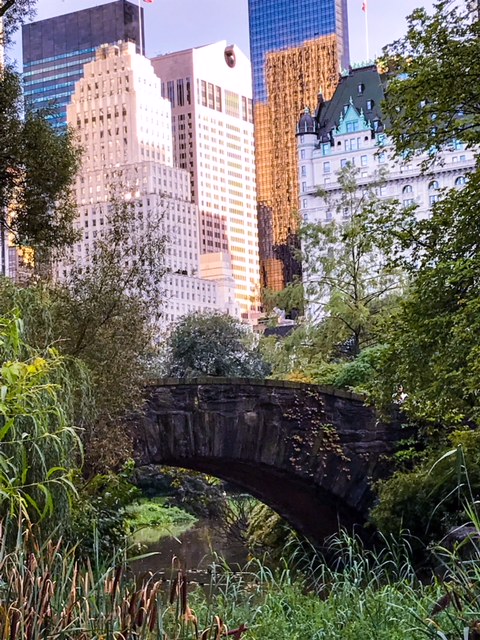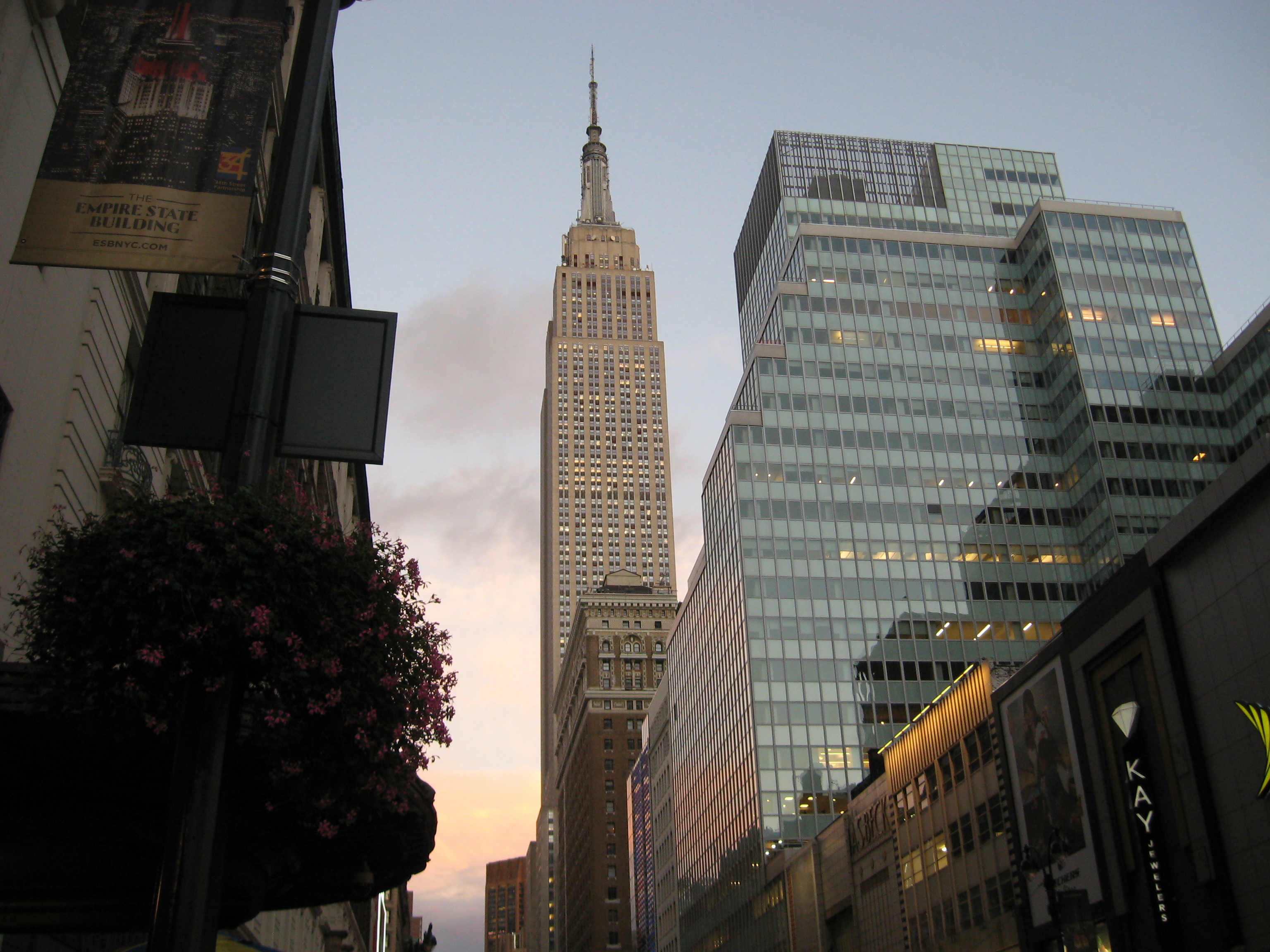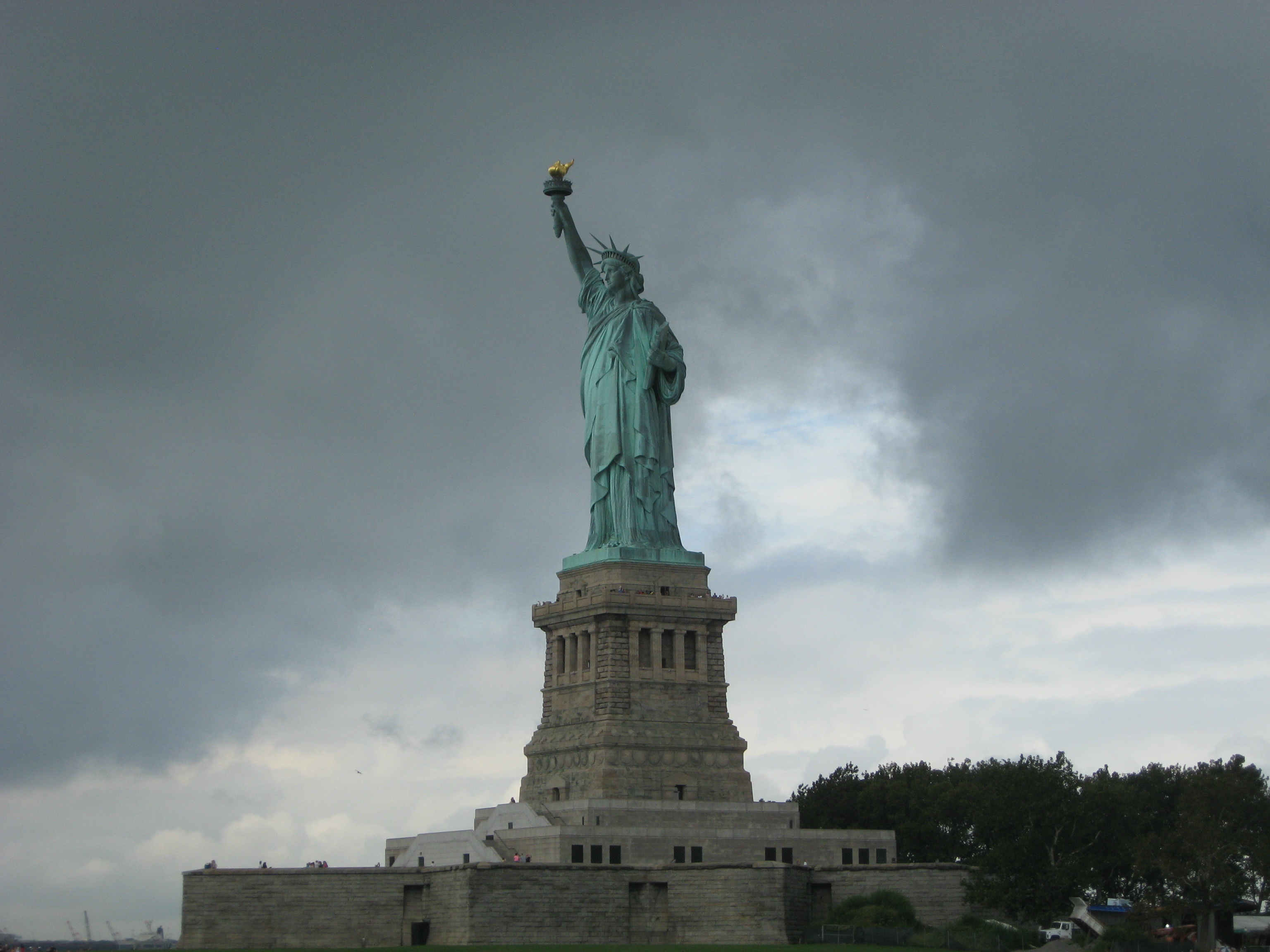 Thanks to our travelers who visited New York City with us and supplied these photos.
Salomon Farm "Farm to Fork Tour" photos (2021)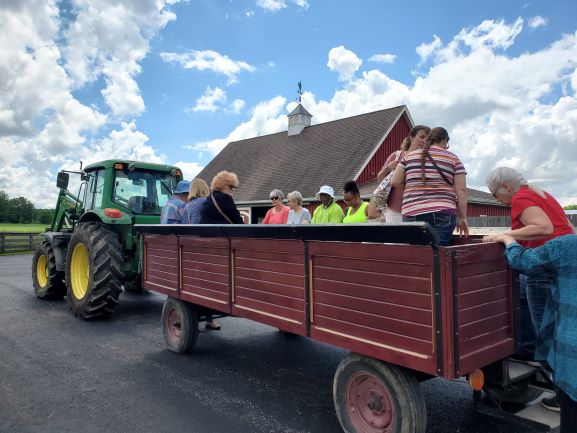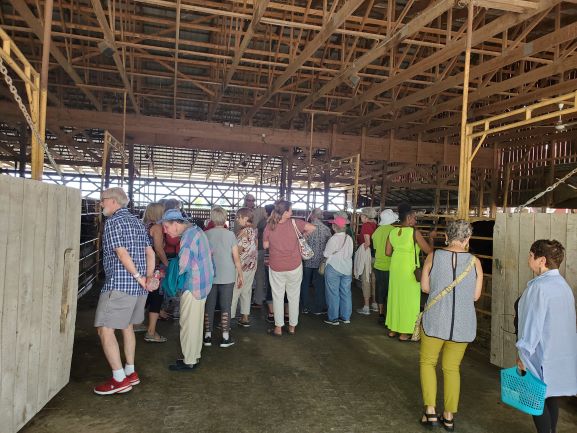 Brown County Travel Photos (2021)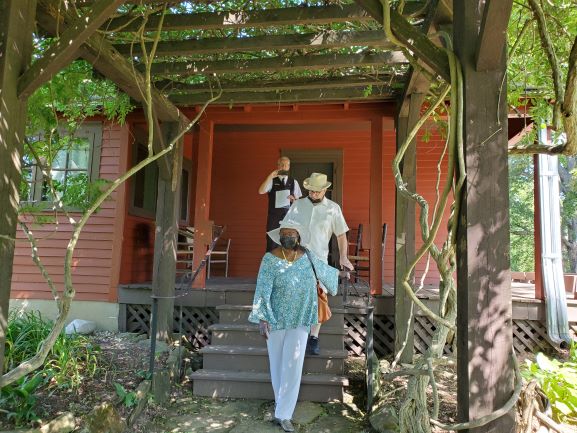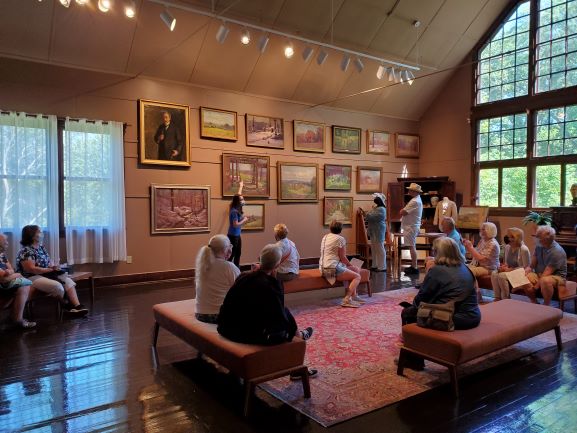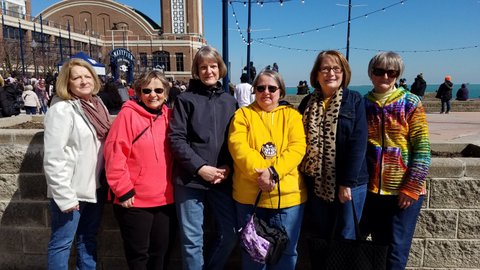 Recent travelers to Chicago include:Sharon Stout, Karen Wyss, Margaret DeMeritt, Donna Rensch, Dona Keiser and Becky Clifton
My travel friends (Beckie, Tonda, and Leah) and I would like to say THANK YOU for such a wonderful Chicago Shopping Trip on Saturday, December 1st. Our group had a wonderful time. The price for the trip was unbeatable. The organization of the trip was flawless. Donna was a wonderful hostess who made sure everyone's needs were met. Bob, the bus driver from excursion travel, was the best driver we have ever had and we have been on quite a few bus trips in the past.
We will definitely recommend future bus trips sponsored by Parks and Recreation to our friends and families. We would certainly be interested in taking future bus trips through the Parks and Recreation. This was our first time and I sure it will not be our last.
Thanks again for such a wonderful time last Saturday.
Michelle V.
Thanks for a great first Cubs game. I really enjoyed the box lunch, donuts and plenty of water! Only thing that could have made it better was a Cub win!
Looking forward to traveling with you again! Jan S.
I did not get a chance to thank you for the great job you did coordinating the Mackinac Island Trip. No surprise seemed to throw you or stop us from having a good time. I thought the trip at a living history farm was a great idea, too bad the rains came. Would rather have them come on the way home than when we were there🙂 it was a nice trip and I think everyone had fun. On a personal note thanks for being a big help to Allen and me when we arrived on the island. Please tell Joe thanks too.
Maybe we will see you next year.
Roseann and Allen C.
Thank you so much for pictures and all you did to make it a amazing vacation (Mackinac Island Trip) for all of us, we are most grateful. Take care! Debbie G.