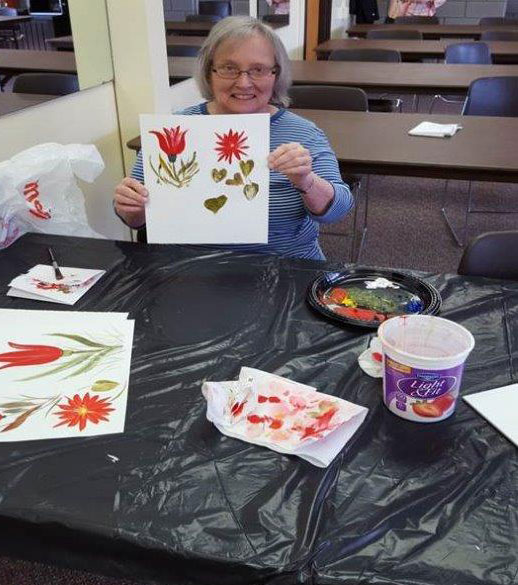 View the full Unwind Your Mind brochure Here!


Unwind Your Mind: Activities for Persons with Early Dementia

A diagnosis of Alzheimer's disease or other dementia is life changing. Because individuals with dementia often feel isolated and disconnected, it is important that opportunities to participate in community activities that are meaningful, creative, and social are made available to them. Such activity can provide a sense of competence, a reduction in depression, and improved relationships with family members. Studies have shown that arts, crafts, computers and social activities help slow mild cognitive loss by up to 50%.

The Parks and Rereation Department offers classes and activities at the Community Center for those those with signs of early dementia.

For additional information including to register please call the Community Center, 260-427-6461 or 260-427-6466.



Fidget Blankets

The Alzheimer's Association in conjunction with Annie's Caring Crochet Kit Club offers free Fidget Blankets to Alzheimer's caregivers. These crocheted blankets have various objects securely attached to them that can help stimulate the mind and keep a person occupied as they "fidget" with each item. The Community Center is currently assisting with the distribution of Fidgit Blankets. Call Patti Davis at the 427-6465 to arrange a pickup.


General Programs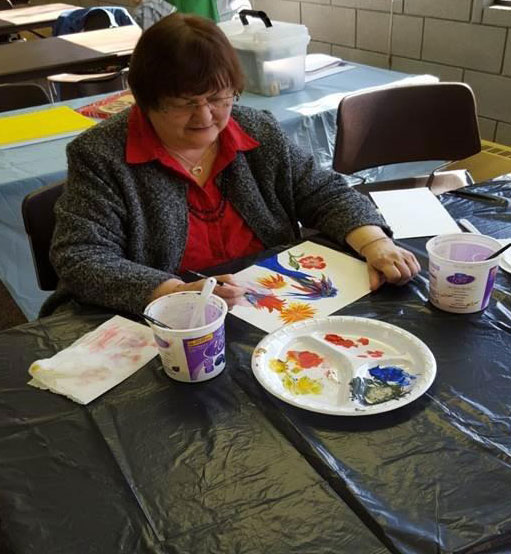 Fall Programs


Acrylic Painting
Paint a picture and take it home the same day! You'll be guided step-by-step from blank canvas to your finished painting, learn how to load the brushes, paint wet into wet and blend colors as you go. All necessary supplies will be provided. Max. 8.
Dates Day Time
11/15 T 1:30 pm
# Sessions/Fee: 1/$25
Location: Community Center, 233 W. Main St.


Relaxation Station: Adult Coloring
3rd Mondays, 10:30-11:30 a.m.
Sept 19, Oct 17, Nov 21
Community Center, 233 W. Main St.
Who doesn't like to color? Listen to relaxing music, visit with your neighbor and color until your heart's content using colored pencils. Masks are required. No pre-registration is necessary. Just drop in! Drop-in fee: $1. (Note: Our monthly Monday Luncheons are on the same dates, so make plans for lunch.)

Creative Quilting
Thursdays, 1:00-4:00 p.m.
Community Center, 233 W. Main St.
Do you like to quilt? Do you want to meet other quilters, meet new friends, share your ideas and get your quilting questions answered? The iron and ironing board will be set up for pressing. You will have a large table to work on and lay out your quilt. New friends, new ideas, and new patterns –all you need for an enjoyable afternoon. Ages 50+. No need to call ahead. Just drop in! Drop in fee: $1

Walking Group
Wednesdays, Thru October 26, 11:00 a.m.
Community Center, 233 W. Main St.
Would you like to get outside and enjoy a nice walk through Downtown Fort Wayne? Join us for a fun mile walk while enjoying the company of others. We will walk different routes through the downtown area. Some of the walks will include a stop at various locations for a quick tour. Please call 427-6460 to sign-up by the Monday before each walk. There is no fee to participate in these walks

ABC Exercise: Activate, Boost & Challenge
Tuesdays & Thursdays, 9:30-10:15 a.m.
Community Center, 233 W. Main St.
ABC Exercise, formerly Arthritis Foundation Exercise, is a recreational exercise program designed for anyone with arthritis or related rheumatic disease and/or joint problems (hip/knee replacement, stroke, etc.). If you are just beginning to exercise, start with this class specifically designed to improve strength and flexibility, reduce pain caused by arthritis and other ailments and increase mobility. No pre-registration is required for this drop-in program. Ages 50+. Drop-in fee: $1/class

Bingo
2nd and 4th Fridays, 1:00 p.m.
Sept 9 & 23, Oct 14 & 28, Nov 11
Bingo is held at 1:00 p.m. on the 2nd and 4th Fridays of each month. Prizes are snacks, canned goods and miscellaneous household items. Fee: 3 cards/50c

Know the 10 Signs
Monday, September 12, 3:30-5:00 pm
Community Center, 233 W. Main St.
Alzheimer's Disease and other forms of dementia cause memory loss, and thinking and behavior problems that interfere with daily living. Join us to learn how to recognize common signs of the disease and how to approach someone about memory concerns. We will also discuss the importance of early detection and benefits of a diagnosis, the possible tests and assessments for the diagnostic process, and Alzheimer's Association resources. This seminar is free; however, you will need to call 427-6460 by September 5 to register.