Explore the Trails!
You're invited to discover the trails by wheel or by heel in 2022!
Trek the Trails: these 6-9 mile bike rides take place every Tuesday from the last week in April through October. Hosted by Fort Wayne Public Works and Fort Wayne Trails, these rides are for all skill levels. Trek the Trails is sponsored by Trek Bikes Fort Wayne, Fort Wayne Harley Davidson, Three Rivers Velo Sport, and UAW 2209. Riders are encouraged to wear helmets. All Trek the Trails dates are listed in BLACK below.
Tread the Trails: New in 2022, Fort Wayne Public Works and Fort Wayne Trails have partnered with the Fort Wayne Running Club and the City of New Haven to introduce Tread the Trails! Tread the Trails is for individuals of all skill levels. All Tread the Trails Events are 5 kilometers in distance, but participants are encouraged to add increase or decrease the distance as they see fit. Tread the Trails takes place every other Thursday. Tread the Trails dates are listed in RED below. Tread the Trails is open to wheelchair use as well.
All participants should meet at the locations listed below at 6:00 p.m., with departure promptly at 6:10 p.m. All skill levels are welcome. Rides vary in length and location, ensuring that you can experience as many of the nearly 130 miles in the trail system's network! All participation is at the individuals' own risk. Follow the City of Fort Wayne, Fort Wayne Trails, Fort Wayne Running Club, and Fort Wayne Parks and Recreation on social media for weather-related updates. Call the City of Fort Wayne at 260-427-6228 or Fort Wayne Trails at 260-969-0079 for more information!
Date
Meeting Location

9/13/2022

9/15/2022

Foster Park

3900 Old Mill Rd.; Meet at the Trailhead near Pavilion 1

Bike Ride:7.5; Run/Walk: 5K

9/20/2022

AEP Building

3600 Landin Rd, New Haven

Bike Ride: 9 Miles

9/27/2022

9/29/2022

Shoaff Park

Meet at Conklin Pavilion (Turn left after entering Park)

Bike Ride: 7 Miles

10/4/2022

Turnstone

3320 N. Clinton St.

Meet at Lot C on the north side, adjacent to Livingston Avenue

Bike Ride: 4 Miles & 3 Miles

10/11/2022

10/13/2022

Indian Trails Park

10313 Aboite Center Rd; Meet at SW Parking lot

Bike Ride: 8 Miles; Run/Walk: 5K

10/18/2022

Parkview YMCA

10001 Dawson's Creek Blvd

Bike Ride: 8 Miles

10/25/2022 @ 7:00 PM

10/27/2022

North River Road Trailhead

Near 7000 N. River Road

Bike Ride: 8.5 Miles; Run/Walk: 5K
---
Safe Trails are Happy Trails.
Mid-Block Crossings can be confusing for everyone. Who has the right of way? When should cars stop? When can pedestrians cross?
Watch this video to learn more about the proper way to navigate crossing in the middle of a street, rather than at an intersection!
When traveling on city streets, bicycles have the same duties and rights as motorists. Know and practice the rules of the road.
---
Who is using the Trails?
Infrared counters are positioned throughout the Fort Wayne Regional Trails Network to help staff understand how residents are using the trail system. Find out how many trail users we counted in 2021, plus learn more about which trails were used the most frequently!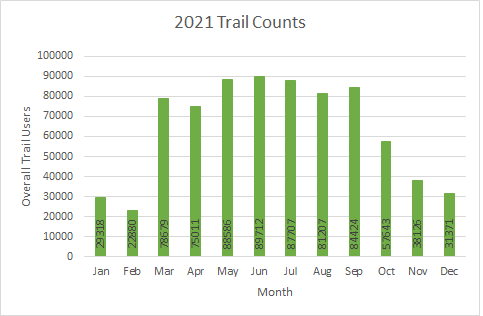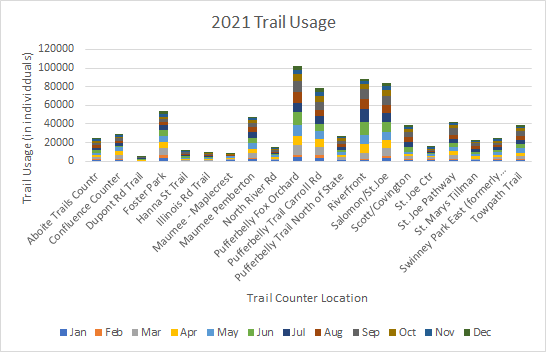 Please note: Foster Park and St.Joe Center numbers contain averages due to temporary counter failures.
---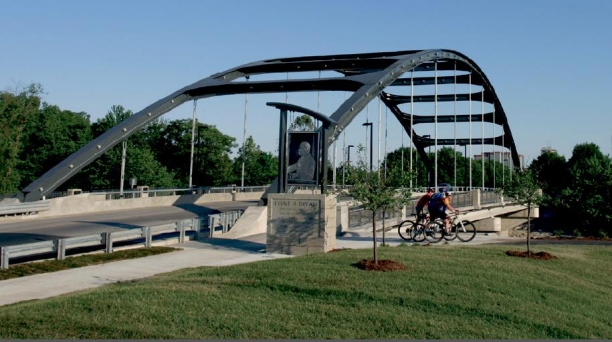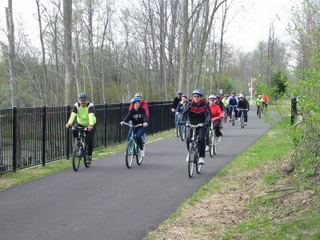 How are the Trails growing?
Learn more about current projects involving trails within the City of Fort Wayne:September Project Status Report
---
Want to help the trails expand even more? Do so while you drive!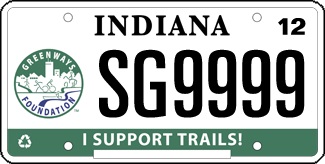 Support Trails with a Trails License Plate!
Consider a purchase of this Trails Plate to show your support for all types of trails in Indiana. The foundation will use the proceeds as grants to trail groups throughout the state of Indiana. This special plate is an additional $40, of which $25 goes to the Greenways Foundation. The Greenways Foundation envisions a statewide trail, greenway, and bikeway system that provides access to trails for all Indiana citizens. This world-class Hoosier greenways system connects scenic, cultural, historic, recreational, tourist, and economic sites in Indiana's urban and rural communities, is convenient to people of all cultures, ages, and abilities, and is one of the state's most powerful tools in achieving economic growth, a healthy citizenry and livable communities.
It's simple to purchase the plate! Online, simply visit
www.mybmv.com
and navigate to the
special license plates
. You also can go in person to your local license branch or order through the mail. New this year: all license plates are now mailed to you. You can get a tax break when buying this license plate that advocates for a charitable cause. You can deduct this fee on Schedule A of your taxes.
---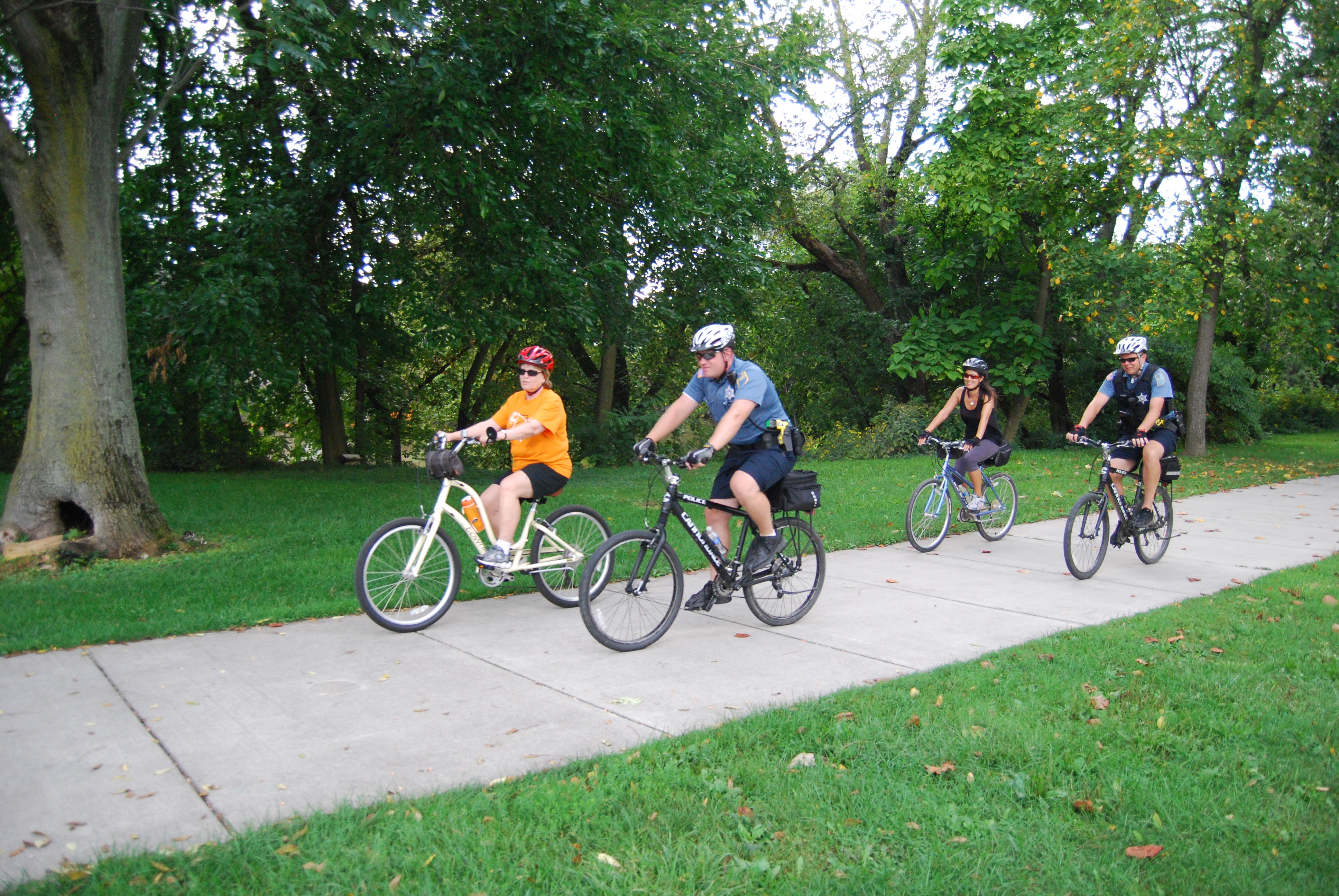 The Rivergreenway is open from 6 am -11 pm daily for your enjoyment. For additional information about any of the trail events listed below, please e-mail: This email address is being protected from spambots. You need JavaScript enabled to view it..