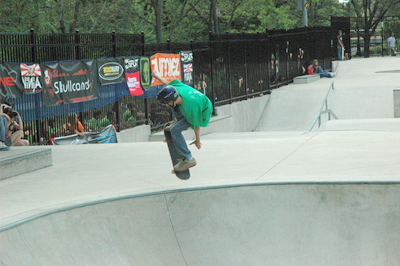 Skateboarding IS allowed at Lawton Skatepark!

SWIMMING
No person shall bathe, wash or swim in any lagoon or river within or adjacent to any park, if entry thereto is made from such park lands.

No one is permitted to swim in the city-operated swimming pools when the lifeguards are not on duty.



GOLF



Practicing of golf is not allowed in parks and playgrounds, except at the established practice area.

No one is allowed on the courses without a ticket and set of golf clubs, nor when the courses are closed for the season.

Intruding upon a golf course that is in play is disrespectful and unlawful.


EXTREME SPORTS
Operating extreme sports equipment in the following locations is considered a
public nuisance and is prohibited:
Freimann Square Park;

Botanical Conservatory grounds;

Community Center premises;



WILDLIFE AND FISHING


No person shall molest any of the fish, waterfowl or other birds or animals kept in public parks.

Fishing is available at Lakeside, Franke and Hurshtown Reservoir. River fishing is also available to all ages. Fishing licensing requirements of the State of Indiana apply.

Bow and arrow fishing and spear fishing are NOT PERMITTED.

HUNTING, FIREARMS NOT PERMITTED



No person shall be allowed to carry firearms, to shoot or throw stones at or to set snares for any wild life, animals, birds and fish within the limits of any park or within five hundred feet thereof. All parklands are wild game preserves.

Fireworks, firearms and weapons of any sort are prohibited in all park areas.

Click

here

for additional information.