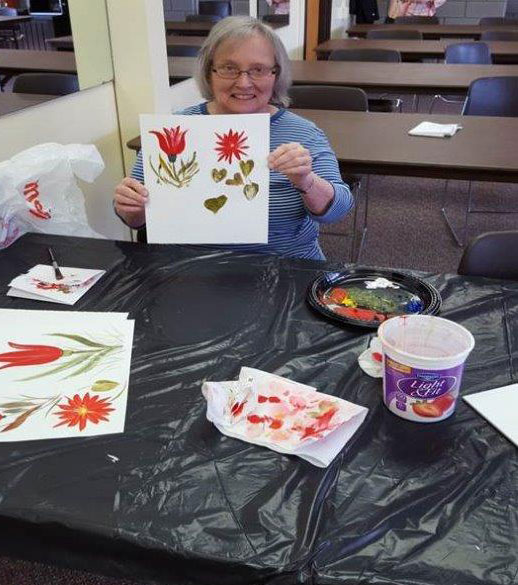 Unwind Your Mind: Activities for Persons with Early Dementia

A diagnosis of Alzheimer's disease or other dementia is life changing. Because individuals with dementia often feel isolated and disconnected, it is important that opportunities to participate in community activities that are meaningful, creative, and social are made available to them. Such activity can provide a sense of competence, a reduction in depression, and improved relationships with family members. Studies have shown that arts, crafts, computers and social activities help slow mild cognitive loss by up to 50%.

The Parks and Rereation Department offers classes and activities at the Community Center for those those with signs of early dementia.

For additional information including to register please call the Community Center, 260-427-6461 or 260-427-6466.
ABC Exercise: Activate, Boost & Challenge
Tuesdays & Thursdays, 9:30-10:15 a.m.
Community Center, 233 W. Main St.
ABC Exercise is a recreational exercise program designed for anyone with arthritis or related rheumatic disease and/or joint problems (hip/knee replacement, stroke, etc.). If you are just beginning to exercise, start with this class because it is specifically designed to improve strength and flexibility, reduce pain caused by arthritis and other ailments and increase mobility. No pre-registration is required for this drop-in program. Ages 50+. Drop-in fee: $2

Indoor Circuit Training
Mondays & Fridays, June 5-August 28
10:00-10:45 a.m.
Community Center, 233 W. Main St.
The Community Center has a 10-station Life Fitness Circuit Series located on the second floor. You are welcome to use the equipment on your own or join us on Monday and Friday mornings for this instructor-led circuit training class. Pre-registration is not required. Just drop in! Ages 50+. Drop-in fee: $2

Bingo
2nd and 4th Friday, 1:00 p.m.
July 28; August 11, 25
Community Center, 233 W. Main St.
Bingo is held at 1:00 p.m. on the 2nd and 4th Fridays of each month. Prizes are snacks, canned goods and miscellaneous household items.
Fee: 3 cards/$1.00

Monday Luncheons
Bring a friend or two and join us for our traditional Monday Luncheons. We will begin serving at 12:00 p.m. but you can come at 10:30 and enjoy the Relaxation Station to color and socialize with others. Paid reservations are required by the previous Wednesday at 4:00 p.m. Fee for the lunch is $5/person, no refunds or transfers. Call 427-6460 to register. Ages 50+. Note: Our June Luncheon is a week earlier because we will be closed on June 19 in observance of Juneteenth.
Monday, August 21, 12:00 p.m.
"Dog Days of Summer"
Supporting Sponsor:
Bethlehem Woods Nursing and Rehabilitation
Relaxation Station: Adult Coloring
August 21
3rd Mondays, 10:00-11:00 a.m.
Community Center, 233 W. Main St.
Who doesn't like to color? Listen to relaxing music, visit with your neighbor and color till your heart's content using colored pencils or gel pens. No pre-registration is necessary. Drop-in fee: $1.

Tuesday Movies
Community Center, 233 W. Main St.
Join us for an afternoon at the movies! Most features are recent releases or popular classics. Admission is FREE, however, we do require pre-registration by the Monday prior to the movie. Show time is 1:30 p.m. Space is limited. Please call 427-6460 by the Monday prior to each movie to reserve your seat. Tuesday movies are sponsored by The Waters of Fort Wayne & Canterbury Health and Rehabilitation.
August 1 Lee Daniel's The Butler
August 15 Home Team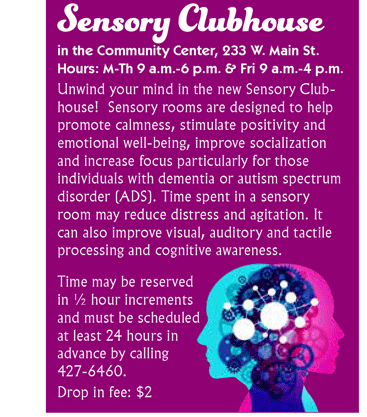 For more information about the Sensory Room check out "Walk in the Park" on 21Alive featuring Patti Davis, Recreation Superintendent and Suzan Moriarty.

Fall Programs