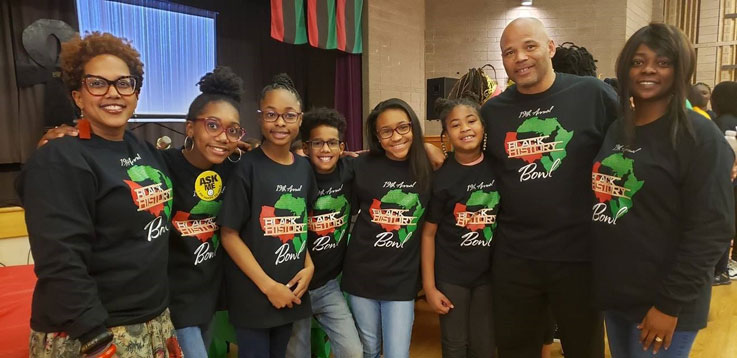 2022 Summer Registration for Cooper, Jennings & Weisser Centers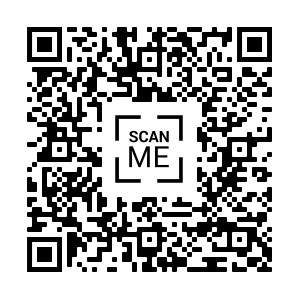 Registration is now OPEN for the summer program at Cooper, Jennings & Weisser. Check out the QR code above and register when you are ready. Or register-on line TODAY!
Please note, Jennings Center will be closed the week of July 4th.


ALL YOUTH CENTERS ARE CURRENTLY FULL.
IF YOU COMPLETE A REGISTRATION FORM for COOPER, JENNINGS, OR WEISSER, YOU WILL BE PUT ON THE WAITING LIST.
IF AND WHEN A SLOT OPENS UP, YOU WILL BE CONTACTED IN THE ORDER OF REGISTRATIONS RECEIVED.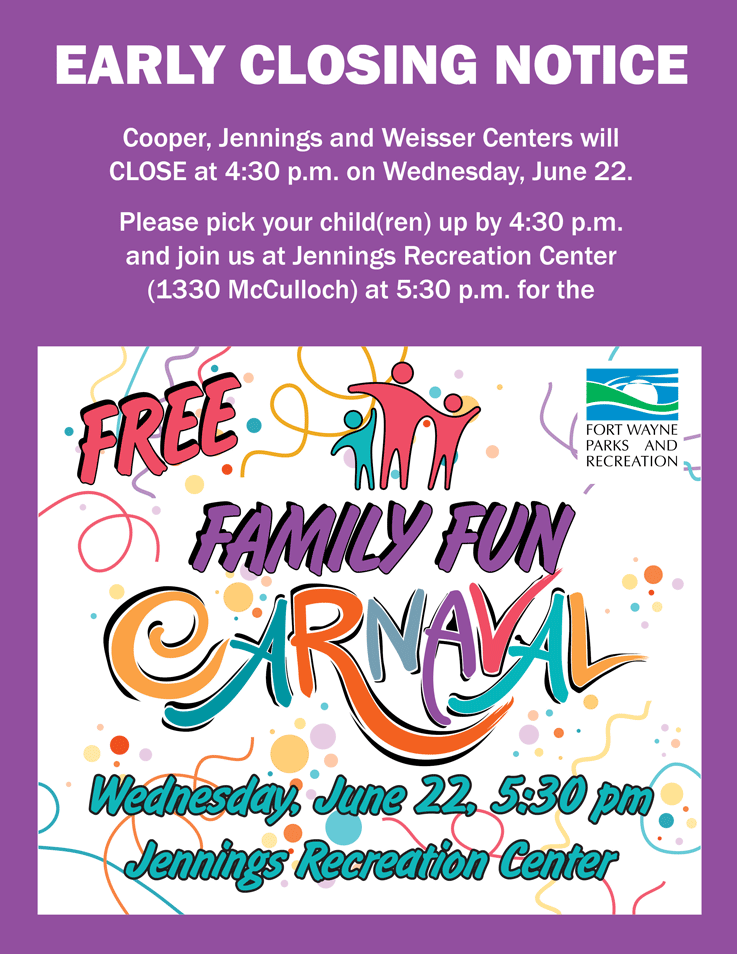 Flashback Friday-Jennings Recreation Center

Curious about the history and mission of the Jennings Recreation Center? Learn more by watching the video!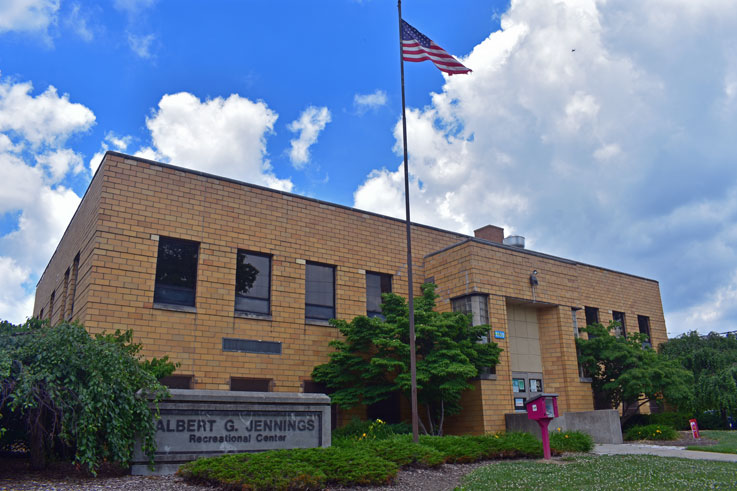 The Albert G. Jennings Center

1330 McCulloch Street
Directions
(260) 427-6700
Jennings Center continues to fulfill its unique mission, by providing activities for people of all ages in such areas as athletics, club organization, crafts, skill development and food service. All activities are supervised by a highly committed and trained staff. All programs are free.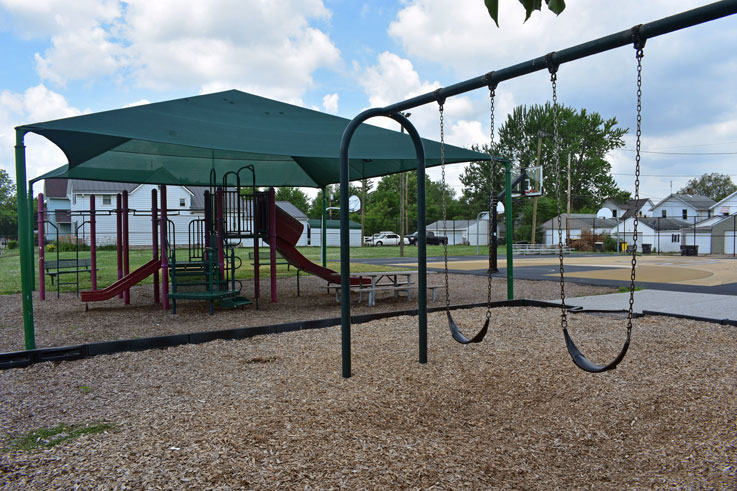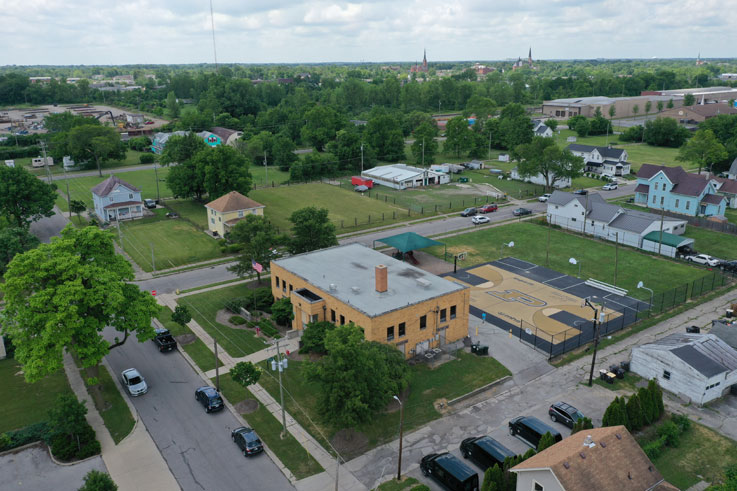 Staff

Chantell Davis, Manager of The Community Youth Centers
Michael Ayers, Facility Supervisor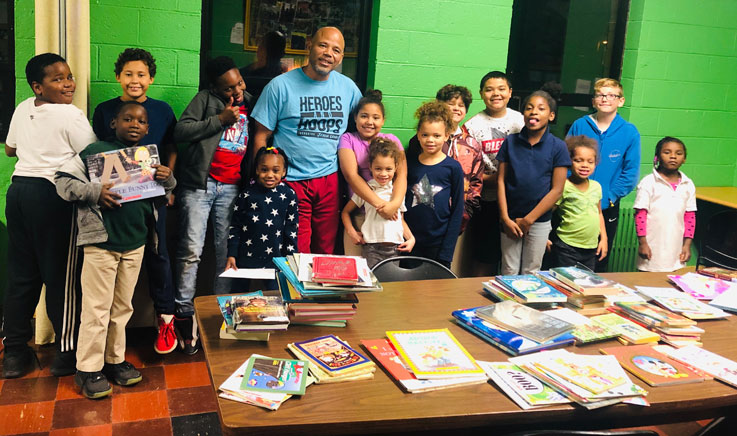 Recreation Leaders engage and interact with youth, lead games, and provide guidance and mentoring at three community centers and in our Summer Playground program. Must be 18 or older, meet all qualifications and pass a background check and drug test.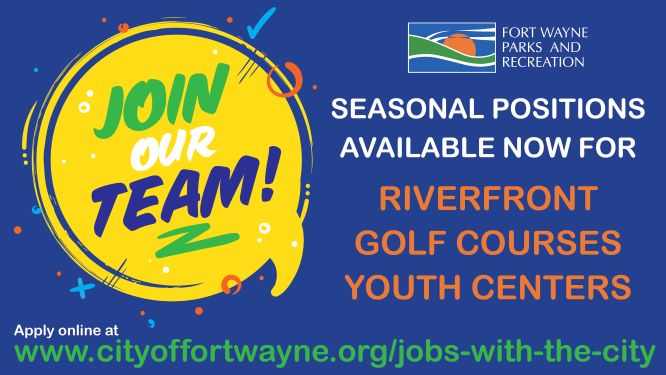 Jennings Center staff enjoys sharing the love of reading with the students.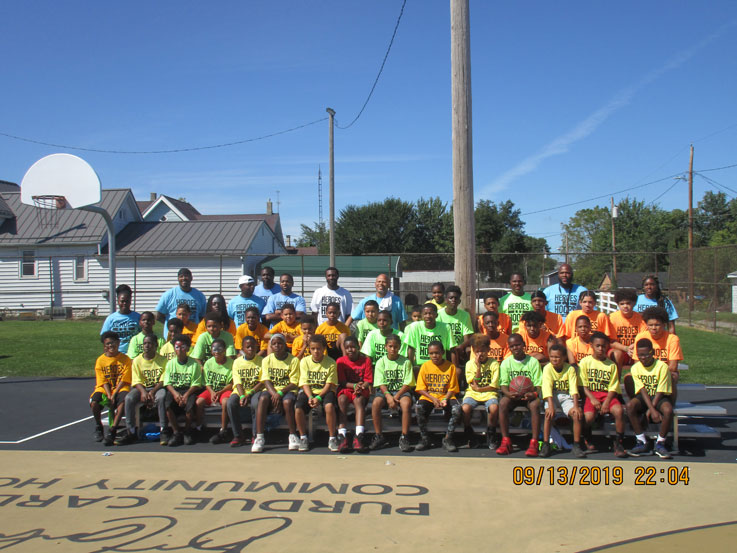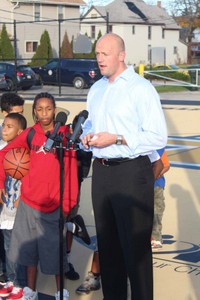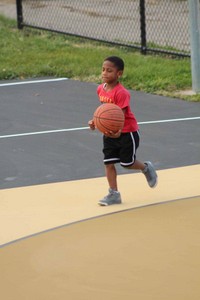 Purdue Cardinal Community Hoops & Managed Health Services (MHS) Donate Funds to Improve Basketball Court at Jennings Recreation Center

Read more about this great investment in the youth of this community!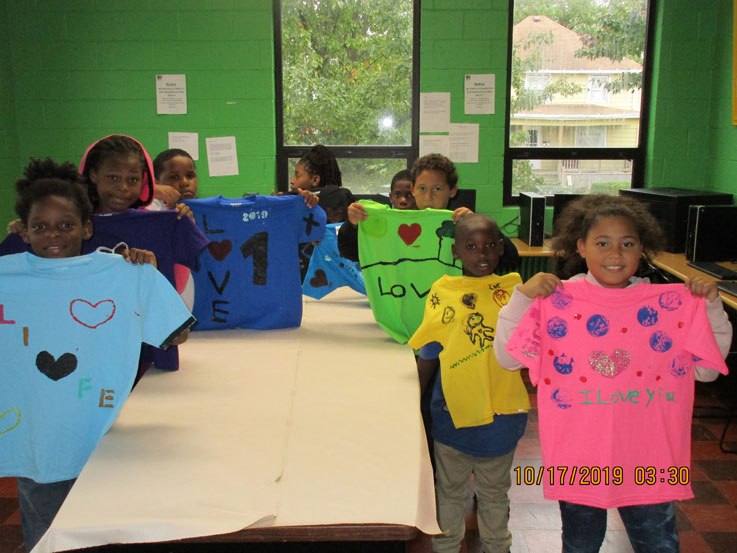 What's NEW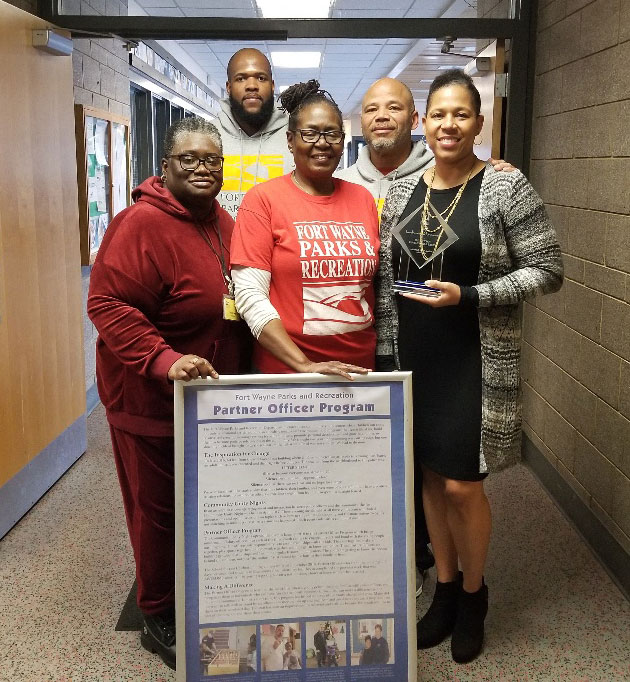 The Fort Wayne Parks & Recreation Department's Partner Officer Program received the 2018 Innovative Program Award during the 2019 Indiana Parks and Recreation Association (IPRA) Conference in French Lick.
The Partner Officer Program began in the three Fort Wayne Parks and Recreation youth centers in January 2018. Uniformed, off-duty Fort Wayne police officers work at the three Youth Centers to play with, help, and serve kids who spend their afternoons there. In local schools they are called Resource Officers, and in Youth Centers, these Partner Officers are becoming regular fixtures, with center participants knowing them as the great people they are—not just uniforms they only see at crime scenes.


Check out Facebook and Twitter for information about Fort Wayne Parks & Recreation including information on Jennings!

Check out the NEW East Central Neighborhood Blog and learn more about what is happening in our community
Youth Scholarship Information

Jennings Recreation Center Scholarships are given out yearly at Teenage Sunday, which is the 1st Sunday in June each year to selected college bound Freshmen. We rely heavily on donations from the community to make these scholarships possible. Scholarships range from $300-$500.

Jennings Recreation Center is the oldest standing neighborhood community center in Fort Wayne. The philosophy of the center has always been a positive, fun and safe atmosphere for the youth of the community. The center is a safe haven for children and promotes positive interaction and behavior plus allows relief for parents knowing their children are being fed, engaged and taken care of daily. That same philosophy stands today.

The first scholarship was given in 1958 to Charles Jackson. He is currently still participating with Jennings Recreation Center. He is on the advisory Council Board and he participates in the annual Wassail event.

While at Jennings Recreation Center, children learn and develop lifelong skills. These skills include: educational, nutritional, exercise, recreational as well as a variety of others. What they learn will be stepping stones from childhood through adulthood.

Please consider giving a donation towards this worthy cause!

Donate NOW!
For those students that are interested in the Jennings Recreation Center Scholarship please contact your guidance counselor or stop by Jennings Recreation Center to pick up an application.


2022 Jennings Center Scholarship Application is NOW available!
The 2022 Jennings Center Scholarship Application is due at the Jennings Center by 5:00pm Friday, May 20th 2022 Interviews will be scheduled on May 25, 2022 between 4:00pm- 6:00pm.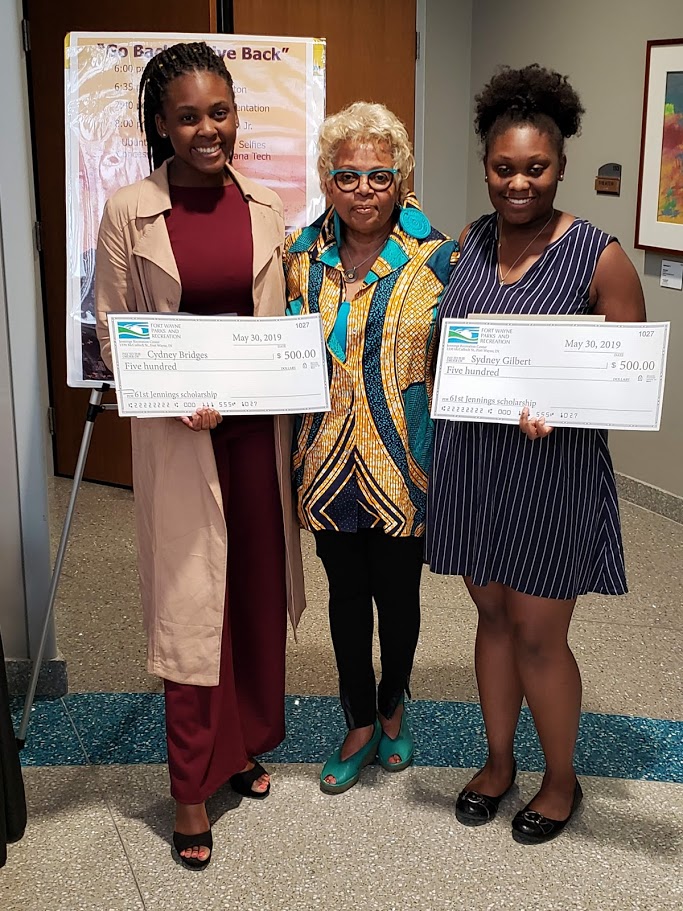 Recent Scholarship Recipients

2019 Cydney Bridges & Sydney Gilbert

2018 Aschlee Holloway & Alyson Harrison

2017 Dennis Johnson & Jordan Bridges both attending Purdue University
2016 Deon Palmer- Mott Community College (MI)
2015 Desmon Davis- Trine University (Angola, IN)
2014 Karris Sims- Ivy Tech and Shaquan Archie- Ivy Tech (FTW)
2013 Aric Curry- Ivy Tech and William Holley Jr- Ivy Tech (FTW)
2012 Denzel Hayden- Miles College (AL) and Kristina Harrington- IPFW and Aaren Curry- Spellman(ATL)

Jennings Center High Achiever Alumni

Bianca Woods-Saint Francis
Jayla Starks-Grace Imani Freeman-Missouri
Kahita Collins-Indiana Wesleyan
Eshuante' Jones-Nebraska
Demarlo Belcher-Indiana
Reginald Hearn-Northwestern
Denzel Hayden, Miles College
Kristina Harrington, IPFW
Aric Curry, Ivy Tech
William Holley, Jr., Ivy Tech

Twenty-first Century Scholars Program

The Twenty-first Century Scholars program is an income-eligible program for families in Indiana. Students in the 6th, 7th or 8th grade who qualify for the program can receive up to four years of college tuition to attend an eligible Indiana public or private college or university.
You can learn more about the scholarship program by applying online at www.scholars.in.gov