The Parks and Recreation Department maintains 20 pavilions and open air shelters at various locations throughout the city parks that can be rented. Pavilions may be reserved for your special occasion or event from May 1st through October 31st. Some pavilions are available year-round. Pavilions may be reserved up to 12 months in advance. They vary in seating capacity and amenities. Reservations must be made at least two weeks in advance.

A copy of the Pavilion Brochure (legal size copy) is available for download. The brochure lists all of the pavilions and their amenities.

Check out the Pavilion Rental Contract for additional guidelines and information. Before you rent a pavilion, read the Refund Policy too.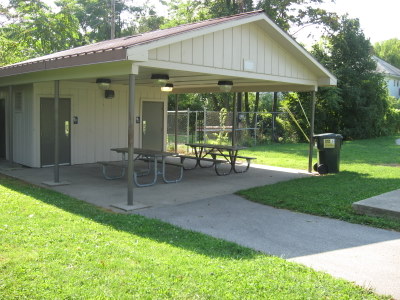 Hanna Homestead Shelter
A list of shelters that are not reserved and are available on a first come/first served basis include: Bowser, Buckner, Gren, Hamilton, Hanna Homestead, Kreager, Lafayette, Lawton, Moody, Packard, Psi Ote, McCormick, and Weisser park shelters.
Headwaters Park has a pavilion available for rental on the west side of the park. The pavilion has electricity, a small kitchen area and restrooms. For information on the rental rates of the festival plaza or for the pavilion, please check out the Headwaters Park link.
Park Pavilions Available for Rental
Page down to see park pavilions for rent including:
Foster #1 , Foster #2, Franke #1, Franke #2, Franke Pond Pavilion, Kettler,Lakeside #1, Lakeside #2,Lions, McCormick, McMillen, Memorial, Psi Ote Lower, Psi Ote Upper, Rockhill, Sears, Shoaff-Conklin, Shoaff-Riverlodge, Swinney and Waynedale.
A list of other rental facilities, (not pavilions), is available.

How to Reserve a Pavilion
You can now reserve a pavilion on-line. Or, if you prefer, you may come into our office at 705 East State Boulevard. Questions? Please call 260-427-6000.
How to Evaluate Your Pavilion Experience

You can now evaluate your pavilion experience on-line. We thank you for giving us your feedback!

Testimonials

Thanks from Dana.
The pavilion was perfect for our company picnic-very clean! Thank you. J.O. Mory Inc.
We hope we left things in good condition. We loved being there. Marie H.
Love going there every year. Gloria K.
Staff made our use of the pavilion easy-especially the man who supplied the key on a Saturday. Thanks so much! T. Glasgow
Everything was just great. Thank you. Jim B.
My grandparents had 18 children. With children, grandchildren, great-grandchildren it was too much to have a reunion at one person's home. So Shoaff Park Riverlodge Pavilion has become our "home away from home" since at least 1964. We continue the traditions of our Thanksgiving get-togethers to this day. Thank you so much for maintaining the Riverlodge! It always looks great. The Fusselman Families
Thank you we all had a good time. Barbara N.
Excellent service. And we will use you again. And the Pavilion was nice. Mike and Betty C.
I plan on doing this again next year. I was very pleased. Richard M.
We were amazed at the cleanliness. Such a great place. Thank you. B. M. Robrock