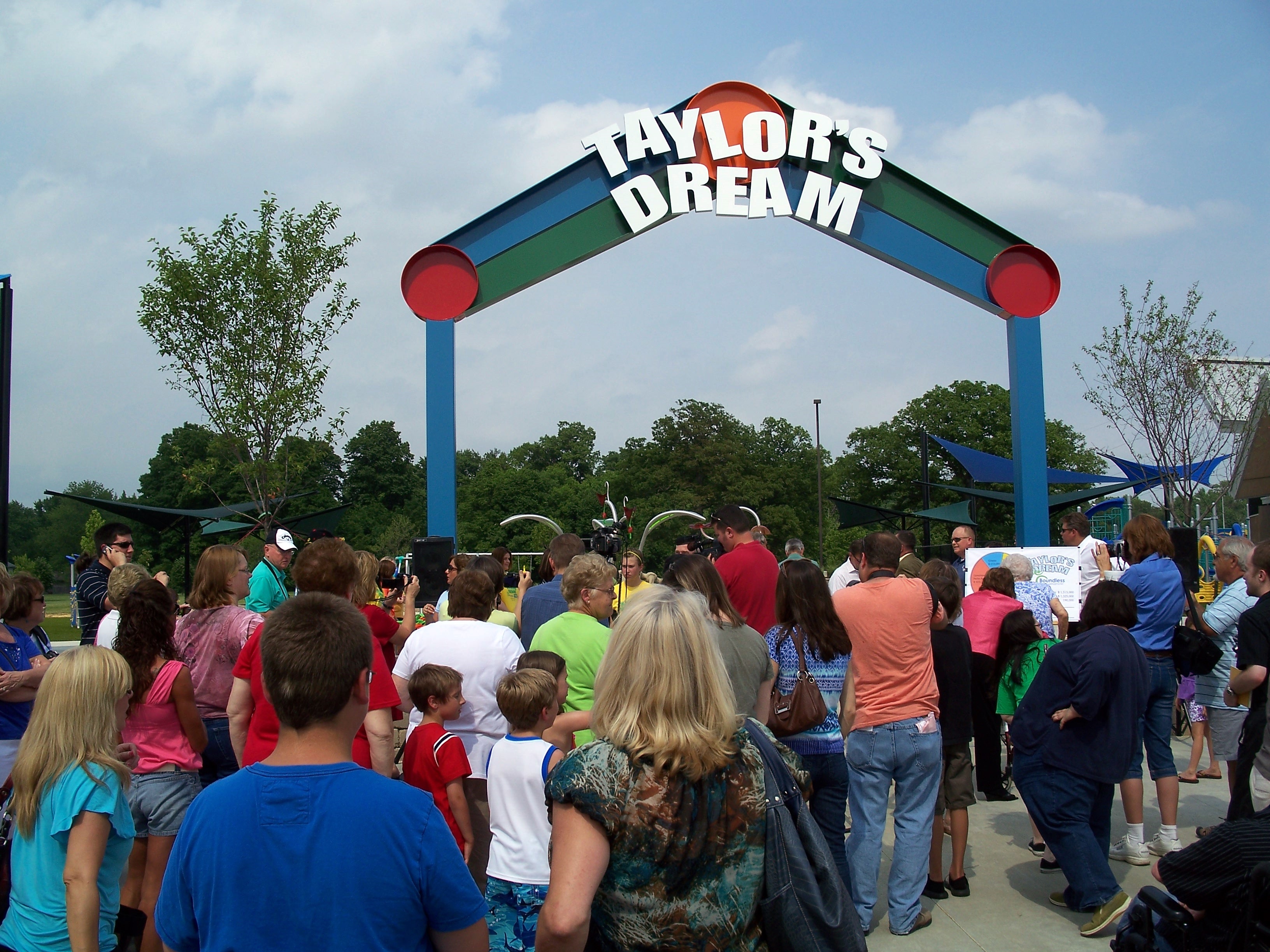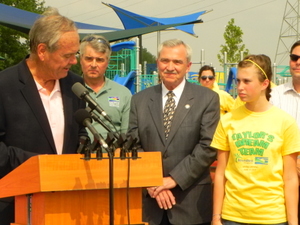 Taylor's Dream Boundless Playground was the dream of an eleven year old girl, Taylor Reuille. Her dream took three years of hard work from dedicated people near and far. This facility has the prestige of being the first Boundless Playground in Indiana. Taylor's Dream: Boundless Playground had its Grand Opening on June 10,2011.

Before and After

Alpha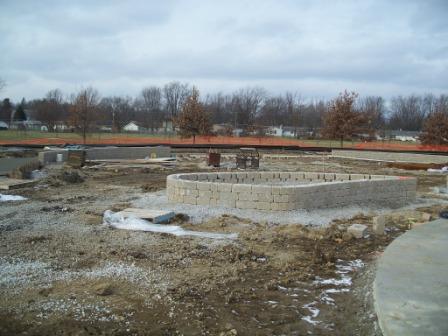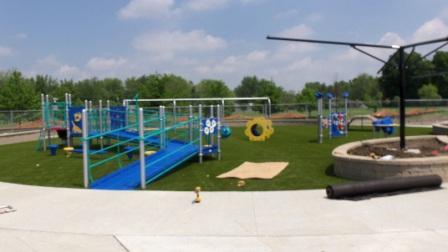 Beta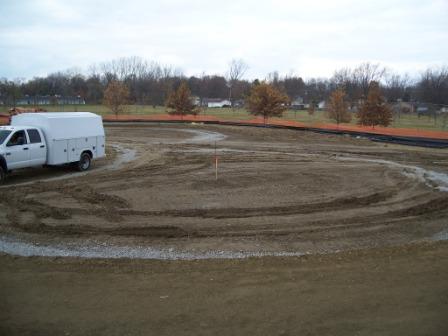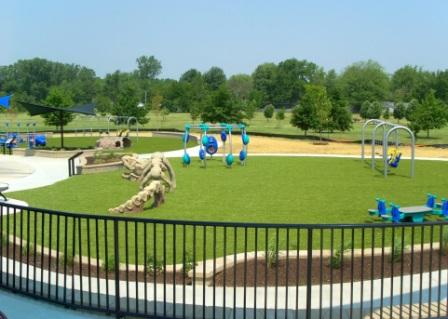 Gamma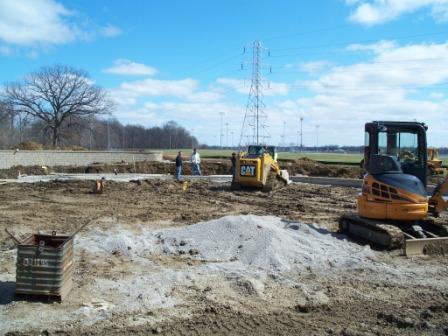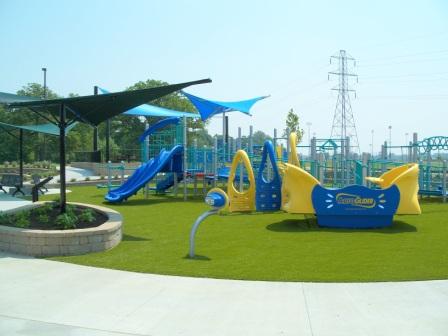 Splash Pad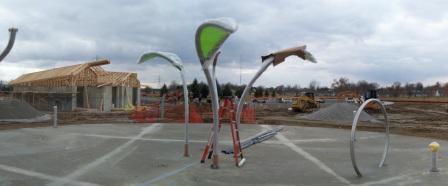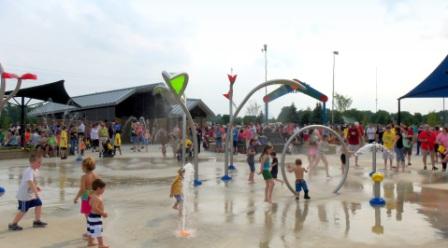 Construction Updates and Photos

May 26, 2011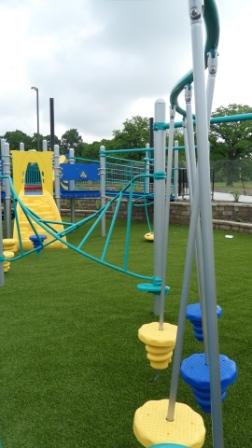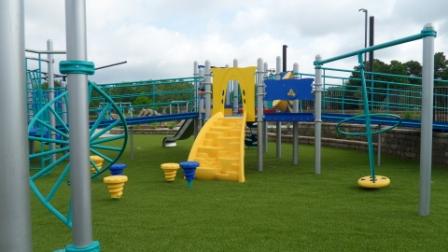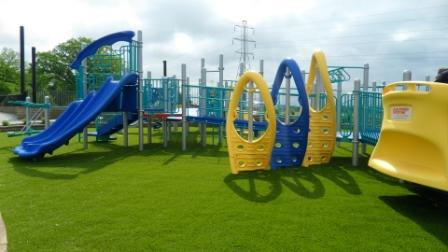 All of the equipment is in and the crew is putting the finishing touches on the landscaping.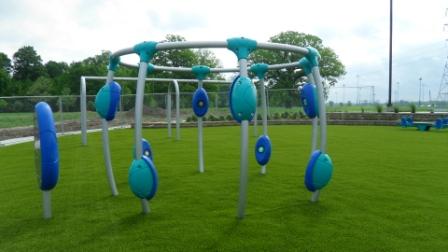 The Neos is an interactive sound and light game.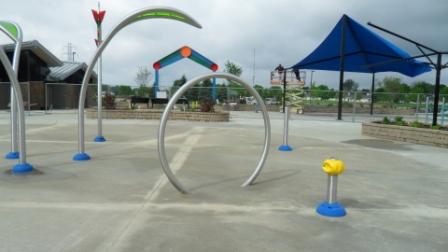 The splash pad located in the center is ideal for hot days. Large blue canvas, (seen in the back-ground) is used throughout the playground for shade.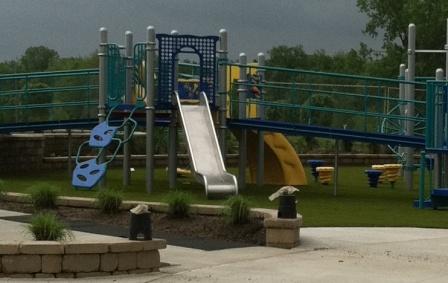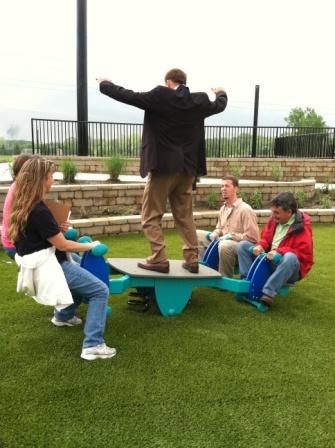 Two of the slides were installed specifically for children with
cochlear implants. The regular plastic slides create static
and interfere with the implant. To avoid overheating, shades
will be placed over the two slides.

May 6, 2011

The Alpha play equipment is installed, Beta play equipment is 90% and Gamma is 80%. We should be complete with the equipment this week and the Neos will be installed the beginning of next week.
The safety surfacing sub base is complete and stone is 80% complete in the Alpha pod. They will continue to install the stone base this week weather permitting.
The rubber cushion course will be blown in next week with the synthetic safety surface grass following.
The Splash pad is complete and waiting for water to be turned on and tested.
Just got our most recent update from our contractor yesterday afternoon. We are scheduled to reach substantial completion for Site Work on May 25. Right now we are about 80% complete for our Site Contract.
All sidewalks and patios are done.
Restroom building is having fixtures installed and getting painted.
The parking lot will be receiving its final top coat of asphalt in a week.
Rain gardens are being dug this week.
The colored sail shade structures, benches, and picnic tables will be installed in two weeks.
Landscaping will be installed in two weeks.

March 22, 2011

The earthwork is 90% complete – preparing the area for the three pods, splashpad, restroom, parking, etc. The plumbing, sewer, storm water and electrical needs are nearly complete. The restroom facility will be finished next month when the weather is warm enough to paint.
One-third of the hard surface work (asphalt and concrete) was finished before winter hit, and the rest will be completed in the coming months. Of course, this all depends on the weather – rain and snow will delay construction.
The playground equipment and safety surface will be the last things to go in. The safety surface is a synthetic grass that is very sturdy, and has four inches of cushion below to make it a perfect playground surface.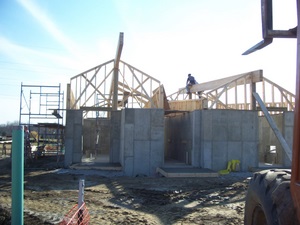 The bathroom facility being built.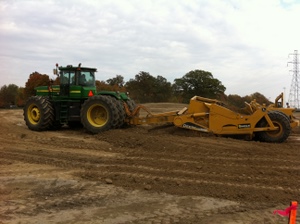 Earthwork preparing the site.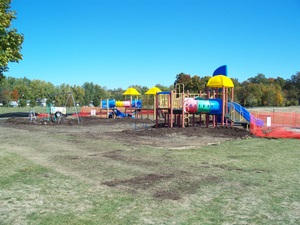 All of the old playground equipment is being relocated.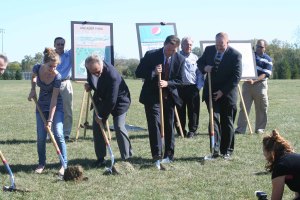 September 30, 2010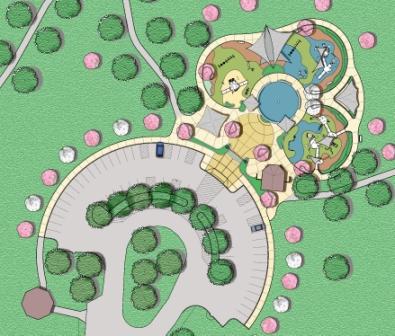 Maps

Boundless Perspective Map
---