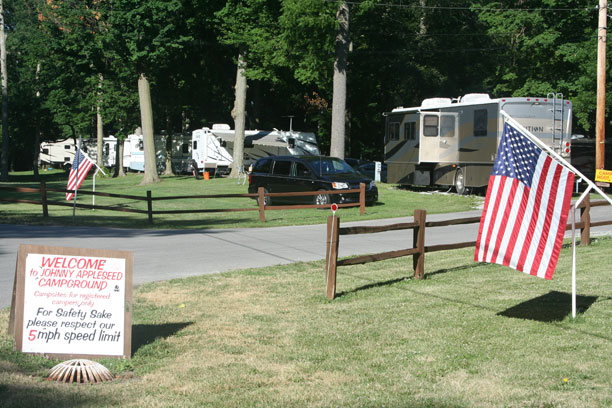 Please note, the Johnny Appleseed Campground is now CLOSED until May of 2024.


Campground NEWS!

Reservation Procedures for 2024


Please check out the NEW Campground Reservation Form and complete this link and submit. You will then receive a call from our office regarding payment and will complete your reservation at that time.
Please call our office at 260-427-6000 if you have not received a call within one business day to complete your reservation or if you have any questions.

Rules

Prior to booking your stay at the Johnny Appleseed Campground please review the 2024 rules.


Directions/Map

GPS address: 1500 Harry Baals Drive, Fort Wayne, IN 46805
GPS Location: 41.111964, -85.119190
The Johnny Appleseed Campground is located off of U.S. 930 (Coliseum Blvd.) in Johnny Appleseed Park in Fort Wayne along the scenic St. Joseph River.

From Interstate I69, travel south on Coldwater Road. Turn left onto Coliseum Boulevard and travel east past the Coliseum and continue east until you reach the entrance to Johnny Appleseed Park. Turn right into the park and travel down the Johnny Appleseed Park roadway until you see the shower/laundry building on the left. The entrance to the campground is on the right side (look for the flags and the Welcome sign). You've arrived! Check in at the Camp Office and enjoy your stay at the Johnny Appleseed Campground!

To view the newest map (updated April 2017) of the campground CLICK HERE

General Information

The Campground is tucked into the park and is in a very natural setting with plentiful trees and away from the hustle and bustle of everyday life. Yet it's convenient location makes it easy to enjoy the local sites and amenities Fort Wayne offers. It is only minutes from the Children's Zoo, Glenbrook Mall, Allen County Public Library, Purdue Fort Wayne, restaurants, the Memorial Coliseum, Northside Pool, Rivergreenway trail and the many other attractions. Check out Visit Fort Wayne for additional ideas on how to spend your time in Fort Wayne! And come back soon!
Only 2 adults per site.


2024 Season

May – October. The Campground CLOSES yearly for the season in early November following the Old Fort Cluster Dog Show.
Please note, the campground closes due to the Johnny Appleseed Festival held in September .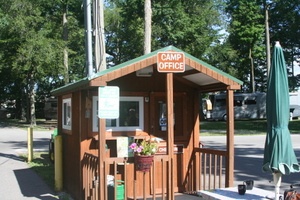 Fees for the 2023 camping season:


RV per night/with electric service $30
28 Day Rate: $600
Please note, to receive the monthly rate, at least 4 weeks (28 days) must be paid for in full ($600) at the time of check in.
Tent site per night: $18
Tent campers must be 21 or over and have their own vehicle.
Tent camping is limited to 3 consecutive days. There is a 7-day grace period in which tent camping guests must wait to book their next stay at the campground.
2024 Old Fort Cluster Dog Show Rate
Dog Show camper reservations are non-refundable and are made for the entire week. Reservation period: Monday, October 28, 2024 at 2:30pm to Monday, November 4, 2024 at 10:00am,
The weekly rate for the Dog Show is $210
Johnny Appleseed Campground will close for the season on Monday, November 4 at 10:00 am. All campers will need to leave at that time.
Campers wishing to come in on Sunday, October 27 will need to pay the nightly rate of $30.
Other fees:
Free dump station use for all registered campers. $10 fee for non-guests.
Campground Hosts

We have Campground Hosts on-site to assist you with check-in/check-out procedures (office hours from 9 am to 5 pm). Our hosts are very familiar with camping as they all have RV's of their own. You will find them to be friendly, experienced, and very helpful.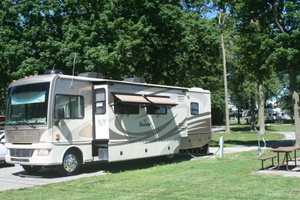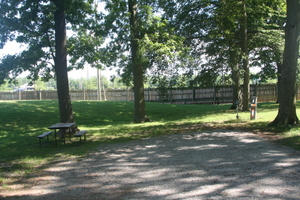 Campground Office Hours During the Season

The Campground Office is now CLOSED for the season. Please call 260-427-6000.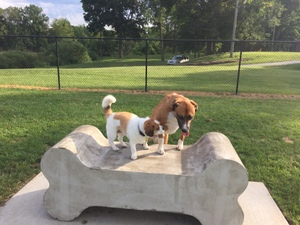 Please note, the campground is pet friendly! So bring your family pet along while you camp. Camp Canine is our newest Dog Park and it Is located in Johnny Appleseed Park. If you are a Johnny Appleseed Campground Registered Guest, the fees for using the Camp Canine will be daily/per dog: $2 or weekly/7 days/per dog: $10. Campground guests can also purchase season and half season passes at the main office.

Be sure to bring the following information if you want to use Camp Canine:

Dog owners must provide proof that rabies, distemper, and parvo vaccinations are up to date and were administered by a licensed veterinarian. Tags must be visibly attached to your dog's collar at all times.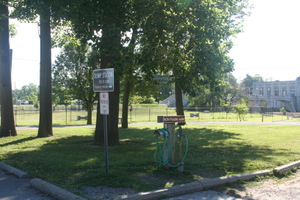 Features
45 RV/Camper Sites with electricity (30 & 50 AMP service) & access to water
2 overflow sites (30 AMP service only without water)
6 of our sites are used as pull through sites
FREE wifi
Firewood (Available for sale to campers only)
Dump Station
Restroom/Shower/Laundry Facilities
Boat Ramp/Fishing
Playground
Rivergreenway access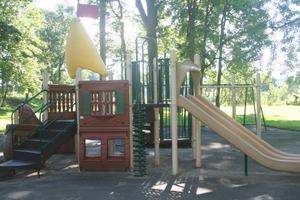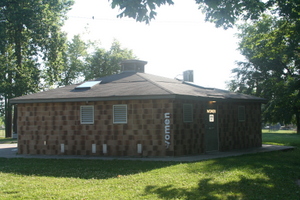 Contact Information
If you have questions about the campground, please call 260.427.6000.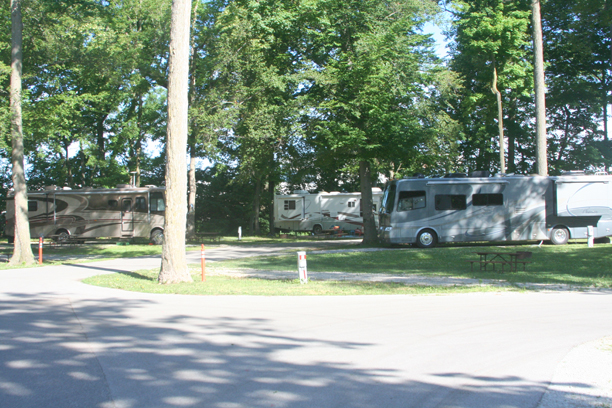 Testimonials
Great campgrounds, great location, great prices, and great hosts. Paul and Delilia
We had another enjoyable stay at Johnny Appleseed Campground in August 2021 and especially want to commend all the campground hosts for their help, friendliness and overall great support. They again made our stay so pleasant and memorable. We especially like the chance to host family members at our site and make more memories. We look forward to more stays in the future - Thank You! Hank and Joyce W.

The host are exceptional! They go above and beyond to make sure everything is more than satisfactory. They move all the pieces of the jigsaw puzzle around to make sure everything works, everyone is accommodated, and the campground grounds are beautiful and spotless. Also, the parks department does a great job of keeping the bathrooms, showers, and laundry room nice, and clean. Thank you! Stephen

Thank you for a wonderful stay!! We were a vendor at the Three Rivers Festival.Fantastic facility. See you again next year. Bob B.


Candy, Kathy, and Pamela (3 of the 2021 Hosts) are stellar! Steve

My wife and I want to commend your Johnny Appleseed camp hosts Stan and Candy. We spent 5 days there in October, 2012. We arrived while Hurricane Sandy was still going strong. Candy knew our ETA and when we were 2 hours past the estimated time she called my cell phone to verify we were ok. Upon arrival Stan helped allign our ground satellite dish-too many trees for the roof mounted King Dome to work. The fact that it was cold, very windy and rainy did not deter Stan. He spent 1 hour working with the dish. He also dumped the coach two times prior to our leaving, both at the exact agreed upon times. The care and service Stan and Candy provide is exceptional, it is truly 5 star. We look forward to our return in 2013. M. Moats
I stayed at the Johnny Appleseed park during the week on Wing Ding back in early July. I will share with you my observations on the staff there because their behavior made a significant impression on my wife and I which resulted in our staying at the park another two weeks after the Wing Ding ended on Saturday, July 7.
I called ahead to inform the staff of our arrival time and they said come on and gave me directions which helped. Upon our arrival we were treated with respect and friendliness as we were escorted to our area. They had everything waiting and I noticed how friendly they were to other, arriving campers. While there, a nasty thunderstorm occurred and the staff were working overtime to help everyone get settled in.
Those people running the park treated all of us campers royally. I won't forget it. I wanted you to know how proud we are of your staff there and the hard work they did for everyone during that very crowded time. I can see why the GWRRA has come to Ft. Wayne three times. You have a great staff.
Sincerely yours,
Art H. - all the way from Texas and happy I came!

I just want to make a comment on how wonderful the camp hosts are and how much my friends & I LOVE going to Johnny Appleseed!! It's THE BEST! Carrie B.

We would recommend Johnny Appleseed Campground to anyone. The location is peaceful and relaxing close to all the shopping centers and you feel safe. Everyone is so friendly, we look forward to next summer. I will miss being here. Mike and Joni F.

Campground and host and hostess are doing a wonderful job. Dennis & Lori D.

Being full-time RV'ers we were quite surprised with the neat, orderly, and spaciousness of the campground. The hosts are doing a wonderful job! Laddie R. J.

This is a thank you for the Park Department to employ such wonderful camp hosts. It made our trip such a wonderful pleasure as they went the extra mile to ensure all of our needs were met. Ron & Margaret W.
My wife and I stayed at the Johnny Appleseed Campground for five days last month. Upon arrival we discovered that the electrical system for our coach was not operational. Through the aid of the manufacturer's technical support and the invaluable aid of your host, Stan, power was restored. We had two other problems during our stay and again Stan and his wife, Candy, were extremely helpful. This was our third stay at Johnny Appleseed and we will certainly be returning. Your beautiful camp ground and it's location are a valuable asset to Fort Wayne. The knowledge, efficiency and friendliness of the hosts enhanced the experience even more. My compliments to you and the Park Department for providing the overall package of Johnny Appleseed Campground and the hosts. Michael M./ Illinois