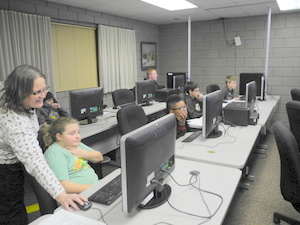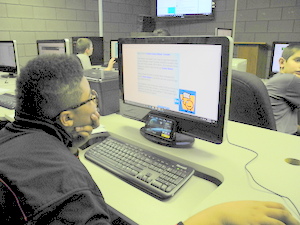 Computer Classes
Check out the complete list of Computer Classes being offered this season and register when you are ready!


Public Hours and Services

Computer Lab
The Community Center Computer Lab is open to the public weekdays 8:00 am-4:30 pm and staffed by a volunteer on Thursdays 10:00 a.m.-12:00 p.m. No reservation is needed. Just drop in. High speed Internet is provided by Indiana Data Center.

Lab fee: $2/hour.

Copies are 10¢ single side and 15¢ double side for black and white and 15¢ single side and 25¢ double side for color.
Photo prints are: $.35 for 4 x 6 and $1.50 for 8.5 x 11.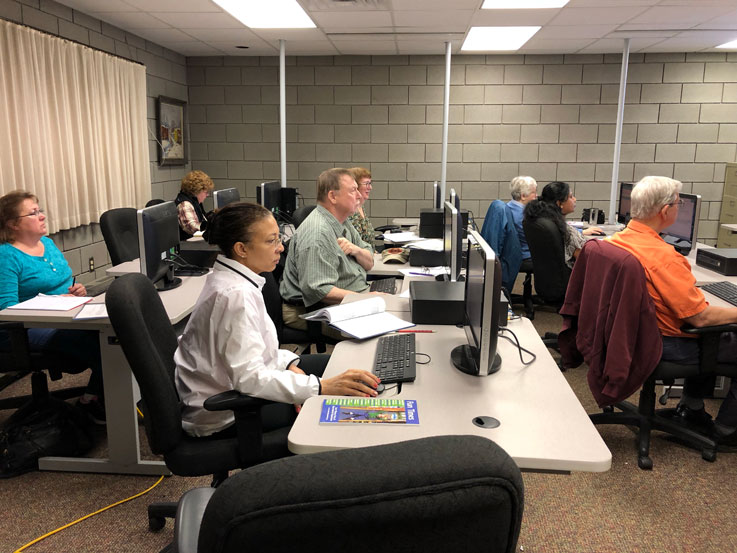 Computer Class Testimonials
Instructor is very knowledgeable. Class just whizzed by! Paul M.
I waited until I turned 50 to take these classes due to pricing. I love photography and have two wonderful cameras but didn't know how to use them fully. I now understand the settings and different ways to use my cameras. Lee is a wonderful teacher who explains things in ways even I can understand. I can't wait until the next class on photo editing after that I am sure I will find another class or six to take! Lisa Y.

Very happy with what I learned in MS Windows. J.W.

Instructor knows his subject (e-Bay). Has a patient personality. Does frequent interviews to reinforce what was taught previously. Edna B.

I learned a lot in Intro Elements that I have been able to apply at home. I still need work-so I will sign up again. Carol H.

Will definitely take more computer classes. C.B.

Kelley is an excellent teacher for Windows 7. Her strategies for teaching are outstanding. She gives examples and uses repetition appropriately. She is patient with us and brings the content to our level of understanding. The Community Center is fortunate to have her as an instructor. Thanks Kelley! You are a great teacher. I enjoy your enthusiasm and free spirit! You are awesome! Opal F.

I learned more about my computer, and Windows 7 in the first two weeks, than I picked up on my own in 15 years of using my computer. David was very knowledgeable and patient with us students, while taking us step by step through our computer operations, programs and shortcuts. Donald W.

Fred was very knowledgeable and always willing to answer any questions. Shared a wealth of information that was good for everyone. Learned to try different things with my camera and be more comfortable with taking pictures. Great class. Thanks. Vicki W.

Fred does a nice job with this class. Very informative and interesting. He does great demo's to help you understand cameras and enjoy. Tom L.

Love Fred's classes. Ann B.

Very satisfied with this Windows XP class. It has inspired me to go ahead with all the other computer classes. Our instructor was extremely patient and very knowledgeable and would go back over anything we had a problem understanding. Joan K.

The instructor is excellent for the Windows XP class. He has the patience needed for this type of class. He took the time to answer questions until someone understood the answer. Handouts were very good. Dave B.

The instructor simplifies all programs to the extent of being able to use the program and understand why! He cannot be topped as an instructor. John

I have truly enjoyed the various classes I've taken. Instructors are friendly, knowledgeable and patient. Pat P.

The instructor is so knowledgeable - has great rapport with people! Also, has a lot of patience. Helen R.

The instructor made the subject so exciting - offering a choice of ways to everyday photography. Pat P.

This keyboarding program is a very good program if wanting to brush up on your typing skill or just learning to type. Lucy
Keith is an excellent instructor. Knowledgeable, with a good personality, connected to the class. So glad I signed up for this course. Kathy Dentor