"We are Changing for You" by improving the safety and enhancing the "Curb Appeal" of Foellinger Theatre.
All of this work has been done in an effort to provide an enhanced experience for our theatre guests.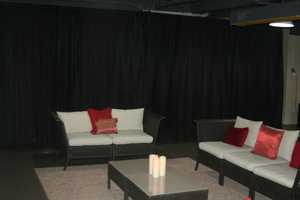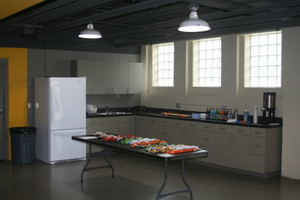 Work for the 2018 season includes:
Newly renovated Theatre lower level featuring upgraded amenities including seven dressing rooms, two new restrooms with showers, a private lounge, a spacious green room, a production office, storage space, heating and cooling and drainage improvements.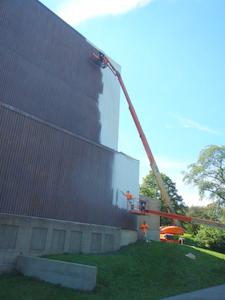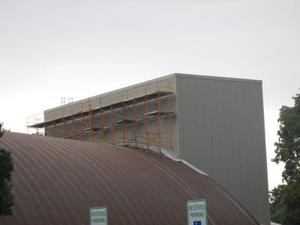 Several improvements have been completed for the 2017 season at the Foellinger Theatre.
These projects include: the ship ladder, glue-lam beams, drainage, pathway, performer rooms, stage flooring, fencing, and entry gates.
Improvements at Foellinger Theatre completed the fall of 2016 include: powerwashing, priming and painting of the Theatre, drainage improvements and Glulam improvements.
Improvements completed for the 2016 season include:
Loading Dock Improvements
Ramp Improvements
Prior to our 2015 season we made the following improvements:
Orchestra Pit Removal
Front Seating Improvements
Sound Truss Improvements
Rigging Improvements
Section IV Lighting Improvements
GluLam (Wooden) Beam Improvements

Improvements completed for 2014 include: electrical upgrades, concrete improvements, roof fascia improvements, seating improvements, additional landscaping, signage, and lighting.
In 2013 we expanded seating on the east side.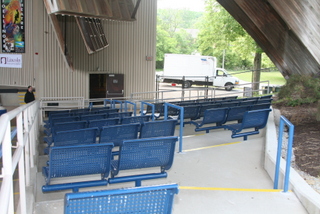 In 2012 we updated and re-roofed the storage room area.
For 2011 the following improvements were made: a new roof, new electronic sign and new lights at the overflow parking lot. Performers enjoyed a new enclosed artists dining area. The cost of these new improvements was over $200,000.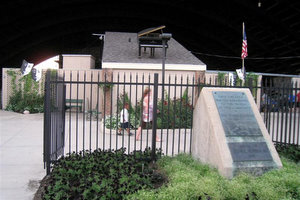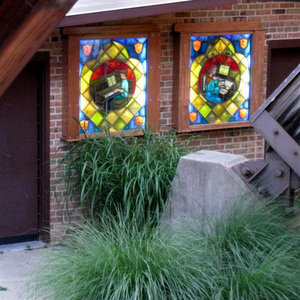 Thanks to David Myers for his donation of a piano and stained glass that was formerly at Fred Myers Pianos Organs Clocks.
Improvements made in 2009/2010 include: new dressing rooms, relamped house lights, new stage lights and a new light control board.
Additional changes made as part of the Park Bond Issue include: an accessible ramp to the stage in the mid section of the house, hand railings in the side aisles, a new canopy from the house to the new restrooms and new restrooms for performers. These improvements total an additional $300,000.

In 2008 the Foellinger Foundation awarded the Theatre $500,000 for improvements. Some of the improvements include: painting the front wall of the stage, painting the sound clouds, re-roofing the stage house, installing a new sound system, new curtains, new lighting and installing the aluminum covering of the rear of the Theatre arch and end caps.
Below are some photos taken to show you some of the changes that took place.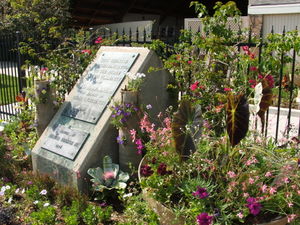 Our landscaping is captivating!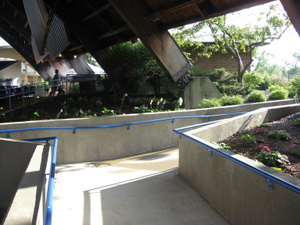 A new handicapped ramp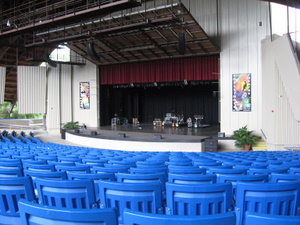 New curtains, sound, lighting and banners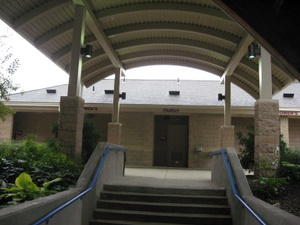 New canopy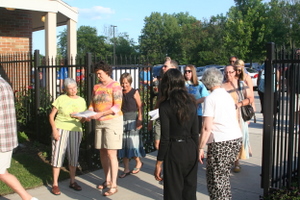 All of these changes brought both old and NEW customers!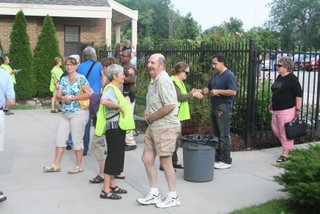 We couldn't do all of this without our loyal Staff,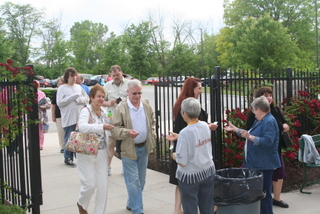 Volunteers and Sponsors!