---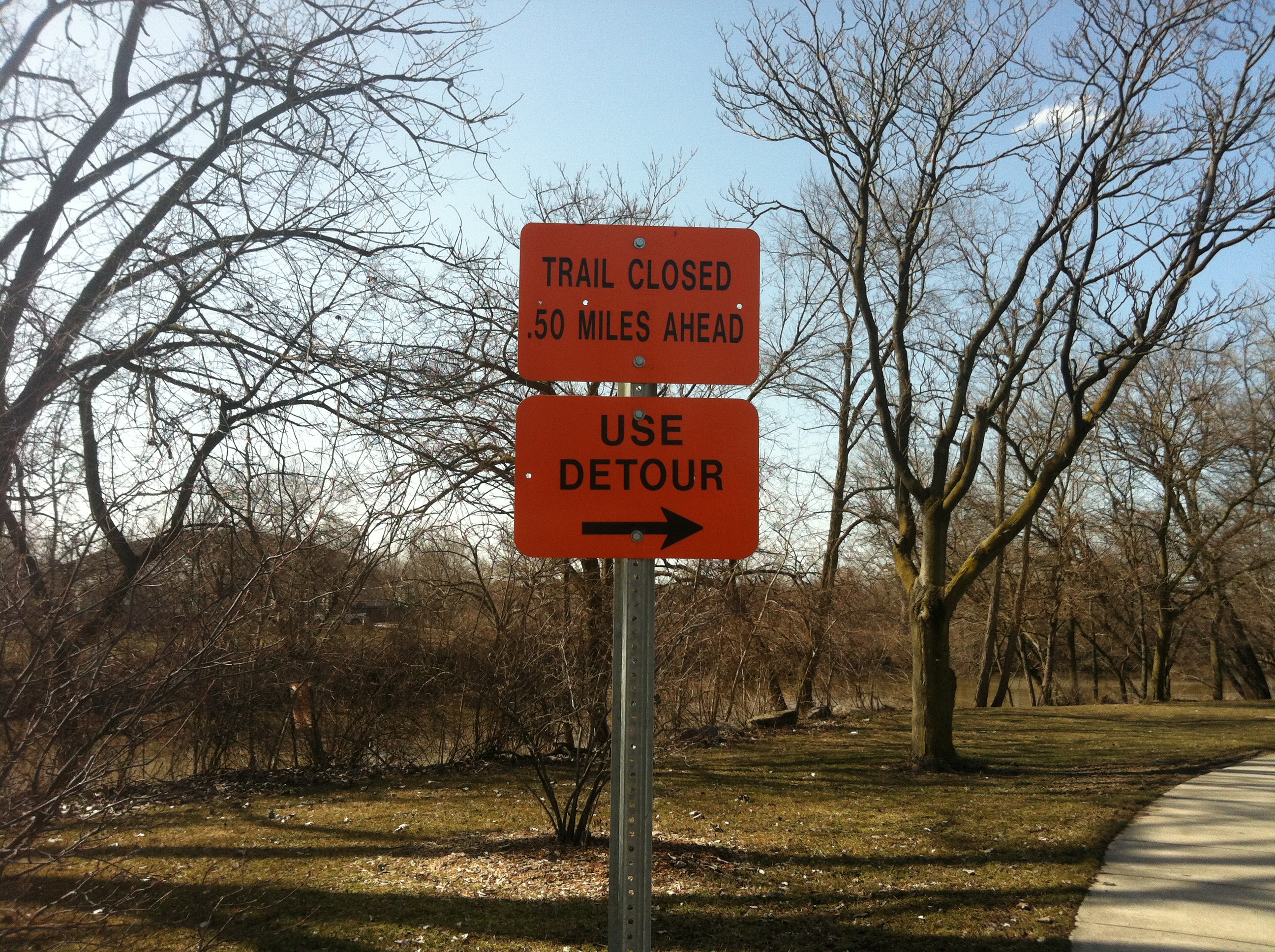 Updated: Wednesday, May 18th, 2022 at 2:00 PM
If you encounter any downed trees or safety concerns, please call or email the Greenways Dept at

(260)427-6228

or

This email address is being protected from spambots. You need JavaScript enabled to view it.
.
Please be aware, during or following a rainfall, portions of the trail network may be muddy and/or slippery. Please slow down and use caution, especially on boardwalks. Always use caution whenever you encounter a wet section of trail.

During the winter months, use caution and be on the look out for ice!
Trail Closures and Detours:
Maumee Pathway: The Maumee Pathway is closed from North River Road east to New Haven. Beginning early June, a sewer project will take place along the Maumee Pathway from Maplecrest Road west. The trail will remain open, but trail users may encounter areas where vehicles are parked along the trail, or ramps are laid on the trail guiding users over certain hazards.
St.Marys Pathway: Flooding has caused the closure of the St.Marys Pathway from Fairfield to Tillman.
St.Joseph Pathway: A construction project along the east side of the St.Joseph Pathway near Dearborn St. and St. Joseph Blvd. will cause the trail to be condensed to 3' wide in a small section. The trail will remain open, but users are to take caution when traveling in this area.
Spy Run Bridge: The below-grade crossing at Spy Run will be closed due to construction beginning Friday, April 22nd. This closure will last through December 2022. An at-grade crossing will be implemented. During construction, only one lane of vehicular traffic will be open, and trail users will cross the construction zone in a barricaded section. Please use caution in this area.
New Haven Trails: The pathway is CLOSED from Landin Road to Rose Ave.
Union Chapel Rd. Trail: The Union Chapel Rd. Trail is closed east of I-69 in conjunction with a road improvement project.
Pufferbelly Trail connection to Franke Park and the Children's Zoo: Due to construction, a small segment of the connection at Franke Park Drive is closed at this time. Please use either the street or neighboring parking lot to traverse the area.
Detour for New Haven Maumee Pathway Due to Rose St Closure:The New Haven section of the Maumee Pathway will be closed until further notice at Rose St. Trail users can detour west on Rose to West St and then south on West to Main St (or vice versa) to get back to Moser Park
For specific questions about closures, please e-mail

This email address is being protected from spambots. You need JavaScript enabled to view it.

or call 427-6228.