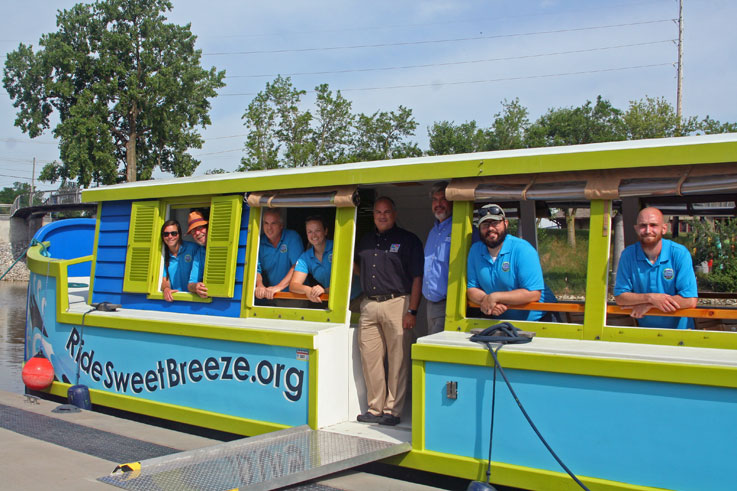 The Sweet Breeze staff is thankful for a great 2021 season. Purchase your tickets in the spring. Learn more....


Welcome to the Fort Wayne Parks & Recreation Department
The Fort Wayne Parks & Recreation Department's mission is to enhance the quality of life in Fort Wayne by providing positive opportunities for leisure time and by being stewards of our park lands, facilities, public trees and other resources entrusted to our care. We believe we enhance the quality of life in our community and are committed to providing the best department possible.

I'd like to recognize all the community support that is so essential as the Executive Director of the Fort Wayne Parks & Recreation Department! We are very fortunate to be part of a community that values parks and we have a team of employees who are committed to providing excellent services and offerings to the public.


Pictured above left to right Chuck Reddinger, Deputy Director of Recreation, Patti Davis, Community Center Manager, and Steve McDaniel, Director.


The Fort Wayne Parks & Recreation Department was honored with two 2020 IPRA Awards of Excellence during an Indiana Park and Recreation Association event on November 4, 2021.
The department's Confluence Kitchen program received the Inclusive Program Award and Community Center Manager Patti Davis was recognized as the IPRA Outstanding Professional of the Year.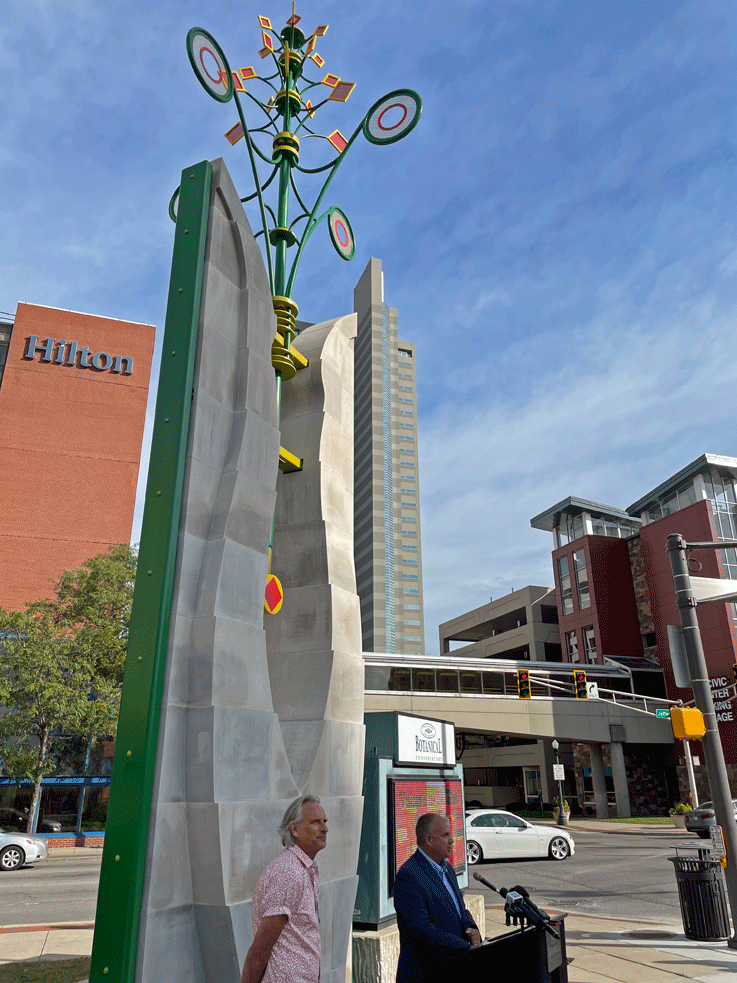 Megaflora Sculpture Unveiled on September 15, 2021


The Fort Wayne Parks and Recreation Department officially unveiled a new landmark in downtown Fort Wayne on September 15. The Megaflora sculpture is located outside the entrance of the Foellinger-Freimann Botanical Conservatory and was created by area sculptor Cary Shafer.
The 36-foot-tall sculpture consists of a mix of limestone and steel, and features a steel ornament abstraction of a plant stamen, framed by two large limestone blades. It was carved from 24 blocks of Indiana limestone and weighs nearly 20,000 pounds. It was funded in part by the Journal Gazette Foundation and the Capital Improvement Board.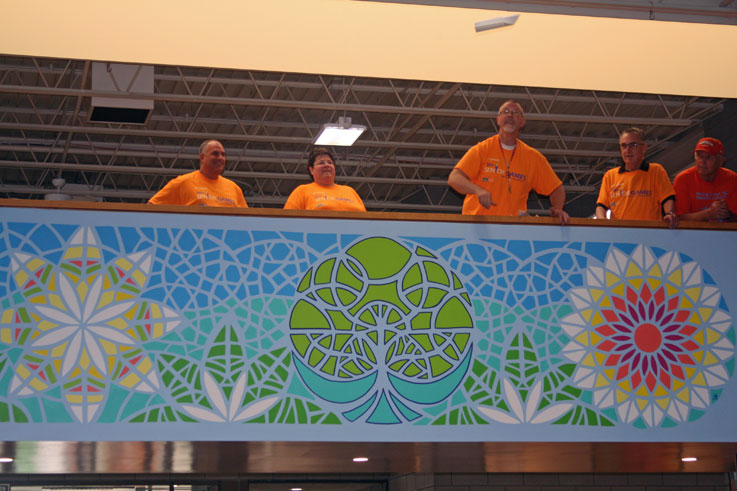 Senior Games 2021 kicked off on June 7! We had quite a celebration starting with breakfast, the press conference, torch lighting and walk, followed by an airplane thowing contest! This year Senior Games will continue through July 8th and features more than 40 physically and mentally challenging events! Go to the Senior Games link to learn more.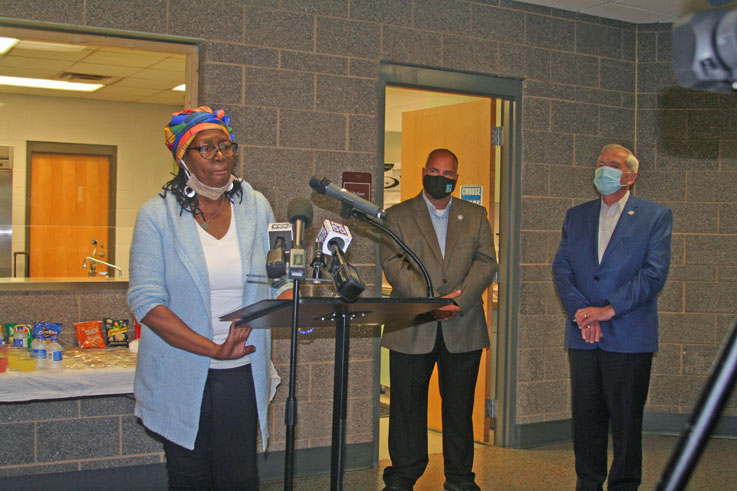 Pictured above left to right-Costella Mack, retired/former Supervisor of Food Services at the Fort Wayne Parks & Recreation Department, Steve McDaniel, Director, Tom Henry, Mayor of Fort Wayne

A recent celebration of the kitchen updates at our Youth Centers (May 24) was a time to recognize the newly installed kitchen equipment made possible with grant funds from Feeding America through the Community Harvest Food Bank. Costella Mack worked tirelessly on staff to provide nutritious food options for the kids at our four youth centers. With the assistance of the Community Food Harvest Food bank we are now able to expand our offerings. We are so thankful for all the people making this a possibility.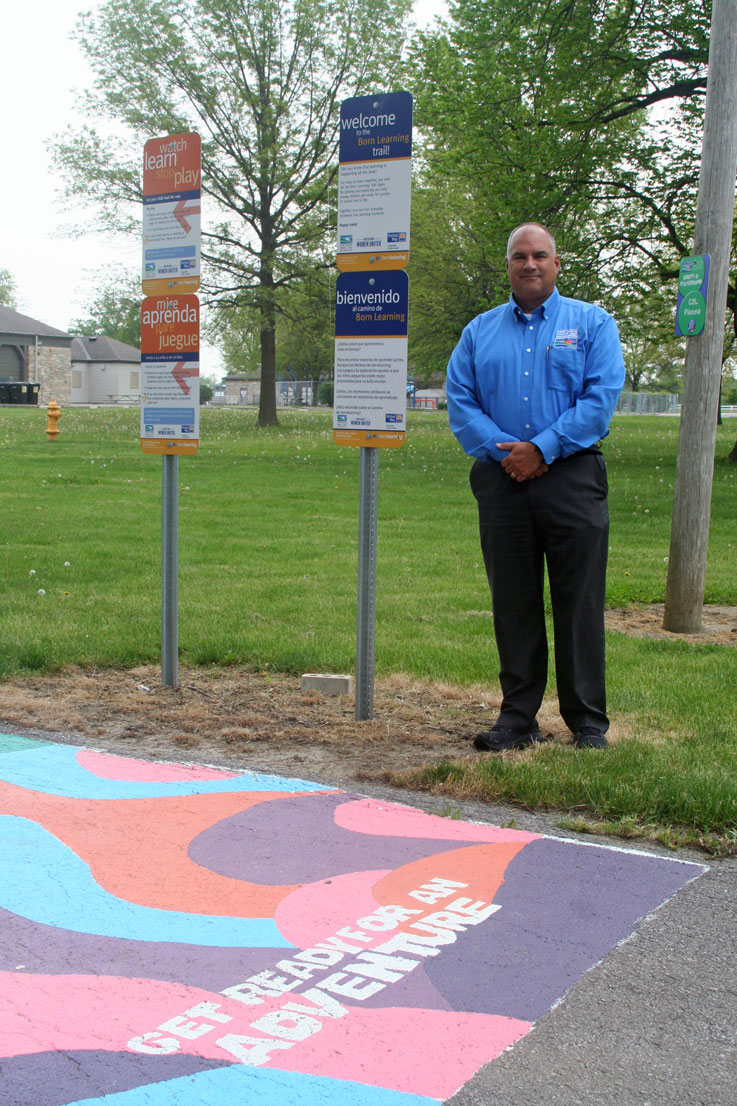 On May 17, 2021 Women United Celebrated the Completion of their First Born Learning Trail in McMillen Park! The Born Learning Trail is an innovative public engagement campaign that helps parents, caregivers and communities create quality early learning opportunities for adults to engage with young children to turn an outdoor trip into a fun learning experience. The interactive signs throughout the trail offer instructions in both Spanish and English. You will find the start of the trail near the playground in the park.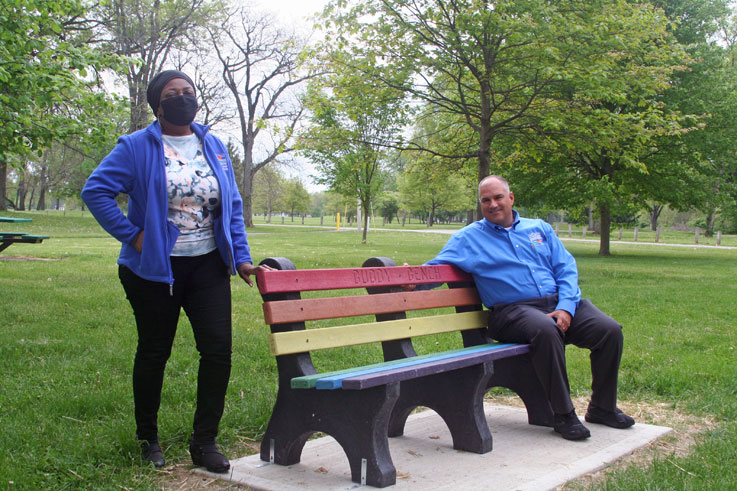 Buddy Benches are being installed at 11 of our parks this spring. This Buddy Bench is located in McMillen Park near the playground. We are so thankful to Sammie Vance and her "Bottle Caps for a Cause" project that collected enough caps for these park benches. To connect with Sammie, search for her Facebook page (Sammie's Buddy Bench Project).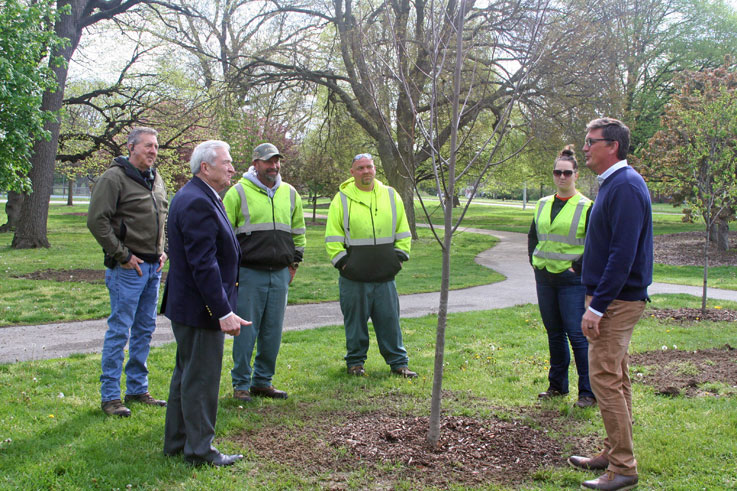 Arbor Day was celebrated this year at Lakeside Park and part of our crew was speaking with Mayor Tom Henry after the celebration.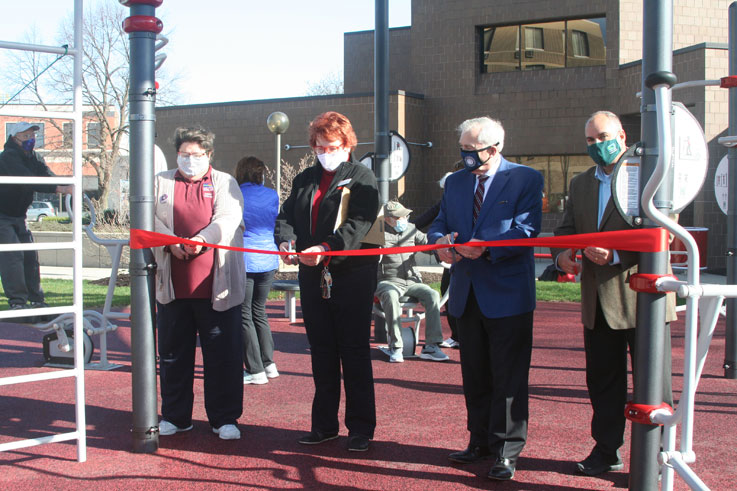 Recently we had the official ribbon cutting for the AARP-sponsored Fitness Park powered by FitLot at the downtown Community Center. Pictured above: Patti Davis, Manager of the Community Center, Linda Dunno, State President of AARP, Mayor Tom Henry, and Director Steve McDaniel.
The shaded fitness park features a variety of exercise equipment designed for all ages and ability levels. Learn more upcoming classes and more on the AARP FitLot link!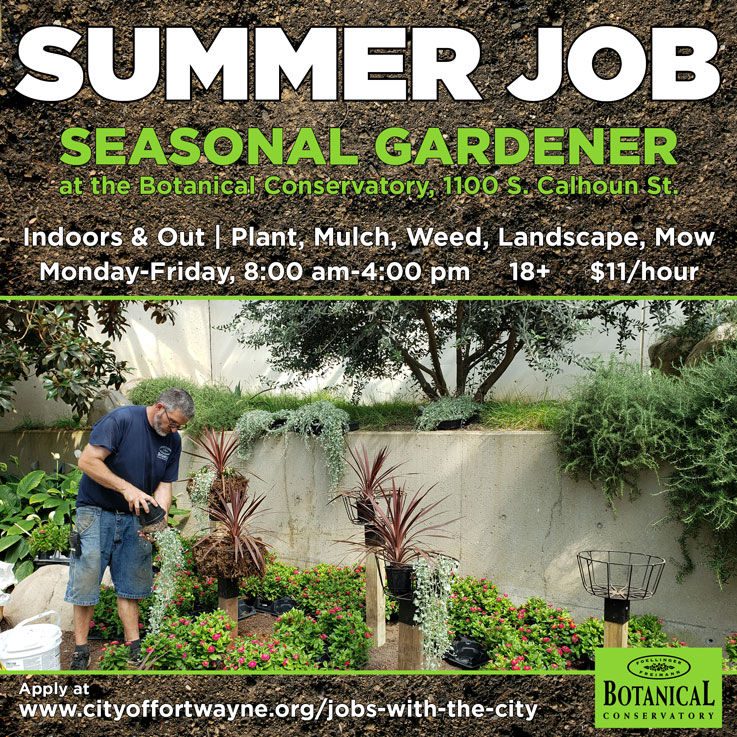 We are busy planning activities and events that will comply with current COVID-19 protocols (See our COVID-19 FAQ's link to learn more). A few highlights include: Welcome to "The Tiki Bowl" Exhibit, Bunny Tails, Color in Motion: Live Butterfly exhibit, Mother's Day Online Plant Sale, Dog Dress-Up Day, Mom's Garden Days, Fiber Arts Celebration, classes for all ages and much MORE! Check out our Current Fun Times to learn about all of the FUN we've been planning for YOU! But in order to make all of these fabulous events happen...we NEED YOU! We have numerous job openings for this summer. Check out the Jobs link to learn more!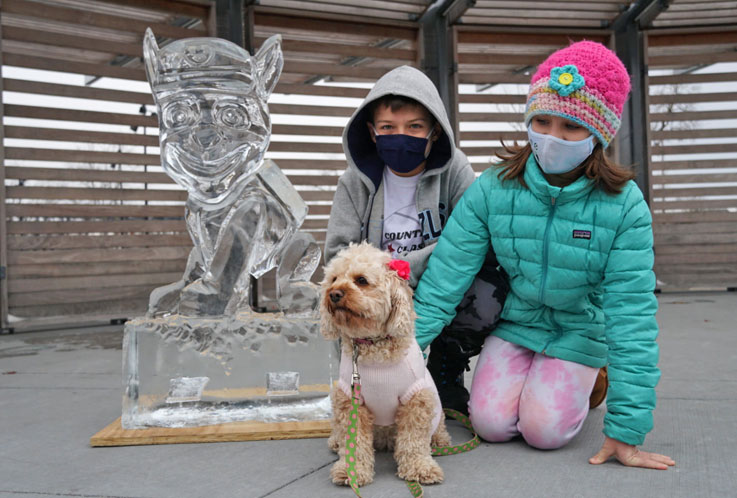 Promenade Park

As part of Winterval 2021 we held a Dog Sweater Day at Promenade Park. We were very excited to see all the unique sweaters and meet all the dogs. If you missed this event, we offer periodic Dog Dress-Up Days....so start planning the outfit now!
It still amazes me that it has been 2 years since Promenade Park first opened! We continue to be very pleased with the development of this park and how the Fort Wayne community has embraced Promenade Park in a special way. I urge you if you haven't visited this park to put it on your list as we think you will thoroughly enjoy your experience. For more about the park and future development of Riverfront Fort Wayne, please visit: www.riverfrontfw.org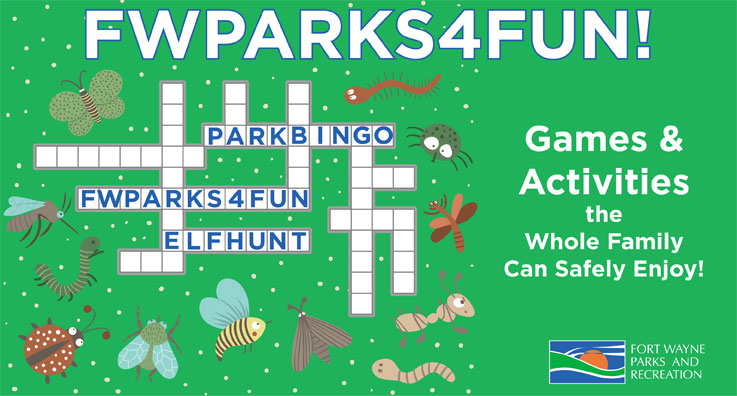 We created a new link (FWPARKS4FUN) so you can be up on the latest FUN we are rolling out this spring! Whether you are at HOME or on the GO...we want you to know we have FUN ways you can enjoy the Parks!
Be sure to visit this link often as we will be updating with new virtual activities for you! Stay safe.
We are looking forward to 2022! If you have ideas you would like to share, feel free to reach out to me.
Steve McDaniel, Director
705 E. State Blvd.
Fort Wayne, Indiana 46805
Phone (260) 427-6000
FAX (260) 427-6020