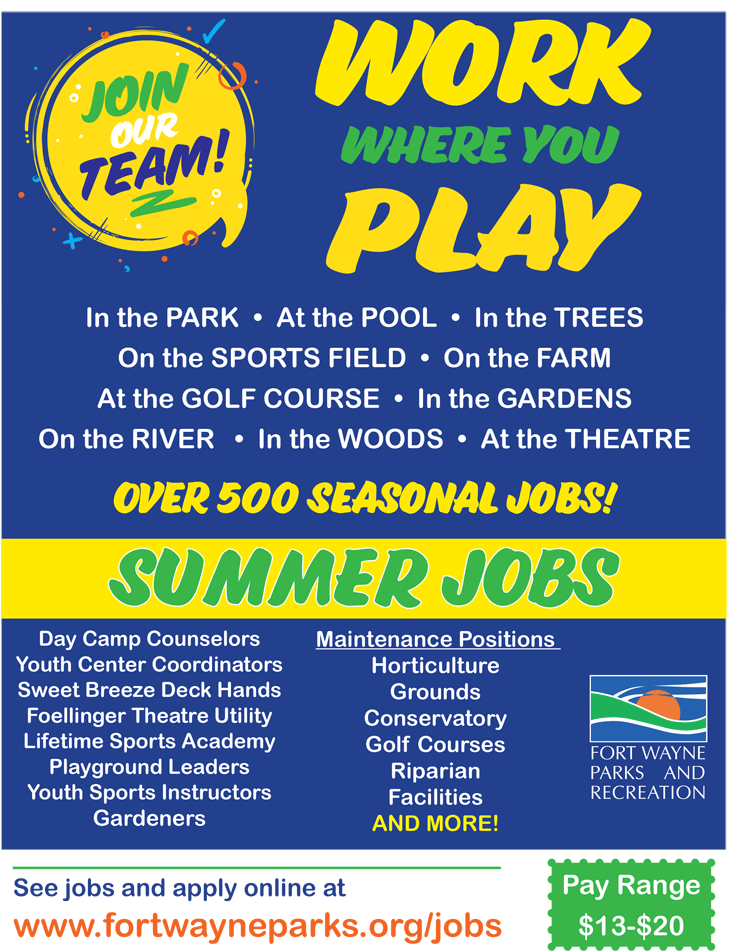 Looking for a seasonal job?
We have many seasonal jobs available NOW as well as posting jobs for the spring/summer! Please check out our Park Jobs link to learn MORE about job openings and Pop-Up job recruitment events!
Weather NEWS!

All three golf courses (Foster, McMillen and Shoaff) are closed Friday, March 24 and Saturday, March 25, due to the weather/flooding issues. Please call the golf courses on Sunday to verify if they will be open and the course conditions before heading out.

Foster Park Golf Course (427-6735)
Shoaff Park Golf Course (427-6745)
McMillen Park Golf course (427-6710)


Summer Day Camp and Summer Activity PODS fliers

Check out the brochures below! Registration will begin for the Camps and PODS on March 20!





Public Opportunity to Complete Foster Park Paved Trail Survey
Final Chance to Provide Input, April 11
Fort Wayne Parks and Recreation will provide an opportunity for residents to complete the paved trail survey for Foster Park, related to the not yet final Foster Park Golf Course Master Plan. Those who have not completed the on-line survey are encouraged to do so in-person on Tuesday, April 11, from 5:00-7:00 p.m., in the Indian Village Park's Sears Pavilion at 1701 Bluffton Road. Copies of the survey will be available. If you prefer, you can complete the survey on-line at this link:
Foster Park has been a treasured asset on the south side of Fort Wayne for more than 100 years.

With the centennial of the golf course approaching, Fort Wayne Parks and Recreation contracted the golf course architecture firm of Hills Forrest Smith to develop a plan to revitalize the course in conjunction with the golf course anniversary. A golf course-specific survey was circulated, and public meetings were held to gain insights on how residents would like to see Foster Golf Course-the oldest public golf course in Fort Wayne-updated.

The plan is not finalized, and public input regarding the Foster Park paved trail is desired. It is clear that the Foster Park trail is an important feature for many park users. Fort Wayne Parks and Recreation has developed this trail-specific questionnaire to help address any thoughts and concerns with regards to the current trail and possible modifications. Thank you for your time and input in completing this survey.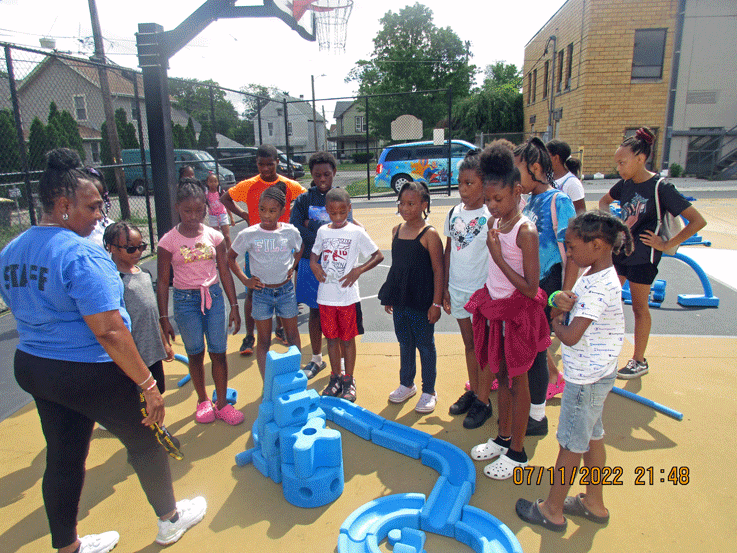 Fun at the Youth Centers
Sign up for After School programming at Jennings or Weisser! Please note, Weisser is full at this time. We continue to take names to add to the wait list.

McMillen Park Community Center
Sign up TODAY for After School programming at McMillen Park Community Center.