2022 Foellinger Theatre Summer Concert Series
Foellinger Theatre is looking forward to hosting a very successful 2022 season.



The 2022 Theatre line up flier is now available. Check out the information below on additional details about each performing act and links to purchase tickets.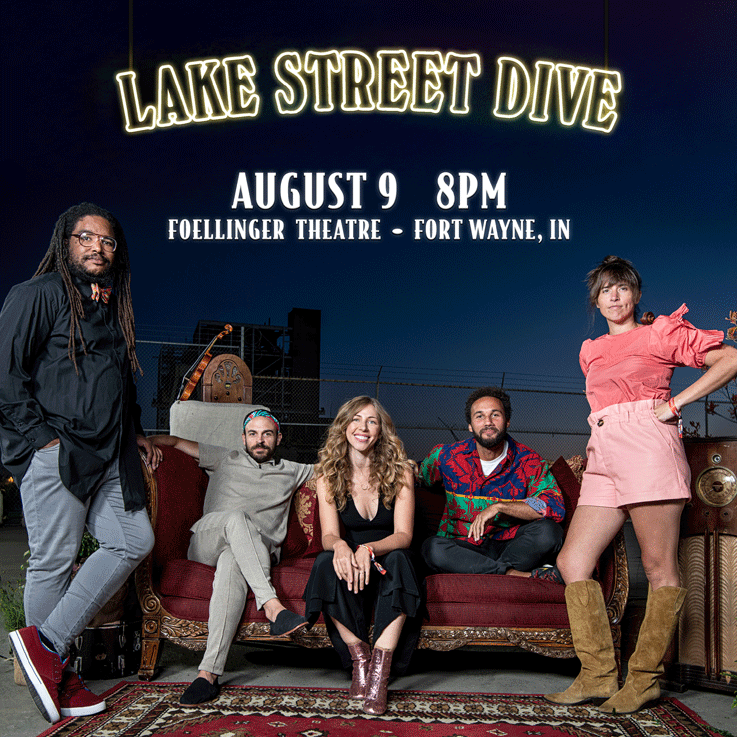 By blending a variety of genres including pop, rock, R&B, and jazz, the eclectic Lake Street Dive has risen to become one of the premiere alternative rock bands. The band's most recent album "Obviously," is referenced as their "first truly abashed yacht rock record" by Rolling Stone magazine (2021) and topped the charts at No. 1 on Americana/Folk, No. 2 on Rock Albums, and No. 2 on Alternative Albums. Madison Cunningham will play as the opening act.


Link to purchase Lake Street Dive tickets or in person at Fort Wayne Parks and Recreation.
Five for Fighting with special guest The Verve Pipe
.
John Ondrasik -- the songwriter and performer known as the platinum-selling, Grammy-nominated, Five For Fighting has penned major hits, including the chart-topping "100 Years," "The Riddle," "Chances," "World," and " Superman (It's Not Easy)," which have earned tens of millions of streams and place him as a top-10 Hot Adult Contemporary artist for the 2000s. Ondrasik will have his full band on stage with him.
The Verve Pipe
With a reputation for spectacular live performances, the multi-platinum alternative rock band The Verve Pipe are recognized worldwide for their radio hits "Photograph," "Hero," "Happiness Is," "Never Let You Down," and the #1 smash single "The Freshmen."

Public On-Sale: Friday, April 15, 2022 at 10:00 am EST Ticketmaster.com and in person at Fort Wayne Parks and Recreation LINK: Five for Fighting with special guest The Verve Pipe



Tommy DeCarlo Boston Singer Since 2007 with American Idol's Rudy Cardenas

Friday August 19, 2022 8:00 pm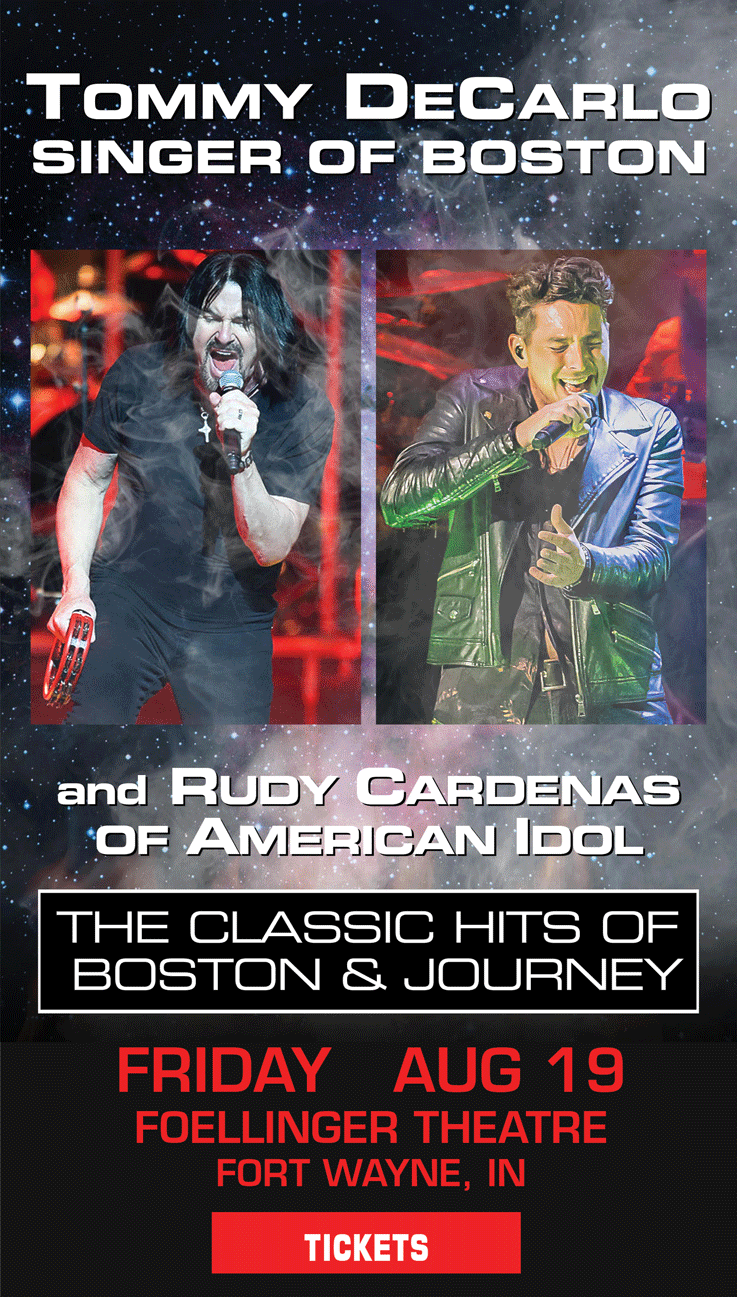 Tommy DeCarlo is the Singer of the legendary rock band Boston. Tommy has performed on every Boston tour since 2007 playing to sold out audiences all over the world. This show closes with a full set of Boston classic hits from the 1970's and 80's with a top band of touring professionals featuring August Zadra on lead guitar/vocals (Dennis DeYoung Band).
Tommy DeCarlo will be joined by special guest Rudy Cardenas of American Idol and a full set of Journey classic hits. Rudy has had a long relationship with Journey music starting in 2007 when he debuted on season 6 American Idol singing "Open Arms" on national TV.
Hear ALL THE CLASSIC HITS....experience ALL THE MEMORIES....on ONE UNFORGETTABLE EVENING.
Public On-Sale: Friday, April 22, 2022 at 10:00 am EST Ticketmaster.com and in person at Fort Wayne Parks and Recreation Ticketmaster LINK: https://www.ticketmaster.com/event/05005C9102D55142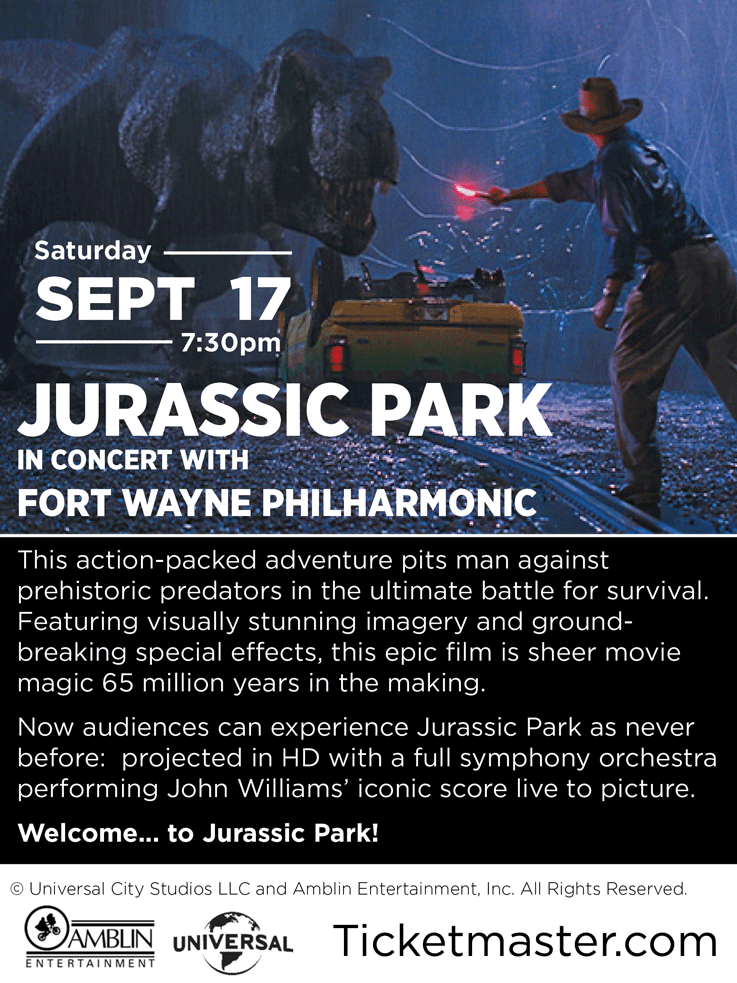 Public Sale starts May 6th. TM TICKET LINK: Jurassic Park in Concert with Fort Wayne Philharmonic



Brett Eldredge

September 23, 2022 at 7:30 pm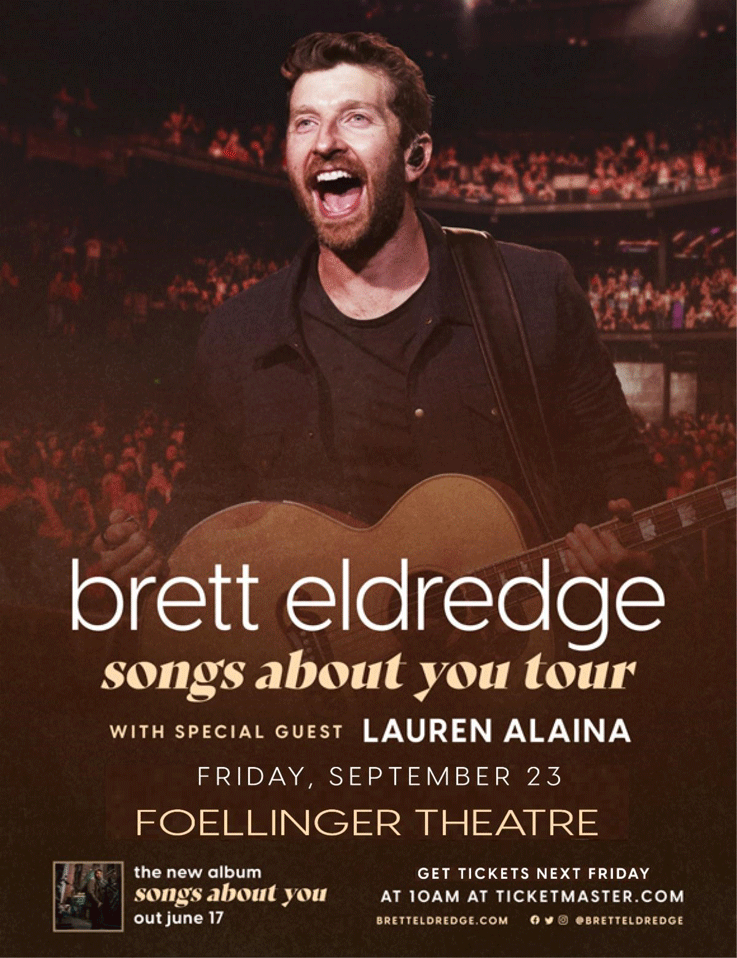 In a genre defined by the credo "three chords and the truth," Brett Eldredge is about to set a new bar with his forthcoming album, Songs About You, due June 17. Candid in its approach and backed by an uncluttered, minimalistic soundscape, each of the 12 co-written songs finds the Warner Music Nashville artist getting raw and unfiltered in a way rarely attempted in country music – or anywhere else.
The LP shines a light on themes like fear and desire, a public struggle with anxiety and his newfound appreciation for self-acceptance. And yet, despite the understated arrangements and live horns, the album's defining characteristic is still Eldredge's cavernous, signature vocal. The title track and single "Songs About You" was the most added song at radio upon release and along with previously released tracks "Holy Water" and "Want That Back," gives fans a taste of what's to come from the new album.
Eldredge has been engaged in one of country's most transformative evolutions since the 2020 release of his critically acclaimed fourth studio record, Sunday Drive, when he began consciously pushing beyond clever, rom-com country anthems. With help from GRAMMY-winning producers Daniel Tashian and Ian Fitchuk, Eldredge brought the album to life by leaning into vulnerability and pulling inspiration from his own personal experiences.
He released the brand-new holiday album, Mr. Christmas, in 2021 following his highly celebrated debut Christmas album, Glow. In 2016, the project inspired a single live show in Nashville, which has now grown into the annual Glow LIVE holiday tour, hitting major cities across the country. With seven country radio No. 1's, nine Gold and Platinum-certified singles, two Gold-certified albums and multiple CMA, ACM and CMT Music nominations and wins, the critically acclaimed entertainer regularly fills arenas nationwide with his powerhouse vocals and electrifying live performances.

Public On sale: Friday, May 20, 2022 at 10:00 am
TM TICKET: Brett Eldredge

Tribute Bands
Stayin' Alive One Night with the Bee Gees
August 5, 2022 8:00 pm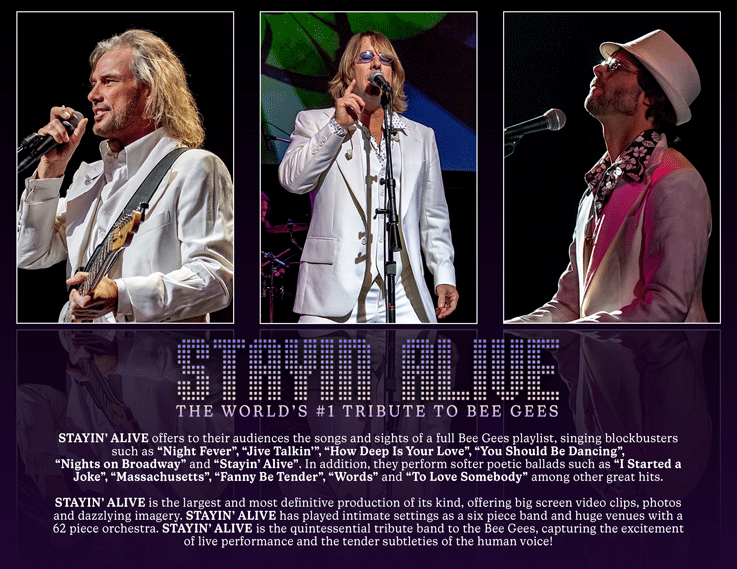 From traditional Bee Gee's songs like "To Love Somebody" to disco era songs like "Stayin' Alive," the authentic look and falsetto voices of this Toronto based group will help you to re-live the 1970's.
Public On-Sale: Friday, April 29, 2022 at 10:00 am EST Ticketmaster.com and in person at Fort Wayne Parks and Recreation
TM TICKET LINK: Staying Alive One Night with the Bee Gees
Ticket Sale Date & Purchasing Information

Ticket sale dates for the 2022 Summer Concert Series are posted as each concert is announced. Pre-sale information will be posted on our Theatre Facebook page!


Ticketmaster.com (Click on the heart to favorite Foellinger Theatre and stay up to date with new events)
In person at the Parks & Recreation Dept. (705 E. State Blvd.)

At the Foellinger Theatre Box Office (3411 Sherman Blvd.) from 6-10 pm on concert days.


Tickets purchased in person will include no additional fees.

By phone through Ticketmaster. Please call 1-800-982-2787.
Accessible seats are available for purchase on-line.
Questions about purchasing tickets on-line? Call TicketMaster customer service: 1-800-653-8000
Check out the Theatre Seating Chart


Refunds


Customers will receive full refunds for any concerts cancelled. If a concert is rescheduled, customers can either keep their tickets for the new date or collect a full refund
---
Sponsors


The 2022 concert series of Foellinger Theatre was made possible with the support of the following:
---
Facebook
Check us out on facebook!!

Like the Foellinger Theatre facebook page TODAY and be up on all the announcements for the season as they occur!!

---
General Information
Events are held rain or shine as our open air theatre is covered. Be sure to bring your bug spray as well as extra layers of clothing and/or blankets depending on the weather. Outside food and beverage is not permitted. FREE parking is available at all concerts!


---
No Passes Out
Effective March 9, 2017 customers of the Foellinger Theatre will no longer be permitted to re-enter the Theatre after leaving the gated area. There will be no passes out issued. For customer convenience a defined area inside of the Theatre gates will be designated for smoking. There will be no smoking permitted in any other Theatre areas.


---
Additional Customer Information
Effective March 9, 2017 on show nights parking in the Foellinger Theatre parking lot in Franke Park as well as the overflow parking lot adjacent to the Theatre is reserved for customers who are ticketed for the show. Violators may be ticketed or towed.
Following the directive of the City of Fort Wayne, masks are recommended, but not required.
Alcohol is only allowed to be consumed within the Theatre facility (not in the parking lot). Portable grills are not allowed in designated parking lot areas. Tickets purchased on-line will be mailed to you the next business day. Tickets may also be purchased over the telephone by calling 260.427.6000 or 260.427.6715 after 6 pm day of show.
Please note: Wheelchair accessible tickets and companion tickets are not available for purchase online. Please call 260-427-6000 in advance or 260-427-6715 (after 6 pm day of show) to purchase. A map of the parking lot including designated ADA spots is now available.
Do you still have questions? Contact: Tim Byers, Theatre Manager, 260.427.6018 or This email address is being protected from spambots. You need JavaScript enabled to view it.
---

Take our on-line Theatre survey today and let us know about your experience at Foellinger Theatre.