2022 Foellinger Theatre Summer Concert Series
Foellinger Theatre is looking forward to hosting a very successful 2022 season.



The 2022 Theatre line up flier is now available. Check out the information below on additional details about each performing act and links to purchase tickets.
ZZ TOP's music is always instantly recognizable, eminently powerful, profoundly soulful and 100% Texas American. They have sold millions of records, have been officially designated as Heroes of The State of Texas, have been referenced in countless cartoons and sitcoms and are true rock icons but, against all odds, they're really just doing what they've always done. They're real and they're surreal and they're ZZ TOP.
Purchase General on-sale tickets today
Concert brought to you by: Exceptional Artists / Mammoth



Thursday July 21, 2022
Doors at 6:00 pm Curtain at 7:00 pm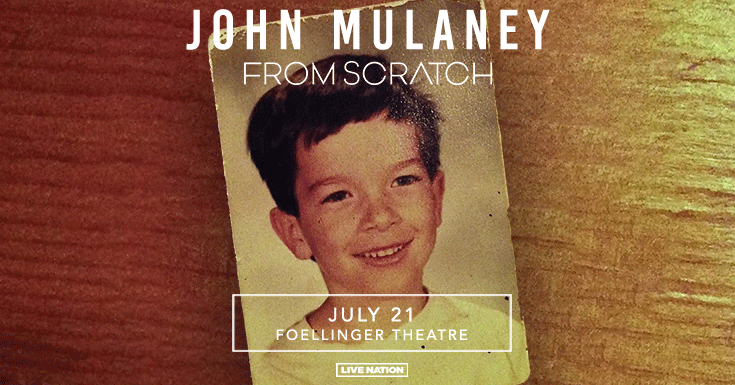 John Mulaney is a two-time Emmy and WGA award-winning writer, actor, and comedian.
In 2018, he traveled the United States with sold out Kid Gorgeous tour, which was later released as a Netflix stand-up special and won the Emmy for Outstanding Writing in a Variety Special; In 2015, he released The Comeback Kid, also a Netflix original, which The AV Club called the "best hour of his career;" In 2012, his Comedy Central special New In Town had Ken Tucker of Entertainment Weekly hailing him as "one of the best stand-up comics alive." Starting March 2022, he'll be touring with his newest hour John Mulaney: From Scratch.
Solidifying himself as a fan favorite, John Mulaney has been invited to host Saturday Night Live five times. He began writing for SNL in 2008 and created memorable characters such as 'Stefon' with Bill Hader and appeared as a "Weekend Update" correspondent. He has written for IFC's Documentary Now! and Netflix's Big Mouth, on which he voices the character of Andrew. John will star in the new reboot of Chip 'n Dale: Rescue Rangers on Disney Plus this Spring opposite Andy Samberg.
He's also starred on Broadway in the runaway hit written and performed alongside Nick Kroll in Oh, Hello On Broadway. The duo have since release a Netflix special of the same name, as well as Oh, Hello: The P'dcast, based off their characters Gil Faizon and George St. Geegland.
In December 2019, the critically acclaimed and Emmy nominated musical variety special John Mulaney & The Sack Lunch Bunch debuted on Netflix. It was recently announced that festivities will continue with a pair of holiday themed Sack Lunch Bunch specials coming to Comedy Central in the near future.


Purchase tickets today! John Mulaney From Scratch


Before purchasing tickets please review the Health Advisory and Phone-free experience information:
Health Advisory
In the best interest of fans and staff, the Event Organizer will continue to monitor local COVID-19 trends and meet or exceed protocols mandated by local governments. By purchasing tickets to this event, unless prohibited by law, you agree to abide by the health and safety measures in effect at the time of the event, which may include, but not be limited to, wearing masks, providing proof of vaccination status and/or providing proof of negative COVID-19 test. Check back often for updates to your event venue website as guidelines are subject to change.


This event will be a phone-free experience. Use of phones will not be permitted in the performance space.
Upon arrival at the venue, phones will be secured in individual Yondr pouches that will be opened at the end of the event. Guests maintain possession of their devices at all times, and can access them throughout the event only in designated Phone Use Areas within the venue. All devices will be re-secured in Yondr pouches before returning to the performance space.
All pouches and equipment are routinely sanitized. The Yondr staff is trained and required to follow safety guidelines and hygiene protocols to practice social distancing, minimal contact and wear required personal protective equipment.
The Guess Who

Thursday, July 28, 2022 8:00 pm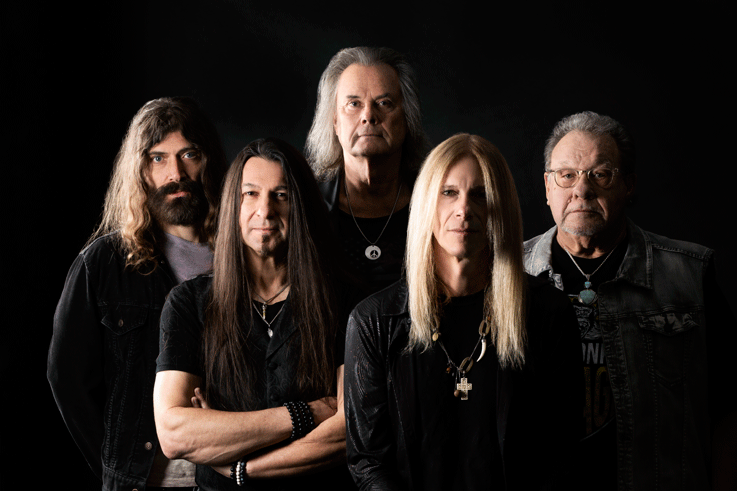 Founding member Garry Peterson brings this 1970s super group to the Foel­linger Theatre with mega-hits such as "These Eyes," "No Sugar Tonight," "Clap for the Wolf­man," and "American Woman,"


Public On-Sale: Friday, April 29, 2022 at 10:00 am EST Ticketmaster.com and in person at Fort Wayne Parks and Recreation
TM TICKET LINK: The Guess Who


Brit Floyd
July 30, 8 pm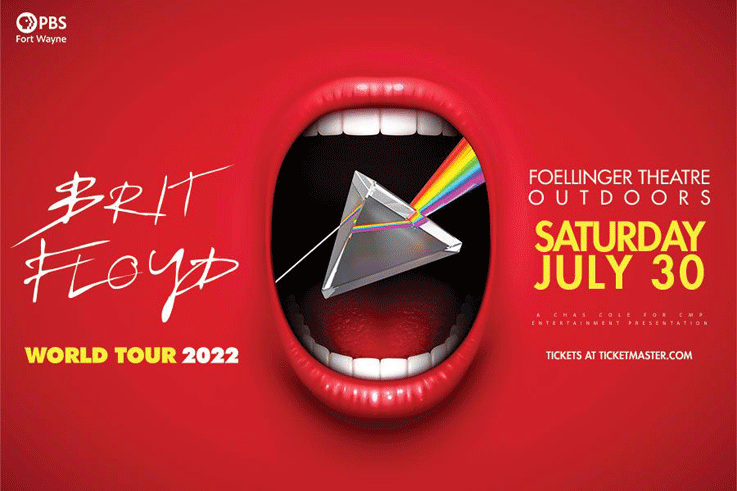 The Dark Side of the Moon, The Wall and more... including the iconic song Echoes, performed 'note-for-note' and in it's entirety
Brit Floyd, "The World's Greatest Pink Floyd Show" returns to the stage in 2022 to perform its brand new production. Including highlights from The Wall, The Dark Side of the Moon, Wish You Were Here, Animals and The Division Bell, and featuring a show stopping 23 minute 'note-for-note' performance of the iconic era defining song Echoes, written 50 years ago, and from Pink Floyd's breakthrough 1971 album. Widely regarded as the world's greatest rock tribute show, Brit Floyd faithfully recreate the scale and pomp of the final 1994 Pink Floyd tour, complete with a stunning multi million dollar light show, iconic circle screen, lasers, inflatables and theatrics.
It really is as good as they say - believe the hype and don't miss it!
Purchase tickets today! and in person at Fort Wayne Parks and Recreation

Presented by PBS Fort Wayne


Melissa Etheridge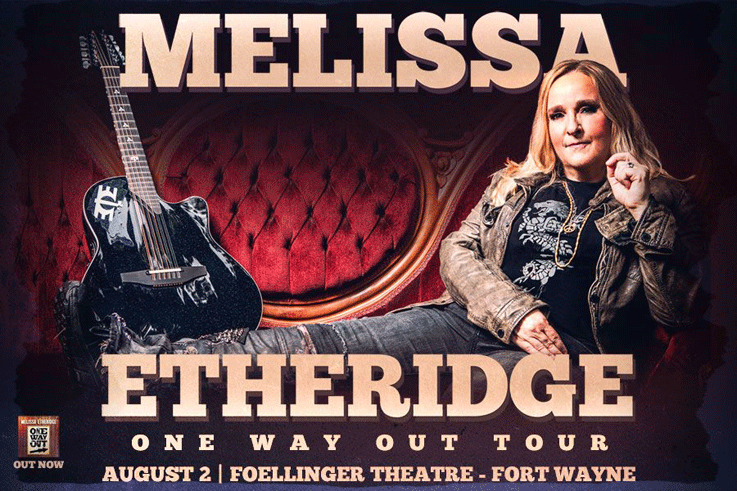 Melissa Etheridge will feature her new One Way Out album on August 2, 2022 at Foellinger Theatre.
Known for her confessional lyrics and raspy, smoky vocals, Melissa Etheridge has remained one of America's favorite female singers-songwriters for more than three decades.
She stormed onto the American rock scene in 1988 with the release of her critically acclaimed self-titled debut album, then delivered such memorable originals as "Bring Me Some Water," "No Souvenirs" and "Ain't it Heavy," leading to the massive hits, "I'm the Only One" and "Come to My Window," followed by the hit single, "I Want to Come Over."
Early in her career she acknowledged her sexual orientation when it was considered less than prudent to do so. In 2004, after being diagnosed with breast cancer and losing her hair from chemotherapy, Etheridge appeared on the 2005 Grammy® telecast to sing "Piece of My Heart" in tribute to Janis Joplin. Eventually she won her health challenge and gave hope to many women afflicted with the disease.
As a performer and songwriter, Etheridge continues to captivate and inspire audiences across the country with her signature rasp and substantial guitar chops combines with her endless tenacity.


Presenting Sponsor: Fort Wayne Pride
GENERAL ONSALE: Friday, May 13, 2022 at 10:00 am
TM TICKET LINK: Melissa Etheridge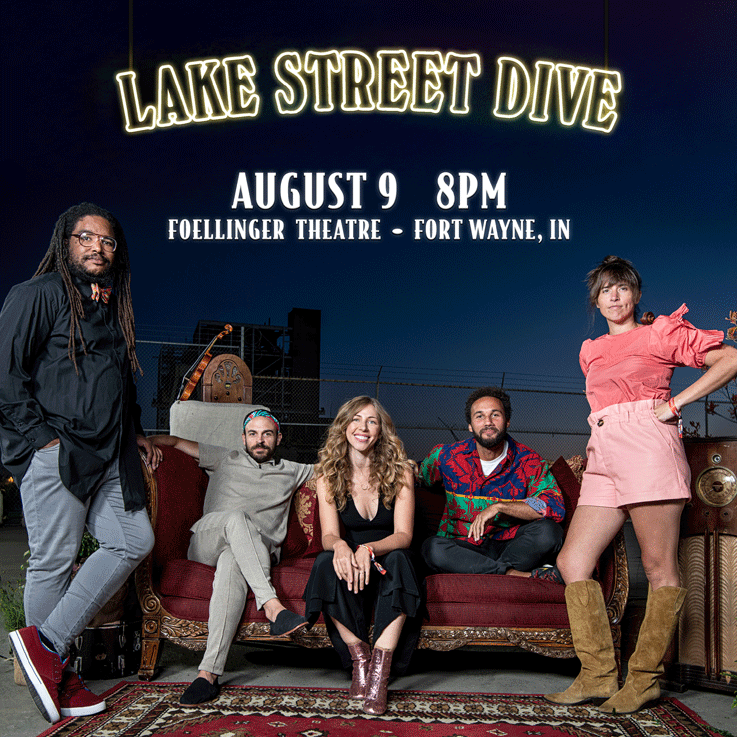 By blending a variety of genres including pop, rock, R&B, and jazz, the eclectic Lake Street Dive has risen to become one of the premiere alternative rock bands. The band's most recent album "Obviously," is referenced as their "first truly abashed yacht rock record" by Rolling Stone magazine (2021) and topped the charts at No. 1 on Americana/Folk, No. 2 on Rock Albums, and No. 2 on Alternative Albums. Madison Cunningham will play as the opening act.


Link to purchase Lake Street Dive tickets or in person at Fort Wayne Parks and Recreation.
Five for Fighting with special guest The Verve Pipe
.
John Ondrasik -- the songwriter and performer known as the platinum-selling, Grammy-nominated, Five For Fighting has penned major hits, including the chart-topping "100 Years," "The Riddle," "Chances," "World," and " Superman (It's Not Easy)," which have earned tens of millions of streams and place him as a top-10 Hot Adult Contemporary artist for the 2000s. Ondrasik will have his full band on stage with him.
The Verve Pipe
With a reputation for spectacular live performances, the multi-platinum alternative rock band The Verve Pipe are recognized worldwide for their radio hits "Photograph," "Hero," "Happiness Is," "Never Let You Down," and the #1 smash single "The Freshmen."

Public On-Sale: Friday, April 15, 2022 at 10:00 am EST Ticketmaster.com and in person at Fort Wayne Parks and Recreation LINK: Five for Fighting with special guest The Verve Pipe



Tommy DeCarlo Boston Singer Since 2007 with American Idol's Rudy Cardenas

Friday August 19, 2022 8:00 pm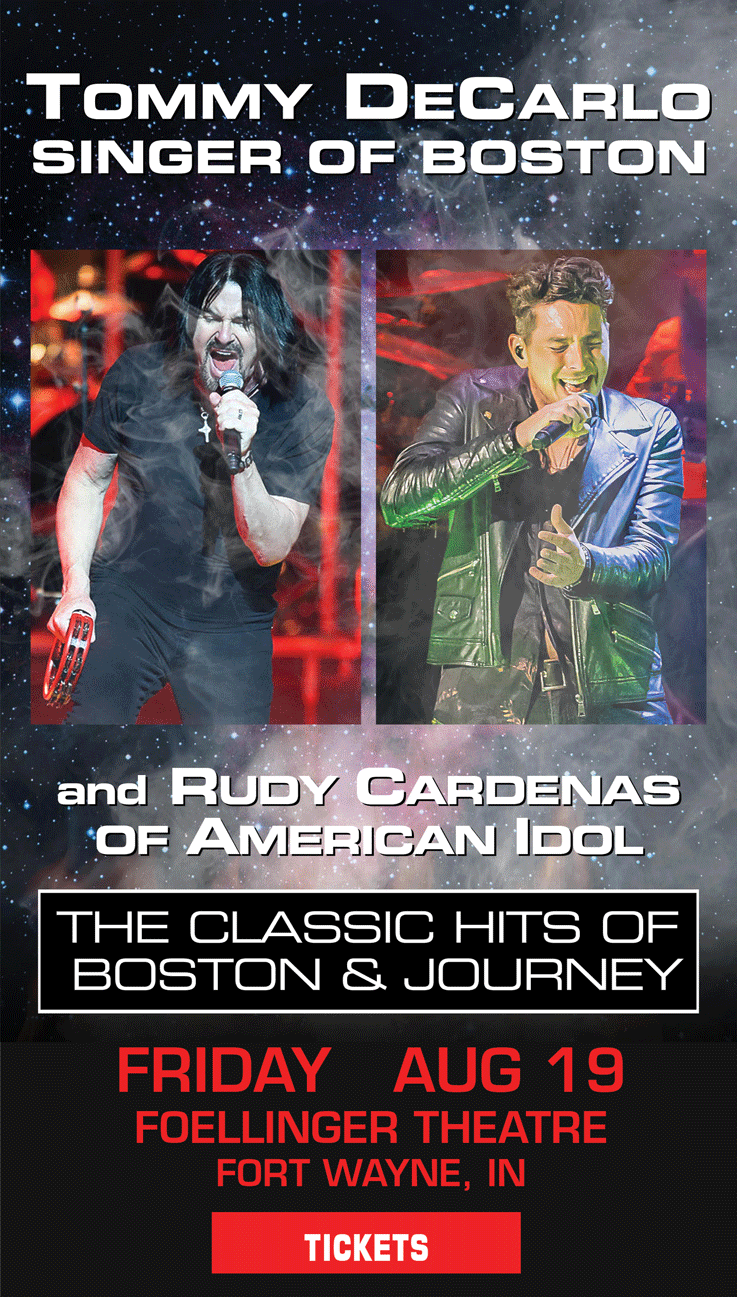 Tommy DeCarlo is the Singer of the legendary rock band Boston. Tommy has performed on every Boston tour since 2007 playing to sold out audiences all over the world. This show closes with a full set of Boston classic hits from the 1970's and 80's with a top band of touring professionals featuring August Zadra on lead guitar/vocals (Dennis DeYoung Band).
Tommy DeCarlo will be joined by special guest Rudy Cardenas of American Idol and a full set of Journey classic hits. Rudy has had a long relationship with Journey music starting in 2007 when he debuted on season 6 American Idol singing "Open Arms" on national TV.
Hear ALL THE CLASSIC HITS....experience ALL THE MEMORIES....on ONE UNFORGETTABLE EVENING.
Public On-Sale: Friday, April 22, 2022 at 10:00 am EST Ticketmaster.com and in person at Fort Wayne Parks and Recreation Ticketmaster LINK: https://www.ticketmaster.com/event/05005C9102D55142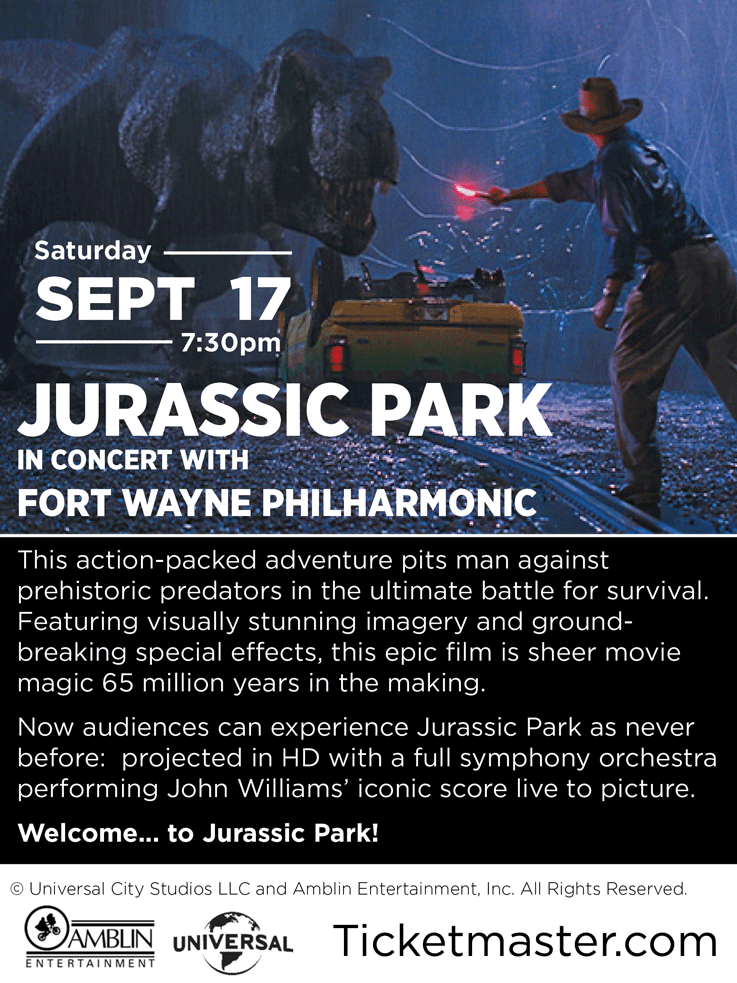 Public Sale starts May 6th. TM TICKET LINK: Jurassic Park in Concert with Fort Wayne Philharmonic



Brett Eldredge

September 23, 2022 at 7:30 pm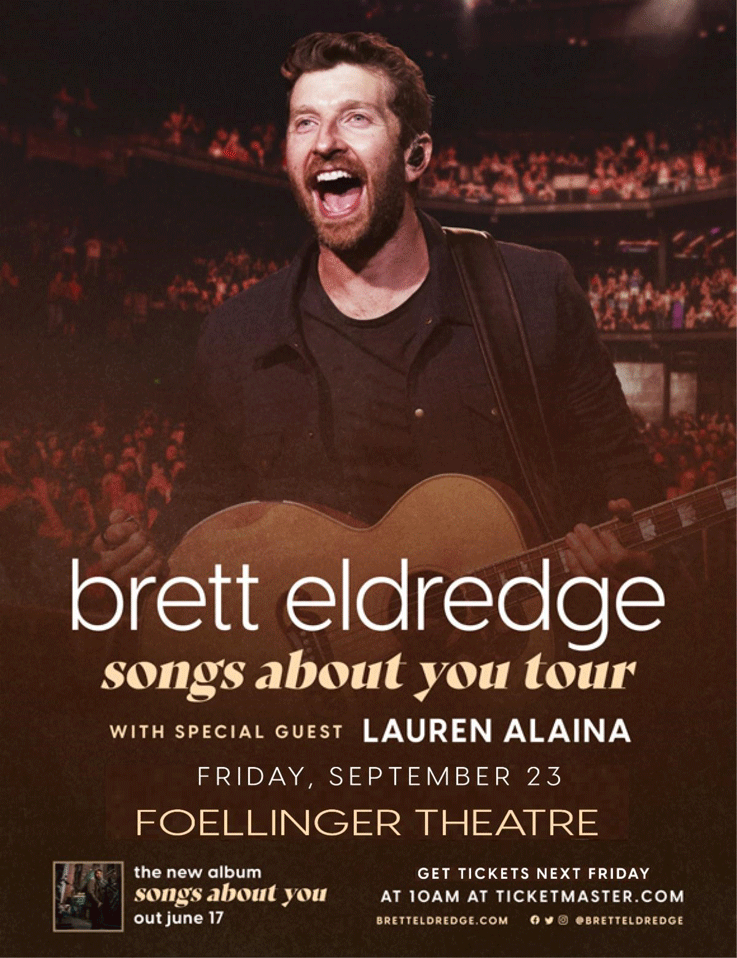 In a genre defined by the credo "three chords and the truth," Brett Eldredge is about to set a new bar with his forthcoming album, Songs About You, due June 17. Candid in its approach and backed by an uncluttered, minimalistic soundscape, each of the 12 co-written songs finds the Warner Music Nashville artist getting raw and unfiltered in a way rarely attempted in country music – or anywhere else.
The LP shines a light on themes like fear and desire, a public struggle with anxiety and his newfound appreciation for self-acceptance. And yet, despite the understated arrangements and live horns, the album's defining characteristic is still Eldredge's cavernous, signature vocal. The title track and single "Songs About You" was the most added song at radio upon release and along with previously released tracks "Holy Water" and "Want That Back," gives fans a taste of what's to come from the new album.
Eldredge has been engaged in one of country's most transformative evolutions since the 2020 release of his critically acclaimed fourth studio record, Sunday Drive, when he began consciously pushing beyond clever, rom-com country anthems. With help from GRAMMY-winning producers Daniel Tashian and Ian Fitchuk, Eldredge brought the album to life by leaning into vulnerability and pulling inspiration from his own personal experiences.
He released the brand-new holiday album, Mr. Christmas, in 2021 following his highly celebrated debut Christmas album, Glow. In 2016, the project inspired a single live show in Nashville, which has now grown into the annual Glow LIVE holiday tour, hitting major cities across the country. With seven country radio No. 1's, nine Gold and Platinum-certified singles, two Gold-certified albums and multiple CMA, ACM and CMT Music nominations and wins, the critically acclaimed entertainer regularly fills arenas nationwide with his powerhouse vocals and electrifying live performances.

Public On sale: Friday, May 20, 2022 at 10:00 am
TM TICKET: Brett Eldredge

Tribute Bands
Stayin' Alive One Night with the Bee Gees
August 5, 2022 8:00 pm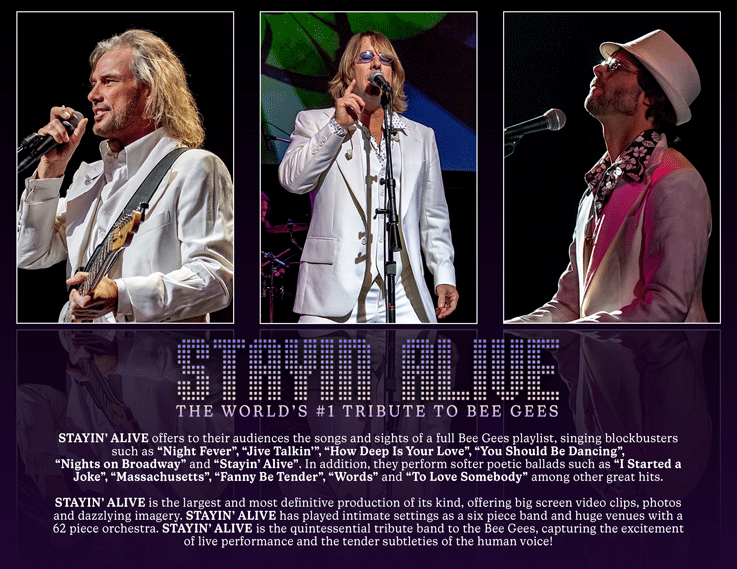 From traditional Bee Gee's songs like "To Love Somebody" to disco era songs like "Stayin' Alive," the authentic look and falsetto voices of this Toronto based group will help you to re-live the 1970's.
Public On-Sale: Friday, April 29, 2022 at 10:00 am EST Ticketmaster.com and in person at Fort Wayne Parks and Recreation
TM TICKET LINK: Staying Alive One Night with the Bee Gees
Ticket Sale Date & Purchasing Information

Ticket sale dates for the 2022 Summer Concert Series are posted as each concert is announced. Pre-sale information will be posted on our Theatre Facebook page!


Ticketmaster.com (Click on the heart to favorite Foellinger Theatre and stay up to date with new events)
In person at the Parks & Recreation Dept. (705 E. State Blvd.)

At the Foellinger Theatre Box Office (3411 Sherman Blvd.) from 6-10 pm on concert days.


Tickets purchased in person will include no additional fees.

By phone through Ticketmaster. Please call 1-800-982-2787.
Accessible seats are available for purchase on-line.
Questions about purchasing tickets on-line? Call TicketMaster customer service: 1-800-653-8000
Check out the Theatre Seating Chart


Refunds


Customers will receive full refunds for any concerts cancelled. If a concert is rescheduled, customers can either keep their tickets for the new date or collect a full refund
---
Sponsors


The 2022 concert series of Foellinger Theatre was made possible with the support of the following:
---
Facebook
Check us out on facebook!!

Like the Foellinger Theatre facebook page TODAY and be up on all the announcements for the season as they occur!!

---
General Information
Events are held rain or shine as our open air theatre is covered. Be sure to bring your bug spray as well as extra layers of clothing and/or blankets depending on the weather. Outside food and beverage is not permitted. FREE parking is available at all concerts!


---
No Passes Out
Effective March 9, 2017 customers of the Foellinger Theatre will no longer be permitted to re-enter the Theatre after leaving the gated area. There will be no passes out issued. For customer convenience a defined area inside of the Theatre gates will be designated for smoking. There will be no smoking permitted in any other Theatre areas.


---
Additional Customer Information
Effective March 9, 2017 on show nights parking in the Foellinger Theatre parking lot in Franke Park as well as the overflow parking lot adjacent to the Theatre is reserved for customers who are ticketed for the show. Violators may be ticketed or towed.
Following the directive of the City of Fort Wayne, masks are recommended, but not required.
Alcohol is only allowed to be consumed within the Theatre facility (not in the parking lot). Portable grills are not allowed in designated parking lot areas. Tickets purchased on-line will be mailed to you the next business day. Tickets may also be purchased over the telephone by calling 260.427.6000 or 260.427.6715 after 6 pm day of show.
Please note: Wheelchair accessible tickets and companion tickets are not available for purchase online. Please call 260-427-6000 in advance or 260-427-6715 (after 6 pm day of show) to purchase. A map of the parking lot including designated ADA spots is now available.
Do you still have questions? Contact: Tim Byers, Theatre Manager, 260.427.6018 or This email address is being protected from spambots. You need JavaScript enabled to view it.
---

Take our on-line Theatre survey today and let us know about your experience at Foellinger Theatre.