---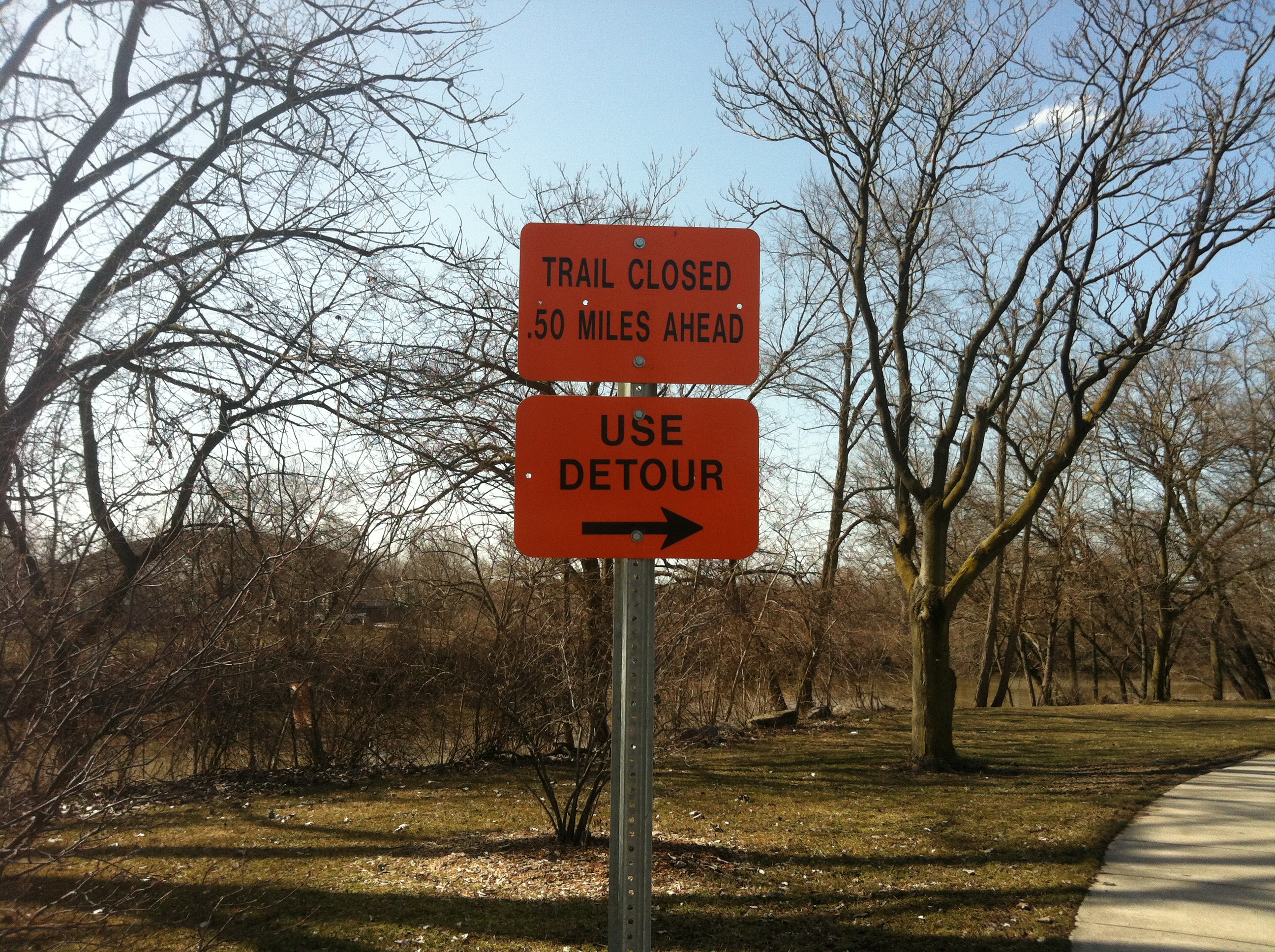 Updated: March 31st, 2023 at 4:00 PM
If you encounter any downed trees or safety concerns, please call or email the Greenways Dept at

(260)427-6228

or

This email address is being protected from spambots. You need JavaScript enabled to view it.
.
Please be aware, during or following a rainfall, portions of the trail network may be muddy and/or slippery. Please slow down and use caution, especially on boardwalks. Always use caution whenever you encounter a wet section of trail.

During the winter months, be mindful of the potential for ice. In the instance of accumulating snowfall, trails are cleared when 3 or more inches are recorded.
Trail Closures and Detours:
FLOOD CLOSURES:
The Maumee Pathway is closed between Pemberton Ave. and Maplecrest Rd.

All gates are closed along the St.Marys Pathway, except just northeast of Main St. and under Van Buren St.
Towpath Trail: The Boardwalk just north of Engle Road will be closed intermittently beginning 4/3 while repairs take place. This notice will be removed when the project is complete.
Diebold Rd. Trail: The Diebold Rd. trail south of Dupont is closed for utility work. Expected reopening is 4/4.
Rivergreenway Pathways:
Beginning January 16th, 2023, the foot bridge separating Headwaters Park and the Old Fort will be closed due to a riverbank restoration project. The estimated reopening is late spring. Please follow the detour in place (map below) to navigate around this closure.

The pedestrian bridge just South of Lawton Park will close beginning 11/23/22 for reconstruction. A posted detour is in place. Please note that this will be a long-term closure. While this bridge is part of the St.Marys Pathway, its location is important to the connection of all Rivergreenway Pathways, meaning that many Rivergreenway trail users may be impacted. We apologize for the inconvenience.

A posted detour is available for both of the above closures. View the map

here

.
Pufferbelly Trail (North Section): The Pufferbelly Trail North of Carroll Rd. (currently an unpaved nature trail) is closed by Allen County while clearing and construction take place. Please do not cross barricades.
Spy Run Bridge:The below-grade crossing at Spy Run is closed for construction. The east sidewalk is temporarily closed for painting. The west sidewalk has been opened to allow for trail users to pass. Trail users should cross at the intersection of Lafayette St & Superior St.
Water Filtration Plant: A damaged utility has cause the placement of a pump on the trail just west of the water filtration plant. The trail narrows significantly as users pass through the area. The trail remains open. Please use caution.
Landin Road Trail: A section of the Landin Road Trail (east side) is closed for construction north of North River Road. Please utilize the trail on the west side to bypass the area. Contact New Haven Parks (260-749-2212) with questions.
Dupont Road Trail: Repairs are being made to a small section of trail just west of Salomon Farm. As work continues, there may be periods of impassability. Trail users are encouraged to navigate around the closure if possible or utilize the sidewalk on the North side of the street.
For specific questions about closures, please e-mail

This email address is being protected from spambots. You need JavaScript enabled to view it.

or call 427-6228.
Technical challenges have caused the disconnection of this site to present flood gauges. Those interested in seeing current river levels can visit https://water.weather.gov/ahps2/hydrograph.php?wfo=iwx&prob_type=stage&gage=ftwi3