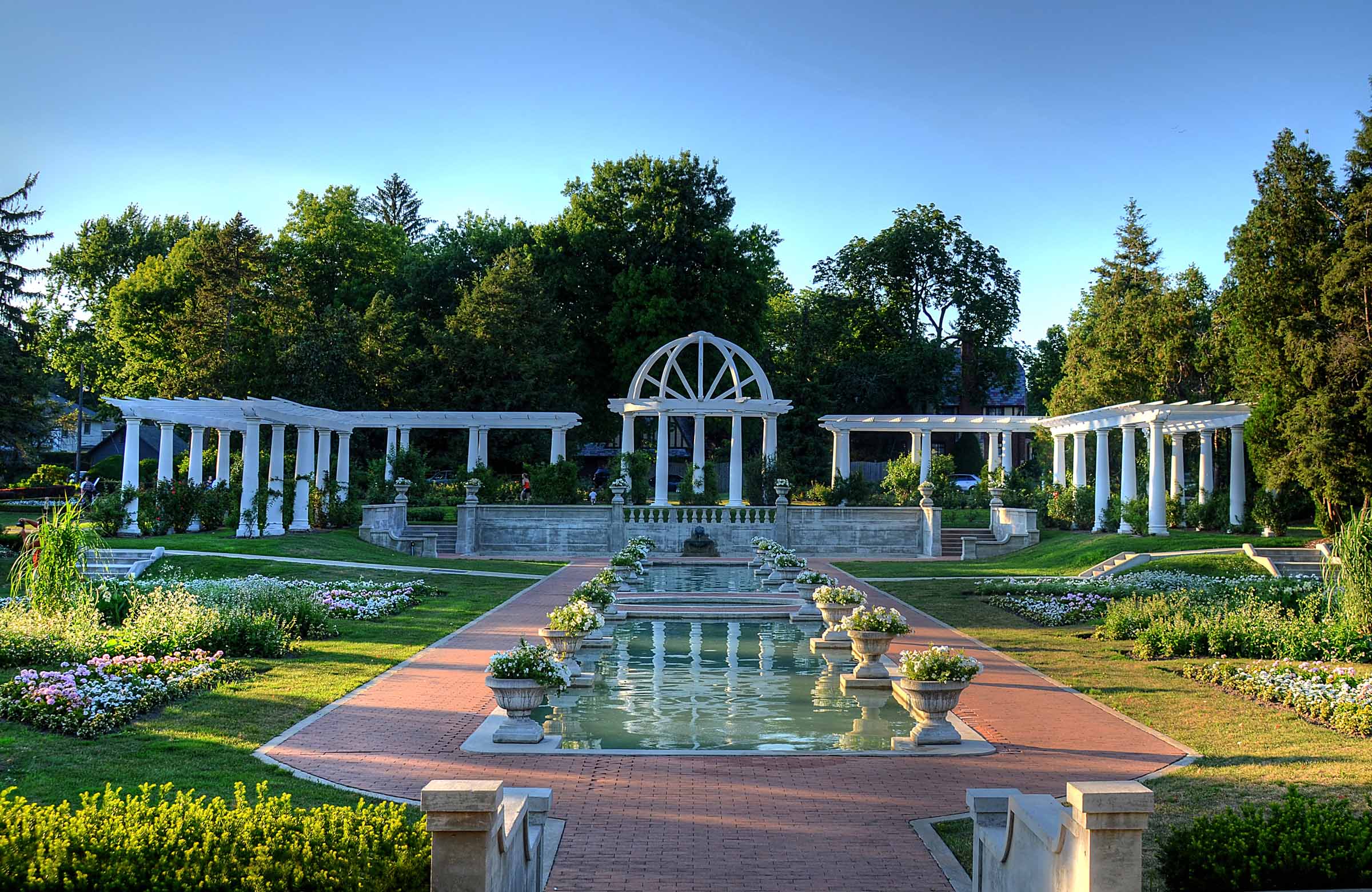 Photo compliments of Fred VanFossen
Lakeside Park
1401 Lake Avenue & Vermont
HISTORY

June 9, 2006
Mayor Dedicates Lakeside Sunken Gardens Fort Wayne, IN: Mayor Graham Richard, with City officials and Parks and Recreation representatives, dedicated the newly-reconstructed Sunken Gardens at Lakeside Park today.
"Reconstruction of this historic park feature has been anxiously awaited by the many admirers of Lakeside Park," said Mayor Richard. "With the dedication of this historic park, we can offer our citizens a beautiful respite to visit and enjoy."Restoration of Lakeside Park's sunken garden was a primary recommendation from a Cultural Landscape study. We directed CEDIT funds of more than $586,000 to satisfy the total project cost," said Richard.The original sunken garden design was created by Parks Superintendent Adolf Jaenicke by 1920. In his own words, the area "was a depression of about six feet deep and … was used as a dump by the neighborhood." Jaenicke had been experimenting with the idea of a rose garden, which was considered difficult in this area because of our harsh winters. But he found the clay of Indiana was ideal for the roses. The completed rose garden, elevated above a sunken garden with reflecting ponds, was finished in the early 1920's and has brought many thousands of visitors to Lakeside Park.
Reconstruction began on the sunken gardens in August, 2005. All of the hardscape elements (concrete) in the garden area were removed; specifically the retaining walls, stairs, sidewalks and reflecting ponds were replaced. Old postcards of the original structure showed the paths were composed of an orange material – probably crushed clay. So the current sidewalks have brick pavers to simulate more closely the original design."In keeping with historic photos, we rebuilt the pergola to conform to the original design," said Director Al Moll, Parks and Recreation. "Visitors will notice additional improvements, including more lighting for evening visits to the garden and a fabulous bronze fountain on the north retaining wall. The original cement lion's head fountain did not weather well, and it required reconstruction by Lloyd Cooper and was cast in bronze by Frank Bougher."
The project's landscape architect firm was the Landplan Group, and the construction firm was Clounie Landscaping, Inc. The total cost was $586,526.75. Lakeside was named a National Rose Garden in 1928, an honor it still holds today. As such, it is nationally renowned and people from all over the country think it is a "must see." It currently holds more than 2,000 rose plants with at least 150 varieties.
Posted above is a video of the Lakeside Park Rose Garden
RENTAL FACILITIES

If you are interested in renting the Rose Garden for an event, it is available in two hour increments and costs $50. Rent NOW

There are also two pavilions available at Lakeside Park for rent. Rent NOW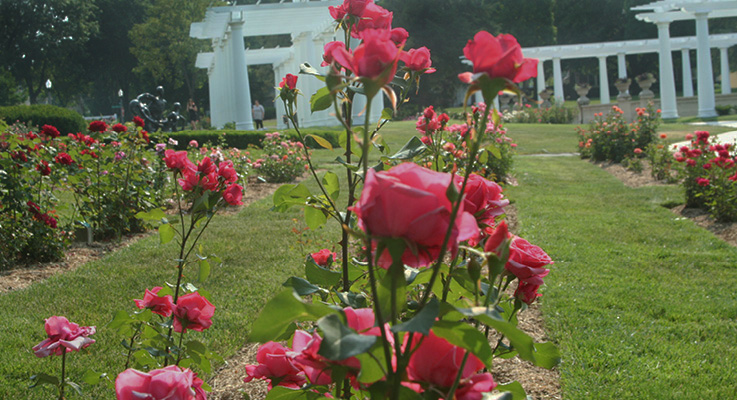 LAKESIDE PARK & ROSE GARDEN AMENITIES

Lakeside Park provides 25.8 acres to enjoy such activities as: basketball, fishing, ice skating, picnicking, playgrounds, trails, and tennis courts besides finding scenic spots for taking photos or simply relaxing and enjoying the day!



Check out the Garden Brochure which includes additional information about this park as well as outstanding photos.