Check out our NEW Park Jobs video and learn more about our Spring/Summer jobs on the Jobs link!
Welcome to the Fort Wayne Parks & Recreation Department
The Fort Wayne Parks & Recreation Department's mission is to enhance the quality of life in Fort Wayne by providing positive opportunities for leisure time and by being stewards of our park lands, facilities, public trees and other resources entrusted to our care. We believe we enhance the quality of life in our community and are committed to providing the best department possible.

As I look forward to 2023, below are some of the projects:

Completion of the 2023-2028 Master Plan
Transition of the Headwaters operation to Parks
Work on the Compehensive Plan and seek public input
The opening of the Buckner Trail
Franke Renaissance Groundbreaking
The opening of Riverfront 2 A
The official opening of Foster #3
And so much MORE!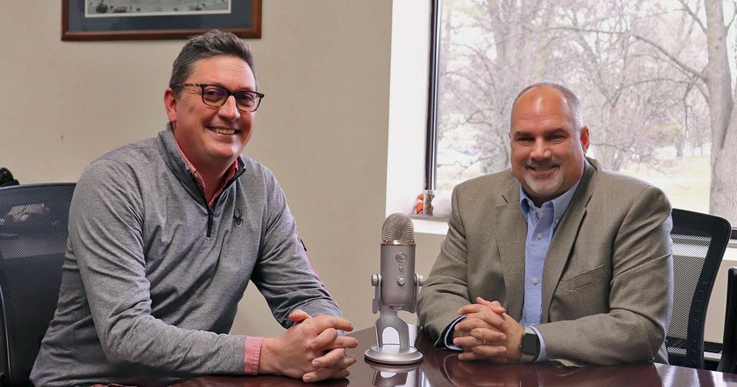 I recently sat down with Derek Veit, City Forester, to discuss the benefits of trees! Feel free to listen in to the Podcast and learn more!
Unwind Your Mind is a relatively new initiative to offer activities for those in our community with signs of early dementia. Check out the link to learn more and watch this new program GROW. We will be offering a Sensory Room in the near future too!

Do you like to travel? Come with us for an Extended Trip! Check out the complete list of trips and pack your bags!! We will be offering Day Trips in the future.
If you are looking for something a little different, check out the McMillen Park Community Center! Since it opened on June 7th, 2014 business has been booming. Activities are offered for all ages. Check it out at:McMillen Park Community Center.


Have you visited "Taylor's Dream Boundless Playground" in Kreager Park. If not, round up all the kids in your family and head out for a day of exploring this wonderful playground where all kids can participate and enjoy the many features of this very unique facility. Check out the Boundless Playground link for more information. In addition to the splashpad in Kreager Park you can enjoy splashpads in nine other parks! Check out more about the splashpads or if you are looking for even more water fun...hit the pools this summer!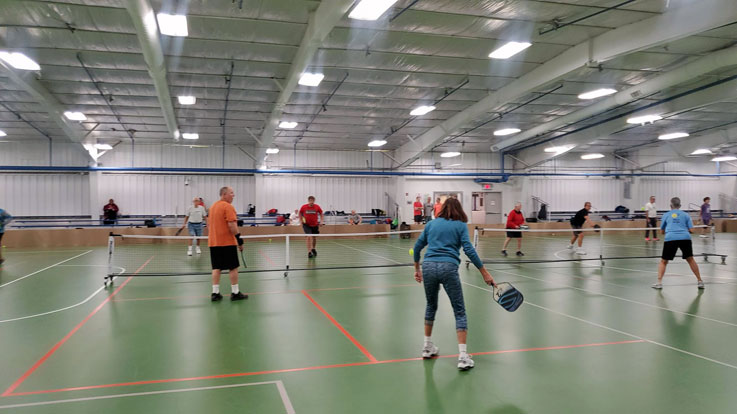 What about trying a new sport? What about Pickleball? It is often compared to badminton, ping pong and tennis, with its own set of rules. Head out to McMillen Park Community Center and give this sport a try!! Check out the Pickleball link to learn more about the numerous places to play pickleball outside too when the weather permits!
Perhaps FootGolf, Futsal or Frisbee Golf are more your speed? We offer a 9 hole FootGolf course at Mad Anthony III's in McMillen Park, Futsal is available at Packard Park (an exciting, fast-paced small sided soccer game played on a hard court), and additional Frisbee Golf Courses are available at Tillman Park or at Bob Arnold Northside Park (Frisbee golf courses also available at Swinney and Shoaff Parks).
If you love to be outside to walk, run, bike or skate, check out the numerous trails including the Rivergreenway! Rivergreenway Trails start north at Shoaff Park and head south to Tillman. There is also an East/West trail from Kreager Park to the confluence. Learn more about the Rivergreenway Trails
Are you looking for new places to work out that are FREE? Besides the usual places in the parks, we have outdoor fitness parks at Kreager and at the the Community Center! You can drop in and use this equipment free of charge!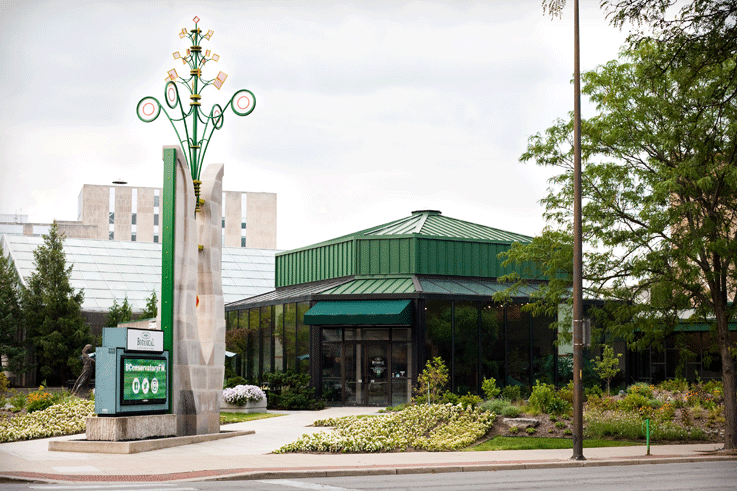 Do you enjoy everything floral? Fort Wayne Parks floral gardens have been a destination for over 80 years. Unique and colorful displays are found at four major gardens and smaller garden locations. Lakeside Garden at Lakeside Park is a formal setting featuring roses, Foster Gardens at Foster Park is a show-stopping mix of annuals, perennials, and flowering trees. Freimann Square offers a site for relaxation downtown among beautiful flowers and a spectacular fountain. The Foellinger-Freimann Botanical Conservatory, also located downtown, offers a year-round respite in the indoor gardens with 4 unique displays and 4 floral changes in the Showcase Garden, a jungle experience in the Tropical Garden, and a trip in the desert in the Arid House. The Botanical Conservatory also offers numerous Special Events, classes and more!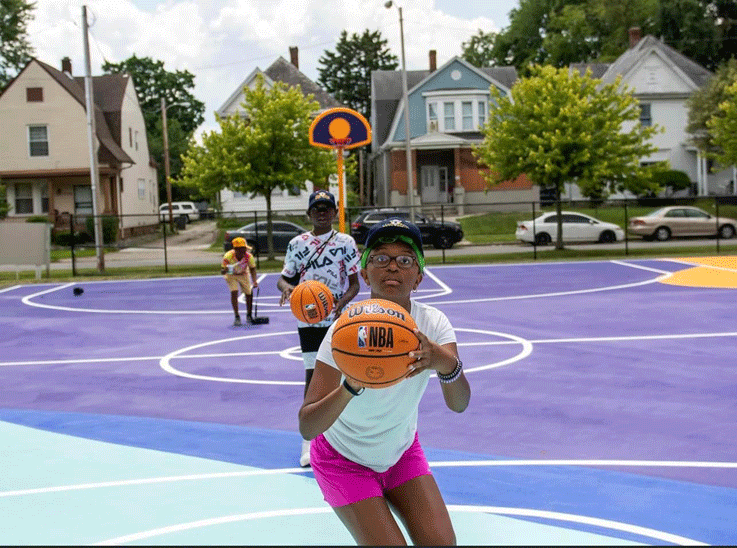 Want something to do? Especially outside? Check out the link Meet Me at the Park for additional ideas.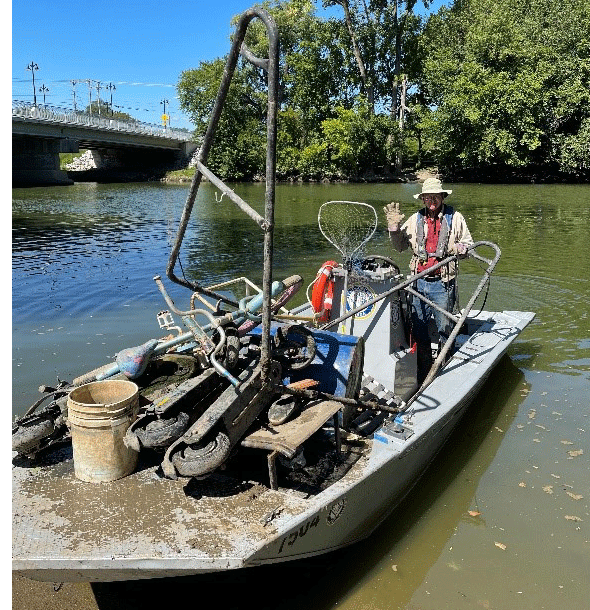 To keep all these parks & facilities looking fresh and operating smoothly takes a tremendous support team. I am so thankful for the dedication our team commits to making your Fort Wayne Parks & Recreation the best it can possibly be. Speaking of our staff, if there is a specific staff person that you would like to nominate, complete the "Caught in the Act" form and submit to us!
Recently we asked for the Community to step up and assist us with the Comprehensive Survey. We are pleased to announce the results of the survey that were presented at the Board of Park Commissioners meeting on June 11,2020. This very positive report will assist us in the years to come as we plan for the future. The Comprehensive Survey is now available to be viewed on-line.

Are you curious about the work at Foster Park? The Fort Wayne Parks & Recreation Department is cooperating with City Utilities in City Parks with the main visible work being done at Foster Park. This work is part of the Tunnel Works Program representing a major part of Fort Wayne's efforts to implement the 2008 Long-Term Control Plan and associated Consent Decree with the US Environmental Protection Agency. The premier project - the deep rock tunnel - will be constructed in the bedrock deep below the city. The tunnel will collect and transport sewage from the combined sewer system to the sewage treatment plant. This sewage would otherwise discharge (overflow) into the rivers when it rains. For more information, please refer to the project's website at http://fortwaynetunnel.org .
If you are ready to see what we have to offer, you can Register or view an on-line copy of the Current Fun Times.

Once you have explored the parks and recreational areas, let us know how we are doing. Your feedback is very important to us. Please complete our on-line survey. Our overall customer service rating continues to run over 90%!!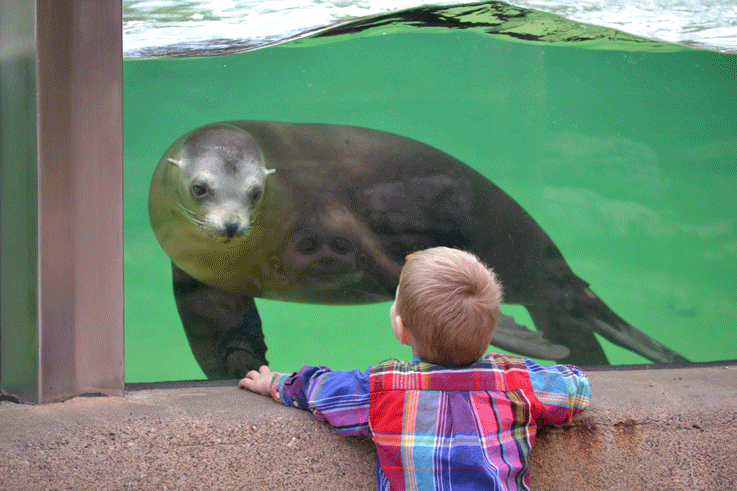 We are striving to be one of the best Park & Recreation Department's in the nation.
If you have ideas you would like to share, feel free to reach out to me.
Steve McDaniel, Director
705 E. State Blvd.
Fort Wayne, Indiana 46805
Phone (260) 427-6000
FAX (260) 427-6020