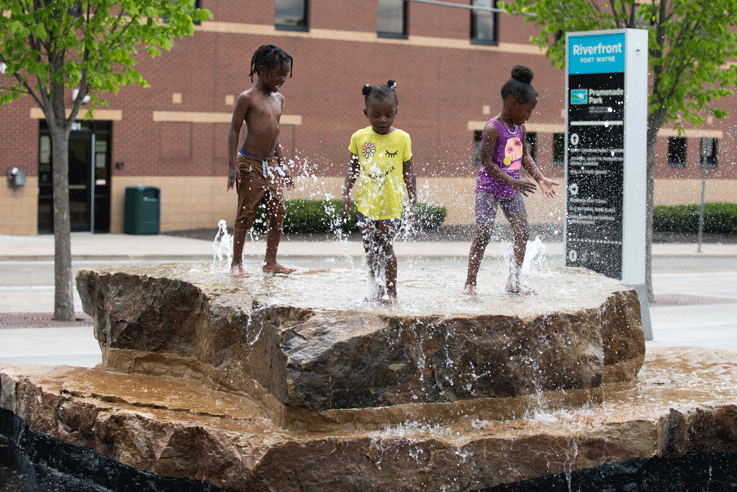 Photo credit: Stan Sussina, The Journal Gazette, Fort Wayne, Indiana
Promenade Park
202 W. Superior Street, Fort Wayne, Indiana
(260) 427-6000
Open: 6 am-11 pm daily

Learn more about the Riverfront
Promenade Park Map
Check out the Riverfront brochure
Promenade Park, the first phase of our transformational Riverfront Fort Wayne Project opened in 2019! Highlights of the opening weekend included the ribbon cutting and various arts performances, boating and recreation as well as nature and our rivers' ecosystem activities.

Follow us on social media and sign up for the newsletter at RiverfrontFW.org to stay current on updates!

Before you visit the park check out the 2023 Parking Options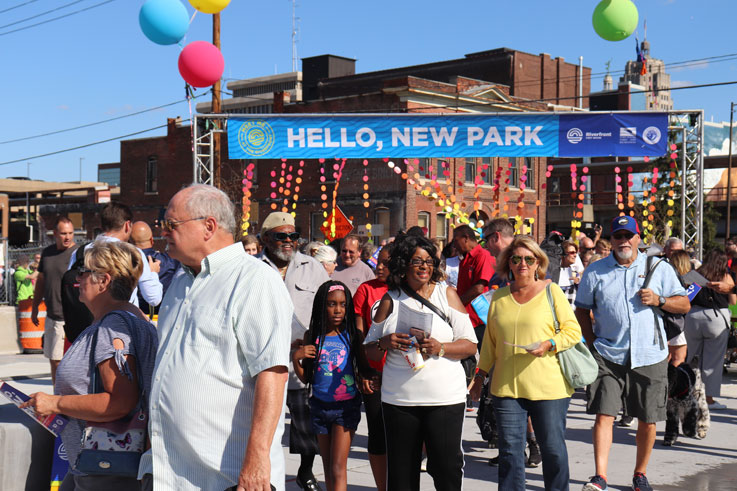 The Grand Opening Celebration was held for Promenade Park August 9-11, 2019. Approximately 35,000 people came to visit the park that weekend. Park visitors continue to visit the park and enjoy all the amenities the park offers! Please check out the Park Amenity list and the Parking Map (Visit Fort Wayne) to learn more about the park. Feel free to visit daily from 6 am-11 pm!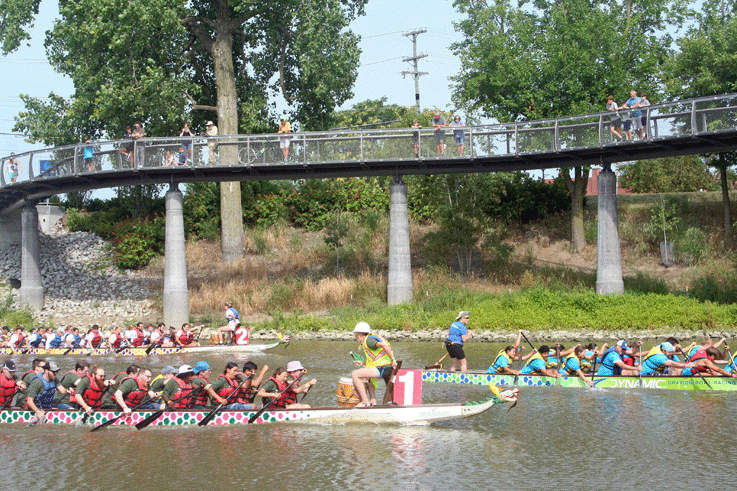 Thanks for celebrating Dragon Boat Races with us!

Fort Wayne Parks and Recreation and Riverfront Fort Wayne celebrated the fourth year of Promenade Park at the "Dragon Boat Races" on August 4-5, 2023. Around 5,000 people joined us for the two days to learn more about Dragon Boat Racing, take part in family friendly activities provided by the Fort Wayne Chinese Friends and Family, watch traditional Chinese performances, listen to music by "We are CheckMark", enjoy floating fire pits on the St. Marys River featuring Fire Dancers, participate in Tai Chi, or especially to compete in the 2023 Races! We are so thankful for the 11 teams that competed this year as well as the Fort Wayne Chinese Friends and Family Association and McDonalds Owners/Operators of Greater Indiana and Southwest Michigan for making this event possible. Want to see more pictures and check out the teams? Check out the Dragon Boat Races link to learn more!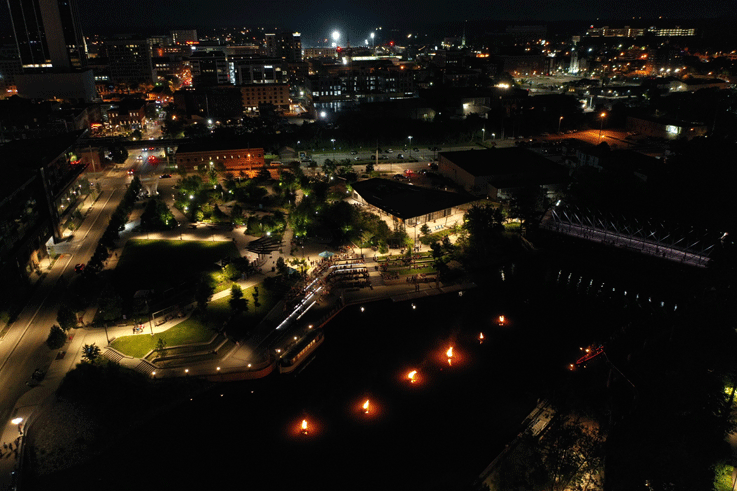 Mark your calendar to celebrate Dragon Boat Races with us again on August 2-3rd, 2024!
More information is available at RiverfrontFW.org or 260-427-6000.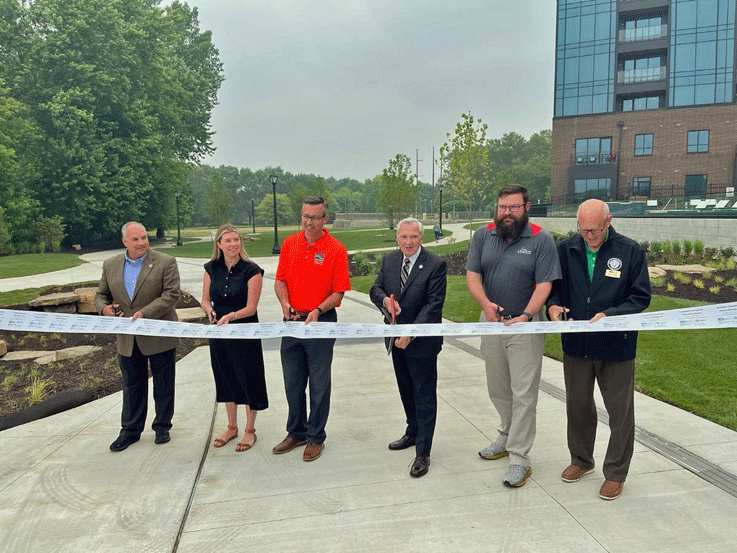 Riverfront 2 A officially opened on June 27, 2023! Pictured above Steve McDaniel, Director (far left), Mayor Tom Henry (in the middle) and the four Park Commissioners. Construction for 2 B will be at least a year and a half.


Enjoy a few photos from 2 A!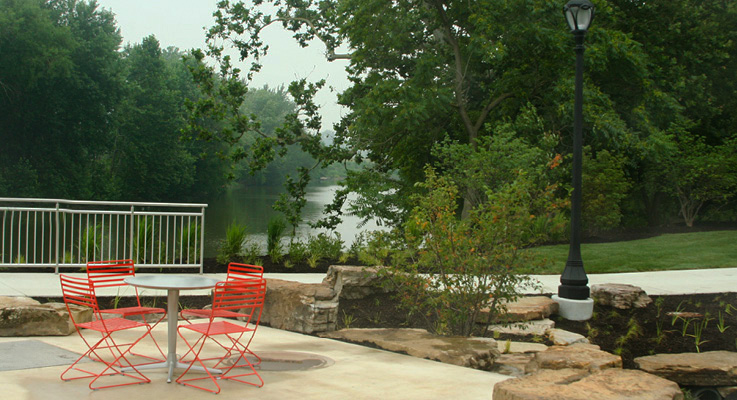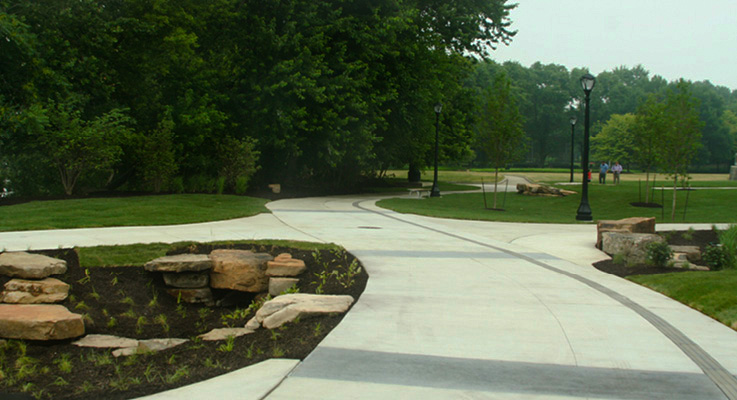 Mayor Henry Leads Riverfront IIB Groundbreaking Celebration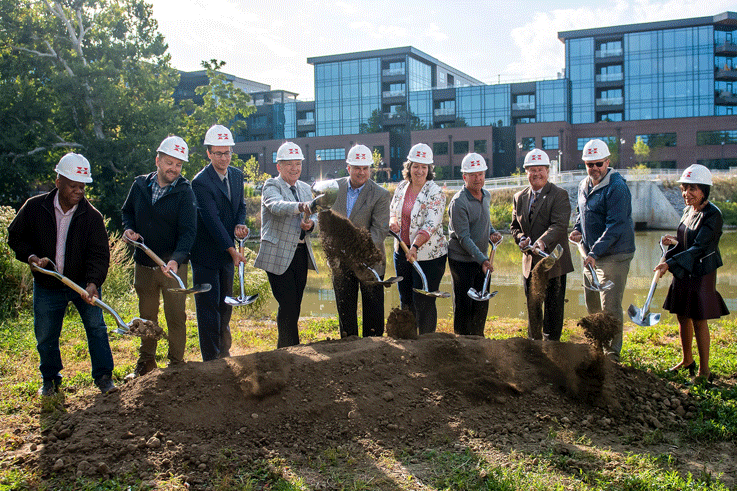 September 20, 2023 - Progress along Fort Wayne's riverfront continues as Mayor Tom Henry today joined the City of Fort Wayne's Community Development Division, Parks and Recreation Department, and community leaders for a groundbreaking ceremony to celebrate the start of construction on Riverfront Phase IIb Public Open Space. Read more....




You can now see an animated version of Phase IIB!


Calendar


We're lighting up the river with year-round programs.







Upcoming events include: Sunday Heritage Concert Series, Open Mic Nights WIth Kyla J., Don't Act Your Age: Adult Game Nights, Yoga on the Riverfront, Dance Promenade!, Intro to Hula Hoop Dance, Be Your Own Artist: Mask Making, Confluence Kitchen: Oktoberfest Continued!, Sweet Breeze Canal Boat Cruises Riverfront Halloween Hunt, and much MORE! Check out the on-line calendar for information on all of these exciting programs!


Just ANNOUNCED:
Spirit of History
Friday, November 3 from 6:30-7:30pm
Pavilion @ Promenade Park
Free – code 490400
A tour of Fort Wayne's history paired with its hauntings and vices. We will endeavor to bring history to life, by telling tales and breathing life back into the souls that still haunt our building and town - relax and enjoy our tour as we take you on a walk through time. Recommended for ages 13. Min. 10, Max. 20. To register, call 260-427-6000 or register on-line for Spirit of History for this FREE program.
Interested in learning about Urban Birdwatching?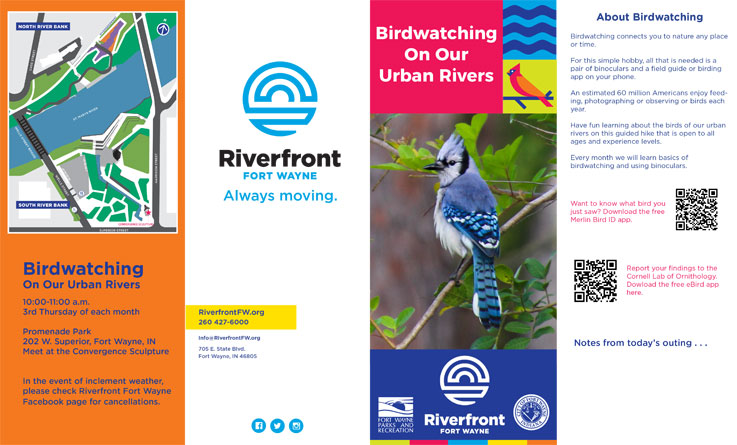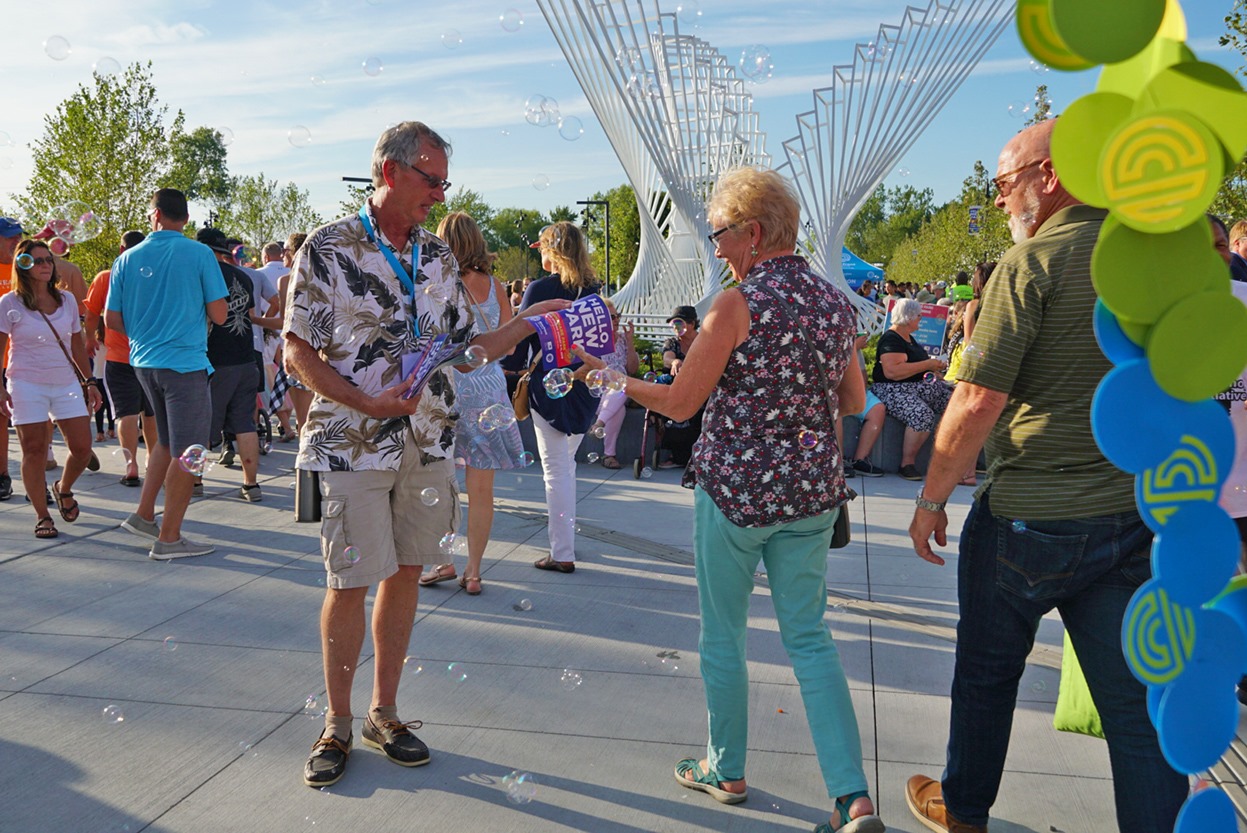 Volunteer or Become a Sponsor for a Riverfront Event!
Are you interested in volunteering or sponsoring an event for Riverfront Fort Wayne? We have plenty of great opportunities for volunteers and sponsors to help Riverfront events and programs be successful! Interested? Contact This email address is being protected from spambots. You need JavaScript enabled to view it. or (260) 427-6248.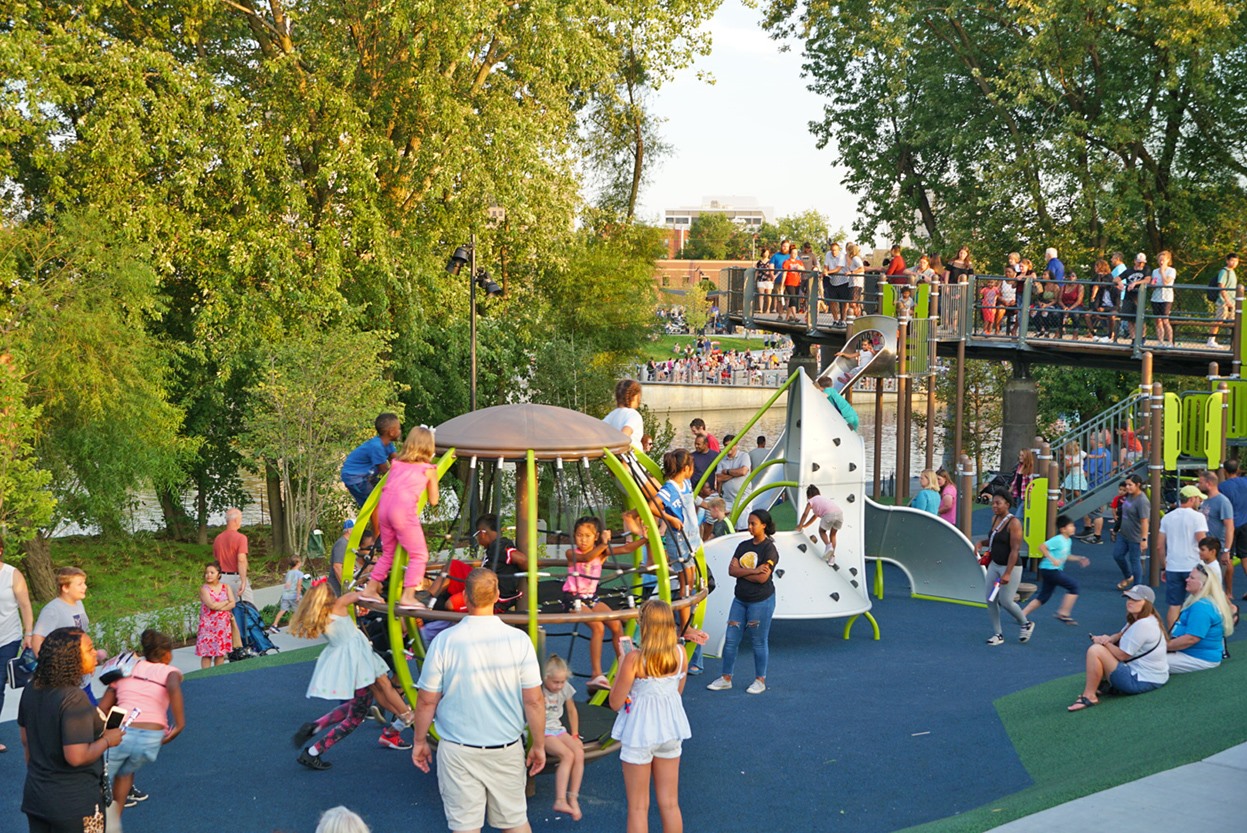 PNC Playground

The PNC Playground is a fully accessible playground to be enjoyed by all! Do you have questions about the PNC Playground?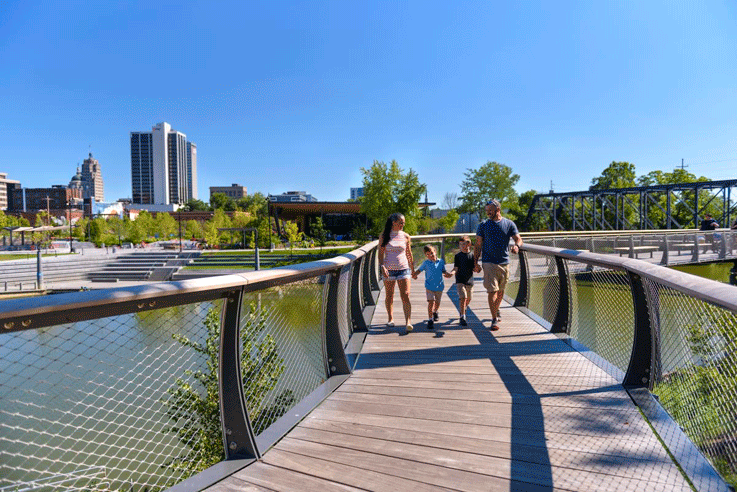 Parkview Tree Canopy Trail
The Parkview Tree Canopy Trail is a stunner offering unique views of Parkview Park as well as the ever evolving skyline.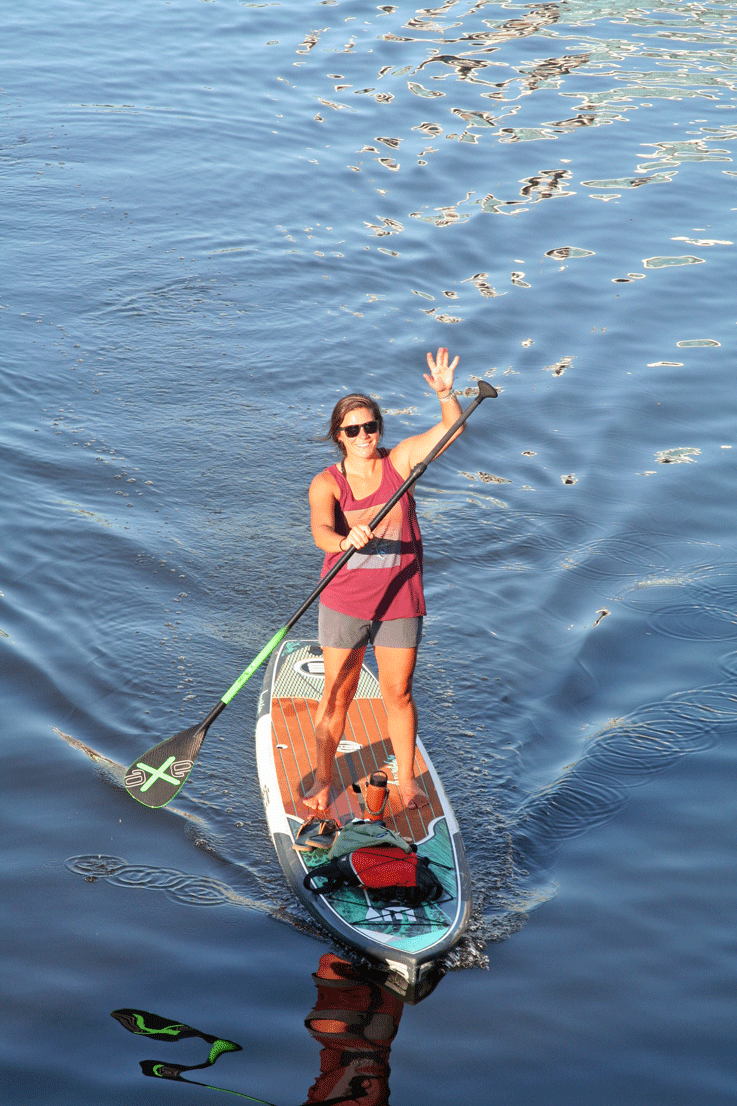 Canoes & Kayaks
If you have your own canoes, kayaks, paddleboards or other watercraft feel free to explore Promenade Park by water! Fort Wayne Outfitters rents watercraft too and is adjacent to the park! For motorized watercraft please be aware of the New Law Aims to Address Increased River Traffic Safety by establishing the Idle Speed Zone that went into effect on June 8, 2023.




Sweet Breeze
Ride aboard Sweet Breeze, Fort Wayne's authentic canal boat replica. Purchase TICKETS TODAY!

Doermer Kids' Canal & Rotary Fountain

The Doermer Kids' Canal & Rotary Fountain are popular draws for both the very young and old alike. You will be able to enjoy these features until September 25th this year!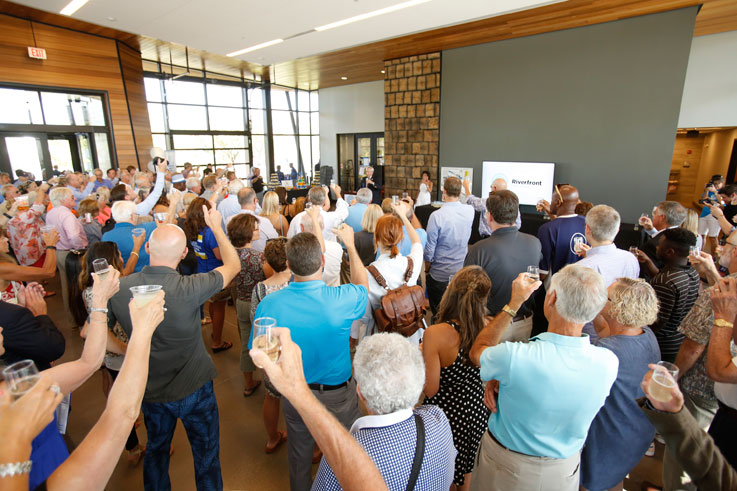 Rental Opportunities in Promenade Park

Generally, the spaces available for rent in Promenade Park are the Park Foundation Pavilion (inside and outside), Auer Lawn and Sweetwater Band Shell East, Old National Bank Plaza and Sweetwater Band Shell west, and the historic Wells Street Bridge. The only space that is entirely covered, and therefore weather-proof, is the indoor portion of the Park Foundation Pavilion.

Additional information about Rental Opportunities at Promenade Park is now available.

Please e-mail: This email address is being protected from spambots. You need JavaScript enabled to view it. to inquire about dates available for your next gathering.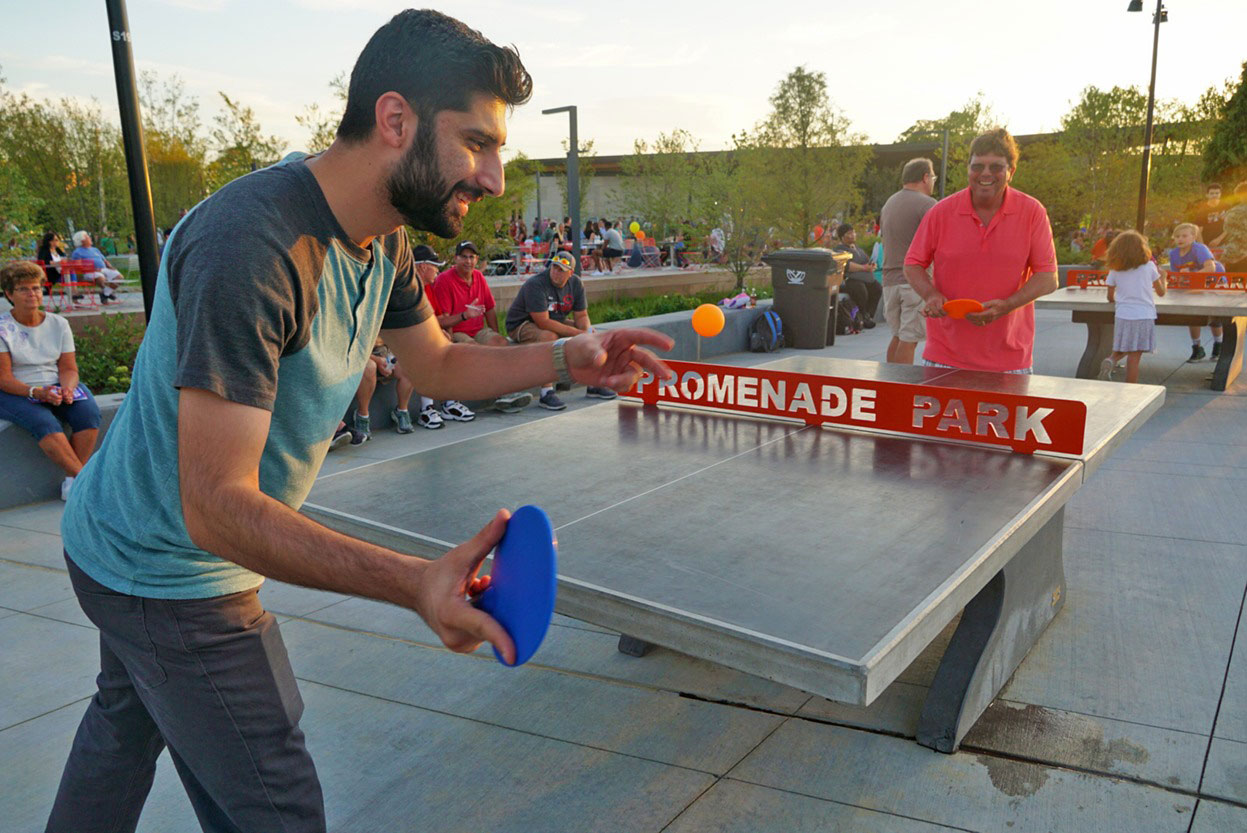 Fun & Games

At Promenade Park there are 3 Ping Pong Tables, 2 Cornhole games and 1 Foosball table for your enjoyment!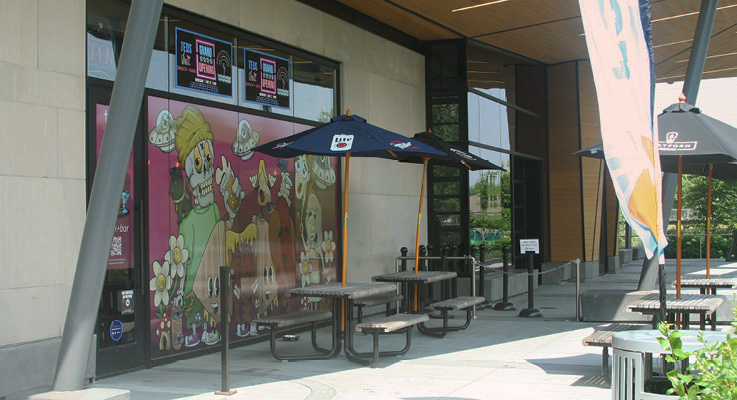 teds snack + bar
The new teds snack + bar is now officially OPEN! Hours will be Wed.-Sat. 11 am-8 pm and Sundays from 11 am-3 pm. Guests will be able to grab a convient bite to eat, or a quick snack as well as cold refreshments.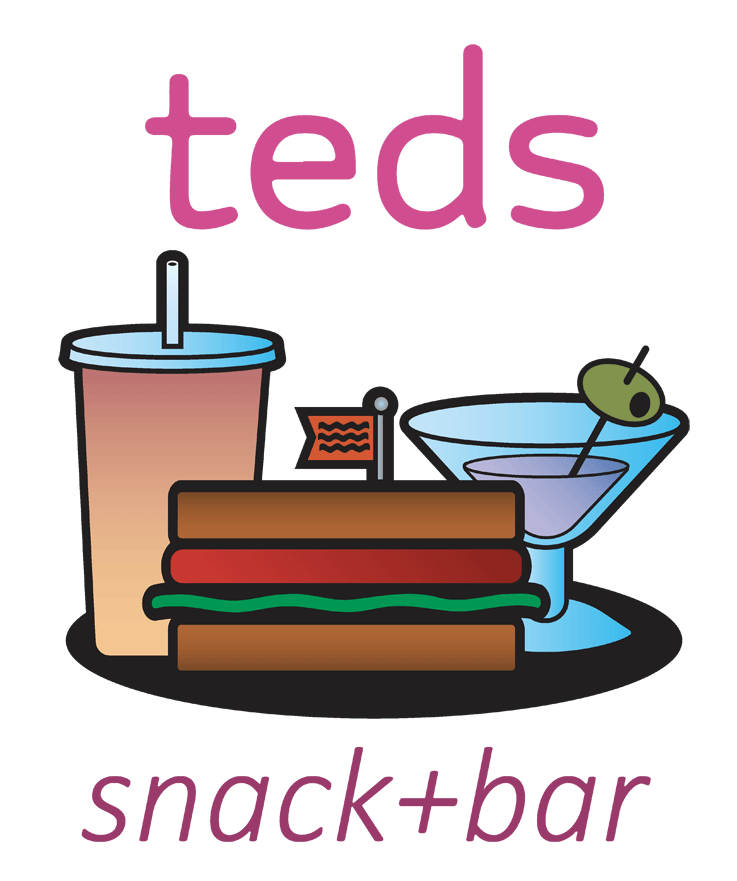 Learn more about teds snack + bar by checking out their web site: teds snack + bar.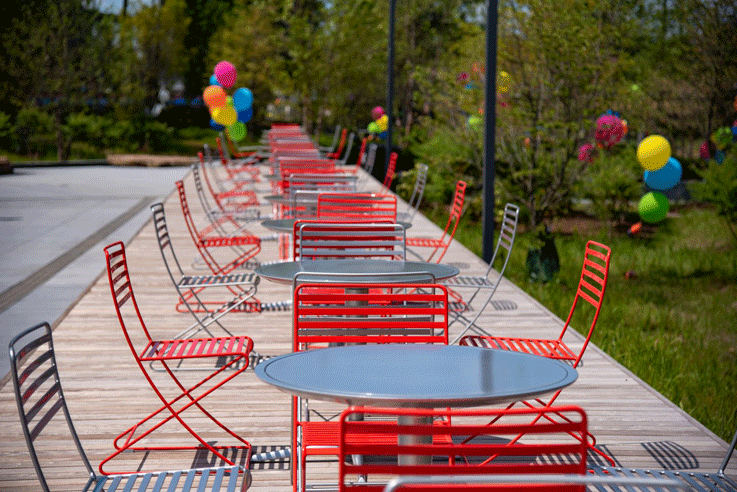 The Journal Gazette Foundation Dining Gardens
The Dining Gardens provide a perfect opportunity to either bring your favorite food for a picnic or stop in at a local eatery including teds Snack + Bar (located at the park/opening in May) and then relax at one of the convenient dining areas in the park.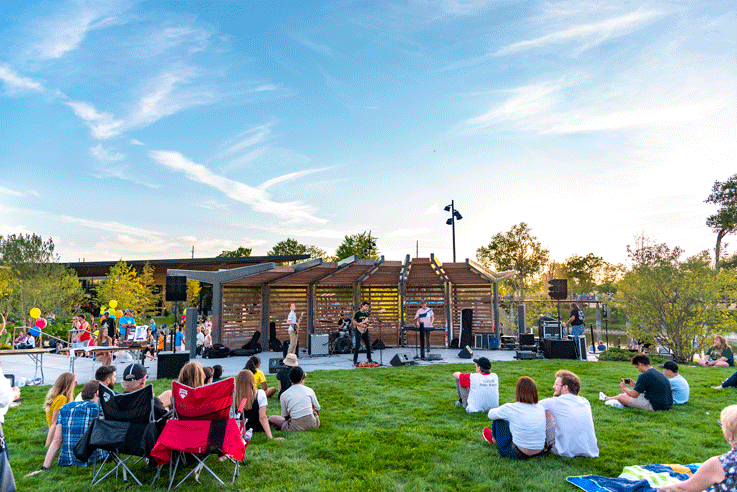 Sweetwater Bandshell and the Old National Bank Plaza

Looking for inter entertainment? Go to RiverFrontFW.org to learn more!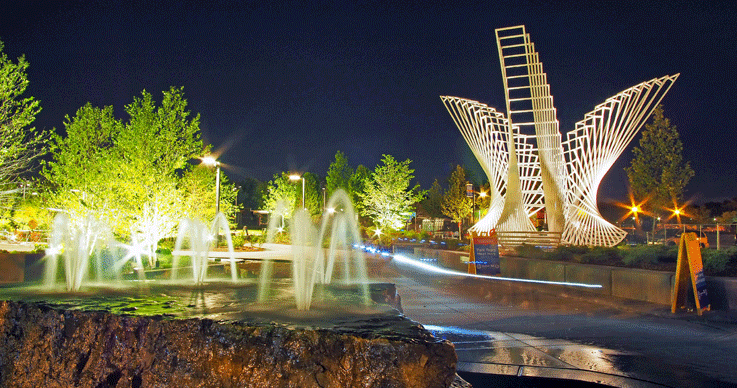 Promenade Park Sculpture

Mayor Tom Henry and Parks and Recreation Director Steve McDaniel officially unveiled the first piece of Promenade Park to the public on July 26, 2019. "Convergence, Linda Howard, 2018, presented by the Waterfield Foundation" sits on the southeast corner of Promenade Park, near the intersection of Superior and Harrison streets. Mayor Henry and McDaniel shared their excitement for the sculpture, especially as it means the opening of the first phase of Riverfront Fort Wayne is getting closer. Read more...

---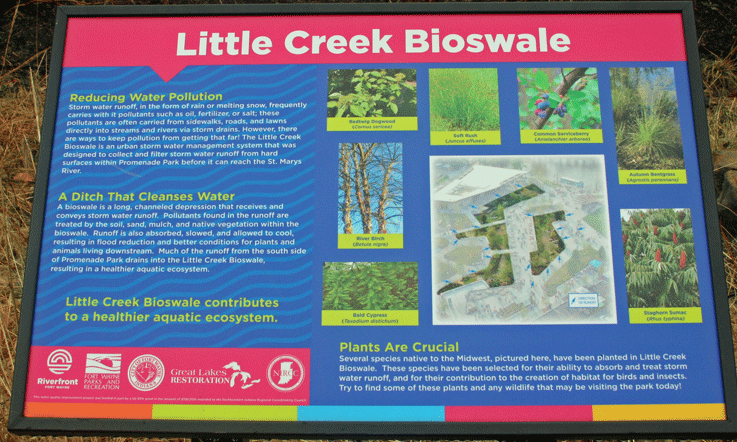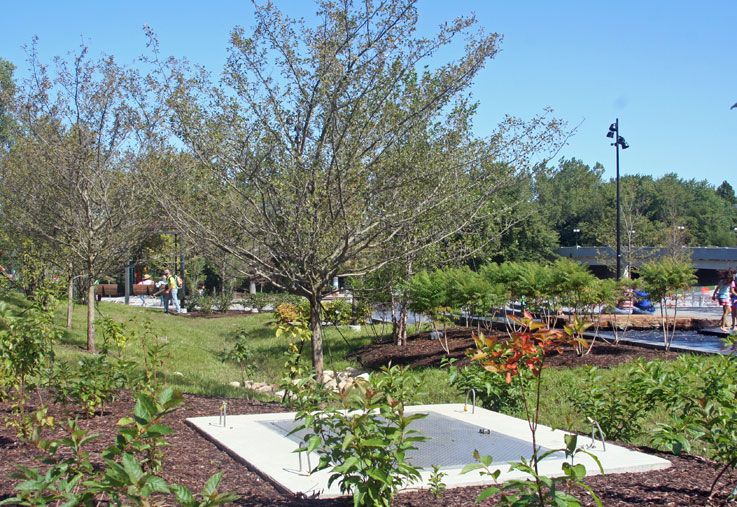 Little Creek Bioswale


What is the Little Creek Bioswale? Learn more...
This project is partly funded by: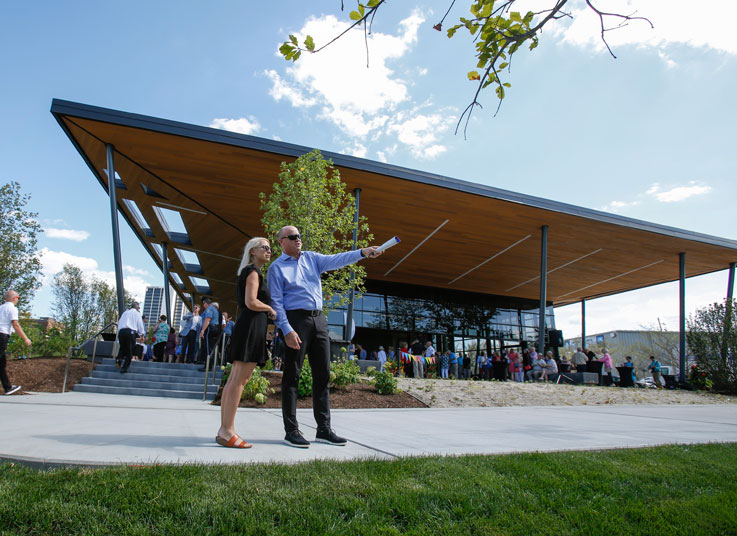 Park Foundation Pavilion

The Fort Wayne Park Foundation, Inc. is pleased to announce its support of Promenade Park by raising funds for the construction of the Park Foundation Pavilion. With generous contributions from area foundations and individuals, the Foundation raised $1,000,000 which was generously matched with $500,000 from the Community Foundation of Greater Fort Wayne. In addition, the Park Foundation pledged $150,000 from its unrestricted endowment funds to support the project.

Check out the News Release for additional information or the Riverfront web site!

Ready to find out more about how to reserve the Park Foundation Pavilion for your event? Please e-mail: This email address is being protected from spambots. You need JavaScript enabled to view it.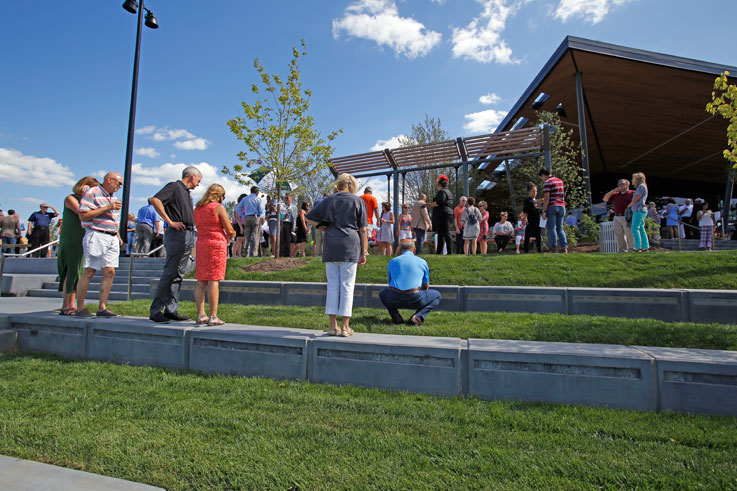 Riverfront Endowment Donations


The Fort Wayne Park Foundation invites families to become a part of local history by supporting Promenade Park. A gift of $500 will be recognized with an inscription on a Greenscape Step within the Park. It's similar to buying a brick. The purpose of this campaign is to create a legacy endowment for Promenade Park. The Promenade Endowment will help support improvements, updates and programming along the rivers, and will be operated by the Fort Wayne Park Foundation, a nonprofit charity. All donations are tax-deductible and can be made securely at the Park Foundation website. Learn more: https://fwparkfoundation.org/product/donate/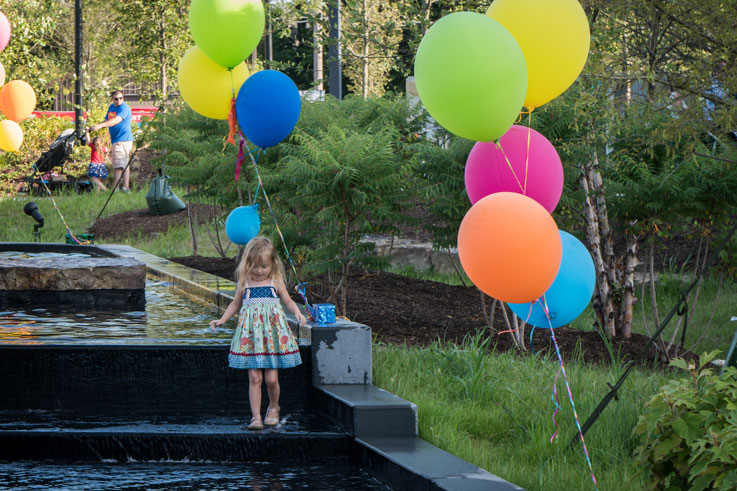 Donations

Donations are needed for Promenade Park for an on-going maintenance endowment. Individual donations may be given on-line. For corporate donations please contact This email address is being protected from spambots. You need JavaScript enabled to view it., Manager of Development, at 260-427-6026.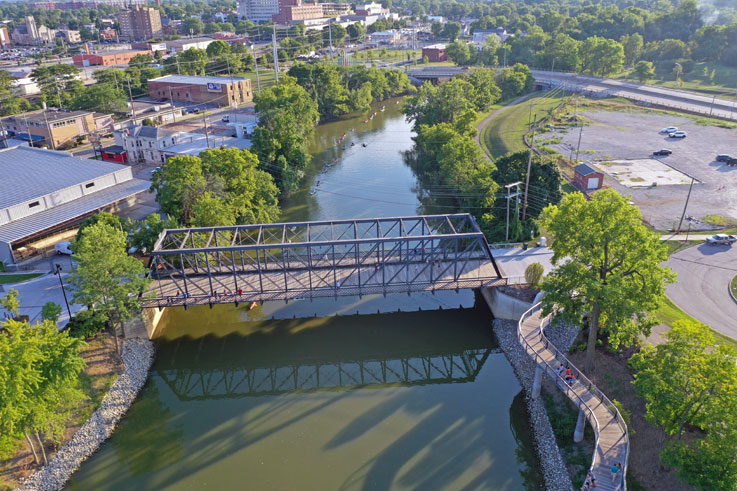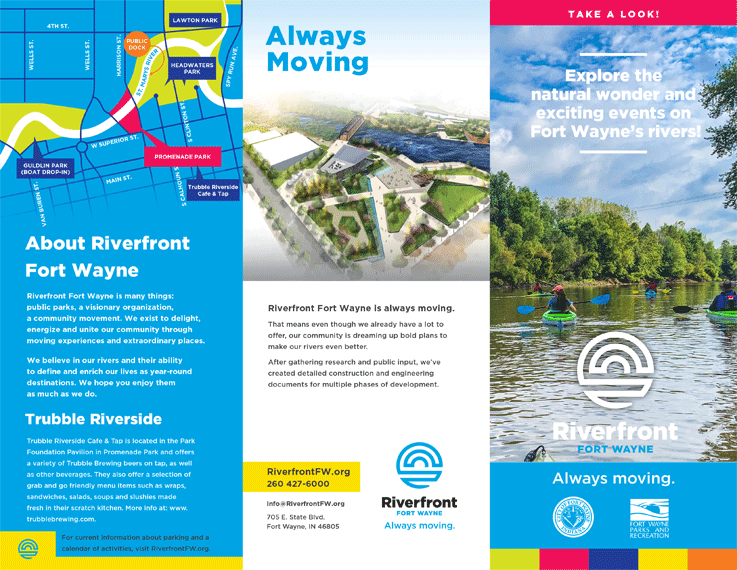 Check out the Riverfront Brochure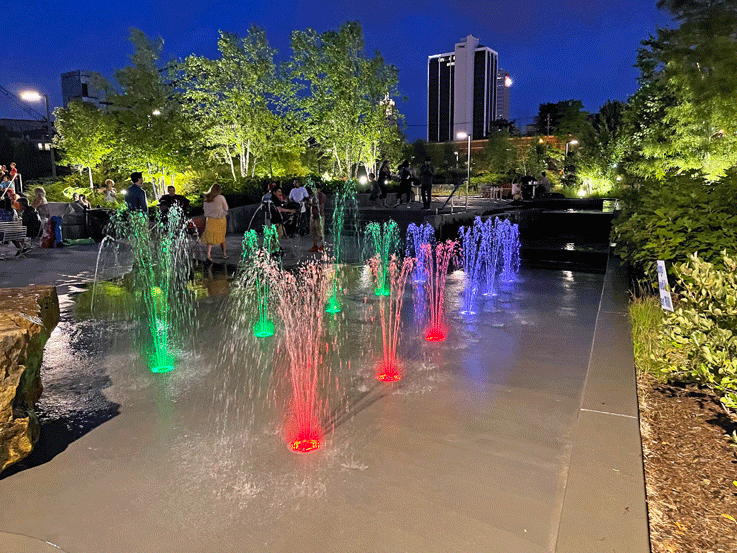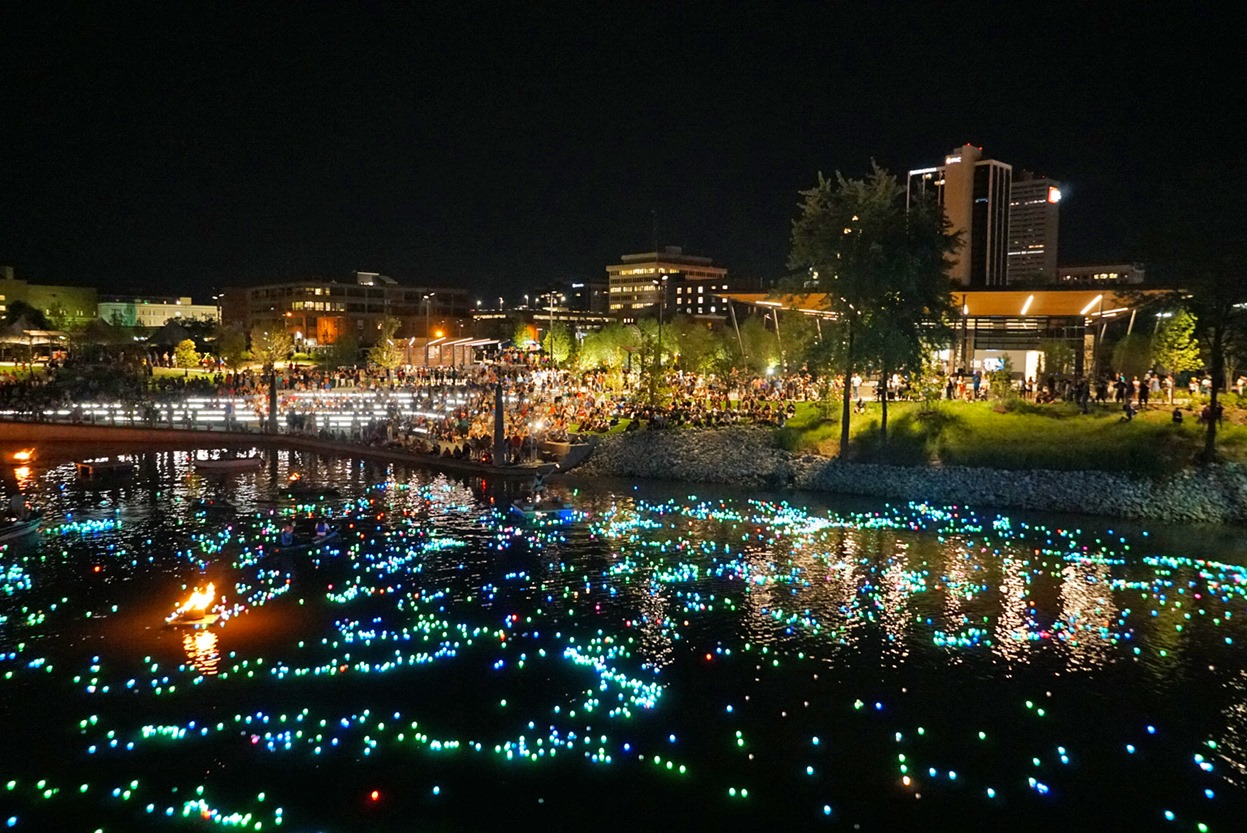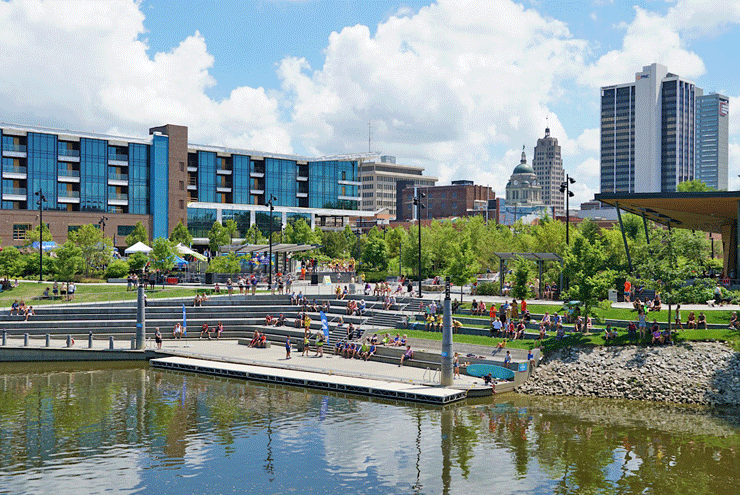 Thanks to Soarin' Hawk Raptor Rehabilitation Center for their presentation at the Spring Celebration at Promenade Park!!